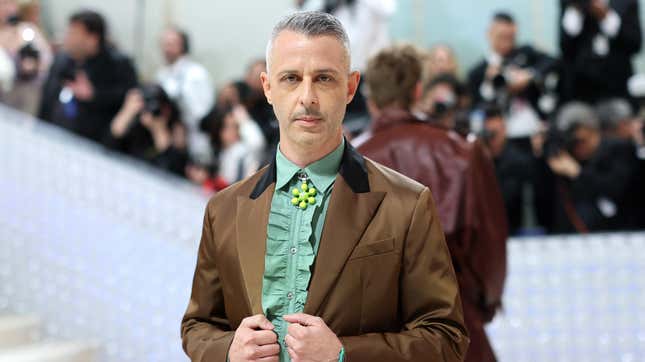 The finale of Succession on Sunday saw resident pitiful man-child Kendall Roy—masterfully portrayed by Jeremy Strong—fall to his lowest low yet. And Strong has some thoughts on the contingency of Succession fans who seem to adore Kendall specifically for how vulnerable he is, crowning him the internet's "babygirl."
Is Emmy Rossum Old Enough To Play Tom Holland's Mom?
For those unfamiliar: The viral meme immortalizes Kendall as an endearing, hapless little thing—the human embodiment of the "pleading eyes" emoji. As Mashable put it, "there's an inherent humor to these nicknames: Kendall is not a young, misunderstood woman," but when young women say "Kendall is 'just like me,'" there's "a seed of truth to it." (An example one 23-year-old woman gave was the episode featuring Kendall's 40th birthday party, which he "meticulously plans," only "to end up crying and miserable.")
The "babygirl" nickname became such a thing on the internet that the New York Times was compelled to ask Strong about it in an interview published Tuesday. "Kendall quickly became a fan favorite and inspired a torrent of memes—sad Kendall, babygirl Kendall," the reporter asked. "Did fans misunderstand the character?"
Strong replied that while he hasn't personally encountered this meme because he's "really not online" (good for him!), he has seen the varying "tote bags and T-shirts."
"It's wild, the way people project all kinds of things onto the character," he said. Kendall "is a bit of a litmus test," he said. Some call him "cringe," others "find him incredibly sympathetic."
Considering many of the Succession fans who have babygirl-ified Kendall are young women, here lay an opportunity for the actor to guffaw or roll his eyes at the feminization and infantilization (are they one and the same?) of his Very Serious™ prestige television character and condescend to his fans. Instead, he opted to validate that interpretation of Kendall with a nuanced, thoughtful response:
"Do I think any of that's misunderstood? … There's something about this character, about this kind of boy-man—there is a lot of male vulnerability, which is something that always affected me growing up when I saw it in storytelling. In this moment in our culture, people either respond to that in a derisive way or in an empathic way. It's not my job to tell anyone how to respond to it, but there is something about vulnerability that is polarizing."
Strong makes an important point here: Masculinity and its supposed decline are a pretty hot-button issue right now—Sen. Josh Hawley (R-Mo.) has unfortunately written a whole book on the subject—and the fact that Kendall has drawn such an enthusiastic fan base specifically because of his perceived softness, femininity, and vulnerability as an adult man might just evidence a cultural shift of sorts, more welcoming of different expressions of masculinity. Men, you do not have to tan your balls to up your testosterone levels. Kendall Roy is no hero, by any means, but if this is one thing we take from his character, I say that's delightful.