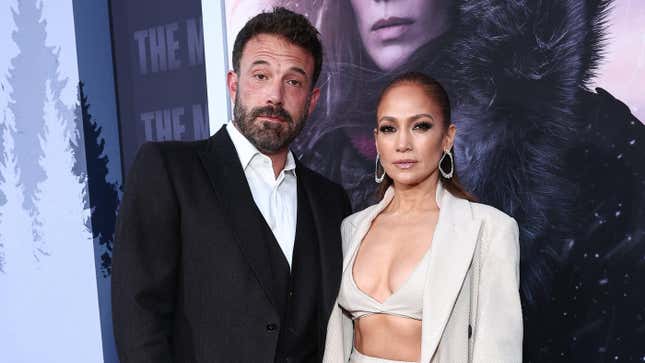 It's been a long few weeks for our favorite 2000's revival couple, Ben Affleck and Jennifer Lopez. The two have been doing the rounds for JLo's new Netflix movie, The Mother, and Ben is about a month out from releasing his surprising crowd-pleaser Air, the movie about Michael Jordan's Nike deal that does not feature anyone portraying Michael Jordan. Needless to say, the most tired man in Hollywood has extra reason to be tired.
D'Arcy Carden Thinks Too Many People Have Overlooked Her Role as J.Lo's Stepmom
Their busy schedules and the increased distance between him and the nearest Dunkin Coolatta (which is to say: living in Los Angeles, which is practically a Dunkin desert compared to the East Coast) has seemingly raised tensions between the two. At Wednesday night's The Mother premiere, the duo exchanged some tense words between their red carpet poses.
Bennifer shippers were quick to correct Daily Loud for this slanderous photo set, though: The two weren't fighting, they were simply having a conversation with each other! A tense, angry conversation!
Earlier this week, a paparazzi video captured Affleck opening the passenger side car door for his wife, only to slam it shut and glare directly into the pap's lens like the most burnt out Jim Halpert you've ever seen. It's worth noting that while he does have an iced coffee in hand, it's unlabeled—not Dunks. Our Boston boy is not well.
Tabloids are working overtime to keep us, the unwashed masses, informed with what is going on with this couple. "Not aligned thinking," suggests the Daily Mail, while the outlet's resident lip reader claims that JLo was directing Ben to "step over here" on the red carpet.
Obviously I didn't go through the prestigious training these experts did, but I did work as a nanny for half a decade and it seems to me both of these people—who are, dare I say it, well into middle age!—are just tired and cranky and maybe want to stop having their relationship aggressively photographed quite so often? Ben is 50, JLo is 50—these guys aren't in their 20s anymore! Plus, between the two of them, they have four teenage kids (and one preteen). I'd be tired and cranky too!
I think we need to just get these two back on a yacht palming one another's butts and getting the rest they so deeply crave.
---