Did you know Jennifer Lopez's very recent ex-boyfriend Casper Smart's real first name was "Beau?" Neither did I! But that's irrelevant now, because they've broken up.
A source told People that the two split a few weeks ago, sans any rending of garments or histrionics. You know, like adults. Adults who grow apart and.instead of bending over backwards to maintain a relationship that is beneficial for no one, realize that it's best to leave on peaceful terms. How refreshing!
The two have been dating on and off since 2012 and I'm sure you remember that Smart is a solid 18 years younger than Lopez – a fun fact that caused a lot of yapping when they first started dating but quietly faded into the background.
Of the breakup, the source said, "They will remain friends and they see each other, but they are not together. It was very amiable."
Let us now remember the couple in happier times.
G/O Media may get a commission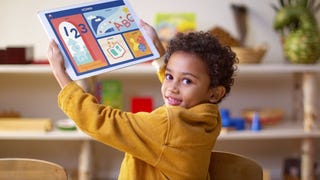 30-Day Free Trial
Homer Learn & Grow Program
Jennifer Lopez is 47 years old and looks like her skin is made of crepe de chine and natural highlighter. She's going to be fine.
[People]
---
Good lord, that Howard Stern interview with Amy Schumer is the "gift" that keeps on giving.
Yesterday, we learned that she didn't want to go to the Met Ball and was salty she got invited because she got to do stuff like talk to Beyoncé and take pictures with two out of four Hadids.

Today, we learned that she and her boyfriend, carpenter Ben Hanisch have sex every day. We also learned that they don't use protection and that she "likes the scent of his semen."
Great!
[UsWeekly]
---