Kylie Jenner's dumb boyfriend Tyga owes an irate management company $186,275.89 in damages after reportedly trashing the space he rented for his clothing company and bouncing.

According to TMZ, Tyga rented space from F&S Management in Malibu for the clothing business I didn't know he had and proceeded to fuck it up like one does to their college dorm room after a wild night of bong rips and Adderall.
So, one day in June 2015, Tyga's landlord found the place abandoned, and it was a disaster. The doors had been painted black with Egyptian patterns, the ceiling tiles were painted over and there were ink stains around 5,000 feet of concrete flooring. What's worse ... the landlord says someone poured ink down the drain and into the public sewer ... an environmental no-no.

Well within their rights to do so, the landlords brought his ass to court and won. If Tyga doesn't pay them like he's supposed to, lawyers for F&S Management will look into his finances, which sounds like a whole heap of fun for everybody. If you recall, that went really well the last time he tried to avoid fiscal responsibility, so I wish him the best of luck this time around.
[TMZ]
---
Many will spend their entire lives trying to attend the Met Gala, but if you ask Amy Schumer, being invited to Anna Wintour's special fun-time party for grown ups is a fucking nightmare.
G/O Media may get a commission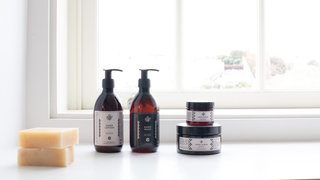 Exfoliate and Hydrate
The Handmade Soap Company
She sat down with Howard Stern on his SiriusXM show and recounted a charming tale that neatly sums up her attitude towards this horrid, lame event.
"I got to meet Beyonce, and she was like 'Is this your first Met Gala?' and I was like, 'It's my last.'" I figured I should grateful I was invited or something, but it felt like a punishment. It's not me. I don't like it."

Being strapped into a dress and Spanx and shoes that pinch while smiling through gritted teeth for the flashbulbs of the thirsty paps does sound hellish if you're just a Regular Gal™. I get it. I do.
Hmm. Looks like she made the best of it.
[People]
---
Oof, Conrad Hilton is being sued for negligence and assault after smashing head-on into a car earlier this year. [People]
Courteney Cox ran wild with Bear Grylls and discussed her divorce from David Arquette and her "brutal" temporary split from Johnny McDaid. [Us Weekly]
This is very, very sweet and cute of The Rock. [Instagram]