Jennifer Hudson has rarely spoken publicly about the horrifying 2008 murder of her mother, brother and nephew, but now, in a new interview with Lester Holt, she's revealed some new details about the tragedy. The most amazing part is that it turns out her fiancé, David Otunga, unknowingly saved her life that day.
If it wasn't for a well-timed phone call from him, she would have been in the house with her family when they were attacked by Hudson's brother-in-law:
I remember it like yesterday, and I was literally pickin' up my bags to walk out the door to go to my mother's house. And he called me, like, 'Can you come out here instead of going, you know?' And I was like, 'Okay, sure.' And that one decision, that one thing, I wouldn't be sittin' here.
Wow, that certainly sends some very powerful chills down your spine. Hudson also talked with Holt about all kinds of other things, including the obligatory discussion of her recent weight loss. The full interview will be on Dateline in January. [OMG!]
---
G/O Media may get a commission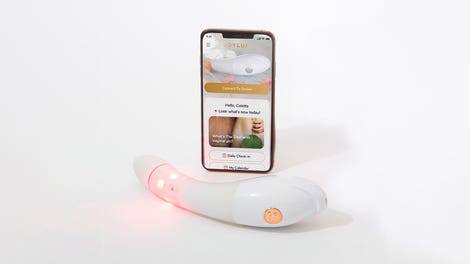 $50 Off
Joylux vFit Gold Device

On a lighter note: Holy shitballs!!! When it comes to celebrity couples, the last few days of this year have been a total emotional rollercoaster! First came today's news that Russell Brand and Katy Perry are saying buh-bye. And now, hold onto your hats, it looks like Derek Jeter and Minka Kelly might be back together—and just after we crowned their demise one of the most devastating of the year! Man, if we're not careful we're going to get whiplash from all this drama. Anyway, Dinka (as we will call them from now on) walked around Paris together this week. So, yeah, if they're hanging out in the City of Light, this thing is totally back on like Donkey Kong. [Daily Intel]
---

We are starting to learn more about the crumbling union between Russell Brand and Katy Perry: TMZ is pretty sure that Russell blindsided Katy with the news, but then again this morning they also reported with great certainty that the couple definitely was not headed for divorce court. So maybe we ought to be swallowing heaping tablespoons of salt alongside this information. There are also some clues that perhaps there was no prenup, so it looks like Russell might be able to lay claim to half of Katy's unicorn costume collection. Last, but certainly not least, Russell has spoken:
Sadly, Katy and I are ending our marriage. I'll always adore her and I know we'll remain friends.
What a beautiful sentiment. I hope he wrote it down in purple sparkly pen on Hello Kitty stationary and mailed it off to Katy in Hawaii. [TMZ]
---

Despite every single gossip website's constant use of leading headlines like "Is Beyonce in labor?" and "Beyonce Gives Birth to Baby Girl?" there are still no actual signs that the child is imminent/is here/has been here for months. In fact, Babble says Jay-Z was spotted at the Nets game last night, which means Bey is probably at home reading the internet and laughing her ass off at everyone who's glued to their screens obsessively refreshing www.isbabyoncebornyet.com. [Radar, Babble]
---

If you've been so busy this year thinking about Brian Williams and Ryan Gosling (and maybe a little bit about Daniel Craig, too) that you'd almost forgotten Clive Owen existed, then here's a little unexpected surprise for you! He's in a new Spanish Burger King commercial, which ordinarily would be gross but in this case will make us all want to order a side of fries with our Cliveburgers. (Though it is a shame we don't get to hear his real voice.) [Vulture]
---
Christ, Joseph Gordon-Levitt, you really are trying to kill us, aren't you? First you released that deadly cute duet with Zooey Deschanel yesterday, and then, ON THE VERY SAME DAY, you casually dropped by The Sayers Club in Hollywood and knocked people's socks off with your version of "Twist and Shout." Maybe next time you could give us a few days to recover between songs? [LA Times]

While hanging out in Cabo, George Clooney played a little trick on A-Rod by holding up a tiny Chihuahua up in front of him while he was trying to look through a pair of binoculars. The look on George's face and the way A-Rod is recoiling are both juuuust right. [People]

Olivia Wilde went home to Kansas (that phrase sounds dirty for some reason) with Jason Sudeikis for the holidays. They even went to a KU basketball game together yesterday. Not sure what base that technically is in a relationship, but it sounds serious. [Daily Express]

Mariah Carey posted some Christmas photos of her twins, Roc and Roe, on the website she made solely to show of her babies. Go directly to DemBabies.com—do not pass Go, do not collect $200. [Us]

Chris Evans continues to seem irritatingly likeable, this time going into a children's hospital and being all friendly with the sick kids. Someone must put an end to this madman before he invades all our hearts with his infectious smile! [ONTD]

Oh, sad! Stevie Nicks' 84-year-old mom, Barbara Nicks, died yesterday after suffering from pneumonia. Stevie, who sat at her mother's side for days before she passed away, is said to be heartbroken. [ONTD]

Today in boot news: Prince Harry and Kate Middleton wore matching Wellingtons at a football match on Christmas Eve. [OMG!]

From the world of trashy TV: While we wait for Jersey Shore for Nerds to hit the airwaves, we'll have DJ Pauly D's new show to keep us company. The show is called Delvechhio (which is his last name in case you didn't know), and it will start in March on MTV, just after the fifth season of Jersey Shore finishes up. It'll feature Pauly D's bodyguard, Big Jerry, and pals "DJ Biggie" and Ryan Labbe—plus his Jersey Shore crew will probably turn up for cross-promotional purposes. [Culture Klatch]

Giuliana Rancic talked to Matt Lauer this morning about her double mastectomy:


I knew this was going to be a tough surgery but I in no way want to minimize it. Yes, I'm two-and-a-half weeks out, but up until a week-and-a-half ago it was hell. It was horrible.

Now that she's at the two week mark, she says she's "feeling great" and her husband Bill Rancic is doing sweet things like helping her put her seatbelt on because she still has limited mobility. [OMG!]

Gisele has spoken regarding her New Year's resolution: "I probably eat too many sugary things so I could do with cutting that out." And there it is, the only thing I will ever have in common with Gisele. [Showbiz Spy]

If you walked into a deli and Jerry Springer was making your sandwich, would you even care? [HuffPo]

There's nothing particularly newsworthy about this article on Benedict Cumberbatch, star of the BBC's Sherlock, I just brought it up because I can't get enough of saying his name. Benedict Cumberbatch! Benedict Cumberbatch! Benedict Cumberbatch! [Telegraph]