When it comes to love, 2011 has had a few ups: Jennifer Aniston finally found someone who can fill the Brad-Pitt-shaped hole in her heart, and Kate Middleton and Prince William won our hearts with their intimate little wedding. (Don't forget how he drove her around in that convertible afterwards. It doesn't get more Prince Charming than that!) But even as the thrill of new romance coursed through our veins, 2011 brought plenty of lovelorn lows. We suffered heartbreak after devastating heartbreak, as some of our favorite power couples called it quits. Let's take a look back at ten of the most painful break-ups of this year, in the order that they occurred.
---
Justin Timberlake & Jessica Biel (March)


Justin Timberlake's status as a triple-threat megastar virtually guarantees that his love life will be fucked up. After all, how easy is it to date someone who is lusted after by probably 75% of the population and is constantly in the public eye? That's why it seemed so wonderful when Justin got together with Jessica Biel in 2007. A star in her own right—but not a flashy superstar like Britney—she could hold her own with the media, but she also seemed like a down-to-Earth, lovely person. Throughout their four-year-long relationship, they kept things low-profile and downright boring. It even looked as though maybe they'd live out their days together. But then, WHAM! Suddenly our dreams of a wedding with cute "J & J: Together Forever" napkins were crushed when the couple split. Now, however, hope has been reborn that they might be bringing their low-key brand of sexy back.
G/O Media may get a commission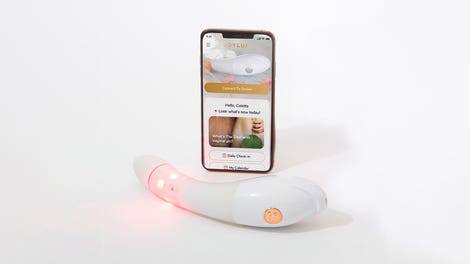 $50 Off
Joylux vFit Gold Device
---
Arnold Schwarzenegger & Maria Shriver (May)


Where were you when you first learned that Arnold Schwarzenegger had cheated on Maria Shriver with the housekeeper? The news of his infidelity shook America to its core. I mean, she was a KENNEDY, for god's sake, and he was a body-builder-turned-actor-turned-politician. Sure, we sensed that he was a little sexually-harass-y, but as a couple, they seemed rock solid. After all, they'd been together for 25 years, which is an eternity in political/celebrity marriages. They'd even been the Governor and First Lady of Caleeforhnya, for God's sake. And then, just like that, it was over. Ahhnold had terminated our belief in love.
---
George Clooney & Elisabetta Canalis (June)


After Elisabetta and George had been dating for two years, we'd gotten used to seeing the Italian model-actress on his arm. But then in June—just as thousands of women had begun to cancel their mental plans to marry George Clooney, since it looked like maybe he'd finally found "the one"—they broke up and pulled the rug right out from under us! On the one hand, it was a relief. Now all those women could re-up their internal affairs with George. But on the other hand, it was a disappointment. It was further proof that this is what George will always be: a serial monogamist. He's said many times that he has no interest in marrying, and yet our hearts and minds have refused to believe that someone so perfectly handsome and charming could resist the biological urge to settle down and spawn 1,000 mini-Clooneys. It goes against nature! But, alas, the only thing this relationship spawned was a chance for Elisabetta to go on Dancing with the Stars. And now we have to carefully follow George's every move as he dates wrestler Stacy Keibler until three years from now, when he ends things in a predictably amicable way.
---
Jennifer Lopez & Marc Anthony (July)


Even though J. Lo and M. An had both been around the block, marriage-wise, it seemed, when they got together in 2004, that they were a match made to last. Both ultra-driven and ultra-successful, and both able to belt out some serious tuneage, they had everything going for them: looks, love, untold millions—and eventually their twins Max and Emme. But, alas, all of the hip-shaking and empire-building in the world was not enough to keep this pair together. They announced their split in July, and the world has not been the same since.
---
Minka Kelly & Derek Jeter (August)


Minka and Derek were more like a beautiful statue dedicated to love than they were an actual, living, breathing romance. Sure, in their personal lives they probably loved each other, but to the outside world, it was just two of God's most perfectly-made creatures walking around hand-in-glorious-hand. They looked even more perfect next to their parallel couple, A-Rod and Cameron Diaz, who seemed to be together out of convenience and similar levels of fitness rather than out of a genuine attraction to one another. And so, while it came as a shock to us that people as physically perfect as Derek and Minka could fall apart after three beautiful years, it was also a little bit of a relief. Their split reminded us that love is something imperfect and human, and no matter how good you are at playing baseball or at playing Lyla Garrity, you can still strike out at romance.
---
Tareq Salahi & Michaele Salahi (September)


When we first got to know these two nutbags, they were crashing into a state dinner at the White House. As they reveled in their ill-gotten 15 minutes of fame, we all held our breath and waited for them to go away. But they didn't. They clung to their newfound notoriety with the fierceness of a badger locked onto its prey. And so, when we were forced to look a little more closely at them, what we saw was as horrifying as it was captivating, like a very slow motion car accident. As crazy as they both were, their relationship somehow seemed to contain and neutralize their individual madnesses, and it made them more amusing than sad. But then that potent mix proved to be too explosive for its own good, and it blew up in all of our faces when Michaele ran off with Journey man Neil Schon and left Tareq sitting alone on his "estate farm," humiliated. While we may be upset that it's over for now, we can take comfort in the fact that they'll be reunited in the afterlife, when they both end up in that special place where fame-hungry reality stars go when they die: the big Big Brother house in the sky.
---
Thurston Moore & Kim Gordon (October)


Individually, Thurston Moore and Kim Gordon were great, but together they were like the best thing ever. Their band, Sonic Youth, was the epitome of cool for an entire generation, and their marriage seemed to be the ultimate in creative partnerships. They had figured out (or so we thought) something that the rest of us aspired to: how to stay hip and relevant while also being in love and having children and having a normal life. So when they announced that they were getting divorced—after 27 years of marriage—the indie nation issued a collective horrified gasp. For some, this news was worse than if their own parents had sat them down and told them they were splitting up. At least we have Kim and Thurston's music to listen to while we cry, clutching our knees and rocking in a corner, over the end of a rock 'n roll era.
---
Kim Kardashian & Kris Humphries (October)


What is there even left to say about this "couple" that hasn't already been said? He an NBA player, and she a person famous for basically doing nothing, their love was so deep, so genuine, so sacred that it was shared by all of America... And that is why their wedding required a special two-part Super Fantasy Fairy Tale Wedded Bliss Dream Extravaganza on E!. When we saw them say "I do" in the midst of ten million of dollars worth of useless sparkle and over-the-top décor, we knew it was meant to be. And so we were shocked—SHOCKED, I tell you!—when they announced that their blessed union had come to an end after just 72 measly days. Never has the American heart been so broken. The thought that Kim and Kris—who were so perfectly matched that their names even started with the same letter—could fail is still too painful to bear. So painful, in fact, that we must banish it from our collective mind. For 2012, let us bury our Kardashian hurt/shame/regret/horror/agony deep in a hole in the backyard and never speak of them again.
---
Zooey Deschanel & Ben Gibbard (November)


Zooey and Ben were poster children for indie love. If you were to picture their life together, you'd see them living in a cute little bungalow in Portland with bird paintings on the wall and beds covered in quilts made by their grandmothers. And they probably walked around the house in their perfectly hip outfits singing and giggling, all day—like they were living in a musical. But alas, at some point during their two-year-long marriage, the happy feelings changed to sad feelings, and that produced even more feelings. Now Zooey is becoming ever more famous, and Ben, well, he's still the same old Ben. Perhaps the one good thing that can come out of their fizzled romance is the sure-to-be-forthcoming collection of charmingly twee songs about how hard it is to divide up one's antique banjo and artisanal plaid shirt collection after a divorce.
---
Ashton Kutcher & Demi Moore (November)


Oh boy, oh boy, oh boy. Considering how controversial and ill-fated we all thought Ashton and Demi's relationship was at the start, it's strange that we should be so shocked when it finally fell apart—in the midst of much frenzied speculation—after six years of marriage. It seemed odd, back in the beginning, that someone so young and sought-after would be so eager to settle down, much less with someone who was 16 years older and had three daughters who could easily have been his sisters, but they made it work. And eventually, we came to accept it and even to cherish it. But now their fairly public meltdown and eventual split has left us wondering: If @aplusk and @mrskutcher can't make it work, who can?
---
Honorable mentions: The Bachelorette's Ali Fedotowsky & Roberto Martinez; Francophile Bradley Cooper and Renee Zellweger; Cheatin' Kobe Bryant and Vanessa Bryant; REM; Hugh Hefner and Crystal Harris; Pippa Middleton and Alex Loudon; Charlie Sheen and his divorce from reality; Olympic skier Lindsey and her coach/husband Thomas Vonn; Leonardo DiCaprio and like three different models; 81-year-old Buzz Aldrin and his third wife Lois Driggs Cannon; the equally pale pair, Jack White and Karen Elson; and, of course, Kat Von D and Jesse James, whose split left a trail of tattooed tears on each of our faces.
Heart image via Pavel Ignatov/Shutterstock.