Jennifer Aniston–the Jennifer Aniston who says "holy crap!"–keeps it saucy for this Harper's Bazaar interview. Like a celebrity tanning naked in the driveway at wine o'clock, she raps with Amy Sedaris (her friend; omg) on communing with the dead, knocking down walls on a whim, and vitamins vitamins vitamins! while dropping the s-bomb with reckless abandon. The water and lotion salesman I knew last spring is dead. This is a loose cannon I want to adopt as my quirky woo woo roommate; I might come home to a rubble of plaster and drywall, or a $500 dinner of kale and apple cider vinaigrette. Anything could happen, and every day would be a thrill.
Jennifer Aniston on crap:
When Justin proposed he put that freaking ring on my finger, and I was like, "Holy crap, now I'm gonna have to get manicures." [Laughs]
Jennifer Aniston on how watching television is like puking in a fun way:
It's sad to see the filmmaker's and everyone's hard work diminished down to a computer screen. But it is fun to sit in bed and binge-watch. You can just dive through them like an eating disorder.
G/O Media may get a commission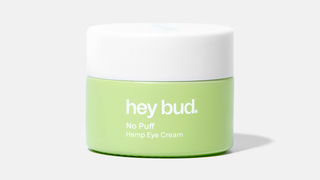 15% off
Hey Bud - No Puff Hemp Eye Cream
Jennifer Aniston on demolishing walls:
You should have seen Justin. We walked in one day after they'd been doing the demo, and he was like, "Holy sh-t. What are we doing?" And I was like, "We're redoing the house, babe. We gotta take the wall down to put up a nicer one."
Apropos of nothing, Amy Sedaris asks her if she "ever had to de-spook a house." Why, it's funny she should ask!
One of the first houses I rented was in Laurel Canyon, and things would literally fall off the shelves, the televisions and stereo system would all of a sudden blast, and the coffeemaker would start making coffee. My roommate at the time, who talked to dead people, if that doesn't sound too crazy, did a little ceremony, and that freaked me out. I was new to Los Angeles and the spirit, past lives, New Age thing. And now every house I go to, I have a healer or a medium come through. This makes me sound like an absolute insane human being. [Laughs]
Jennifer Aniston laughs. She laughs like an absolute insane human being, and I love her.
---
Mel B's (Scary Spice's) ex-husband sounds like an asshole. Not only has he dragged her daughter and Eddie Murphy into the divorce proceedings, but he's now bringing a sex tape into it, the Sun reports, meaning that their kids will be exposed to it. She also claimed that he abused her and controlled her $54 million fortune. Good to know: don't marry Stephen Belafonte.
---