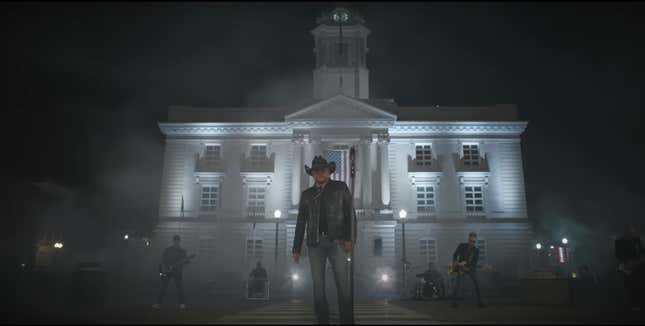 In May, Jason Aldean—a noted transphobe, practicer of blackface, and all-around abhorrent individual—released a song called "Try That In A Small Town," in which he spends about three minutes making threats to anyone justifiably critical of this godforsaken country. "Cuss out a cop," Aldean dares. "Stomp on the flag and light it up," he goads. If the aforementioned sounds like an ideal Friday night to you, the country singer then warns to "try that in a small town," which I can only imagine means he and his insurrectionist crew are going to grab their grandad's guns and commit actual acts of violence. Now that's what I call a bigotry bop!
While "Try That In A Small Town" is technically months old, the "most contemptible country song of the decade" garnered renewed scrutiny this week thanks to its music video which premiered five days ago and has already been officially pulled from Country Music Television (CMT). In it, Aldean's lyrics—rife with allusions to Black Lives Matter demonstrations and anti-gun activism—are accompanied by what appeared to be actual footage of recent protests, along with CCTV videos of looting that happened to take place in the summer of 2020. As if Aldean's thoughts on the movement for Black lives and gun reform aren't made explicitly clear enough, eagle-eyed viewers pointed out that the country singer is quite literally performing the song in front of the Maury County courthouse, where Henry Choate, an 18-year-old Black man, was lynched by a white mob in 1927.
On Tuesday. Aldean addressed the song's backlash via Twitter. Of course, he denied that his lyrics are in reference to race and that any footage in the music video is real:
"In the past 24 hours I have been accused of releasing a pro-lynching song (a song that has been out since May) and was subject to the comparison that I (direct quote) was not too pleased with the nationwide BLM protests. These references are not only meritless, but dangerous," he began.
"There is not a single lyric in the song that references race or points to it—and there isn't a single video clip that isn't real news footage—and while I can try and respect others to have their own interpretation of a song with music—this one goes too far. As so many pointed out, I was present at Route 91-where so many lost their lives—and our community recently suffered another heartbreaking tragedy. NO ONE, including me, wants to continue to see senseless headlines or families ripped apart."
That's right. Lest anyone forget, this is a man who performed at the Las Vegas concert that culminated in one of the deadliest mass shootings in modern history. And yet here he is, belting about "good ol' boys" and their guns.
Aldean's latest controversy comes as no surprise, especially given his most recent feud with Maren Morris in which he and his wife—now known forever as "Insurrection Barbie"—exchanged transphobic comments on Instagram. In response, Morris called them out, writing: "It's so easy to, like, not be a scumbag human?"
Luckily, there are plenty more people—including gun reform activists and country artists I don't feel morally bankrupt supporting—who aren't buying Aldean's bullshit in defense of his borderline patriotism parody song. "There's nothing small-town or American about promoting violence," Sheryl Crow tweeted of the "lame" song. "You should know that better than anyone having survived a mass shooting."

Shannon Watts, Founder of Moms Demand Action, has also aptly pointed out that Aldean is soon to perform at the Grand Ole Opry for a Nashville Covenant School fundraiser in the wake of the school's mass shooting in March. "One would think there are many other country music artists they could invite instead?" Watts tweeted. Agreed! May I suggest Margo Price?
Meanwhile, Sen. Marsha Blackburn (R-TN) has, unsurprisingly, sided with Aldean: "Cancel culture is the enemy of freedom of expression. I stand with @JasonAldean."
In addition to being problematic, the song is also just inaccurate. As someone from a small Midwest town, I can confirm that if any natives witnessed anyone spit in a cop's face or stomp on a flag, they'd just keep on walking.