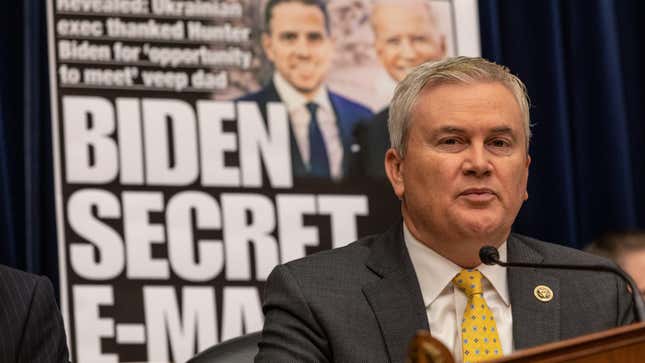 Rep. James Comer (R-Ky.) is the chair of the House Oversight and Accountability Committee, which, under Republican control, has pivoted to investigations of President Joe Biden and his messy son Hunter in the lead-up to the 2024 election.
GOP Congressman Spent His Sunday Daring Biden to 'Come and Get' His Guns
A recent New York Times profile chronicled Comer's transformation from an "affable country boy" who voted to certify the results of the 2020 election to MAGA attack dog. The profile also resurfaced disturbing allegations that Comer physically assaulted an ex-girlfriend in college and later tried to discredit her claims. That woman, Marilyn Thomas, claimed the anti-abortion congressman took her to get an abortion in the 1990s. The anti-abortion Susan B. Anthony List has given Comer an A+ rating.

Jezebel contacted Comer's office for comment and did not hear back by publication time. Thomas declined the Times' request for comment.
The reports of Comer's alleged domestic abuse first came to light in 2015, when a local blogger published them during Comer's unsuccessful run for governor in Kentucky.
In Mary 2015, as the blogs circulated and reporters hounded her, Thomas sent a letter to a Louisville Courier-Journal reporter in which she said she was upset about people online calling her a liar and opportunist. The four-page letter went on to recount her experiences with Comer in devastating detail. Thomas said they dated for two years in Western Kentucky University in the 1990s and claimed that Comer not only hit her, but was a "toxic," "abusive," and "controlling" partner who isolated her from family and friends. Thomas heavily implied that Comer impregnated her and said he took her to an abortion clinic in November 1991 when she was 19, and was "enraged" when she listed his real name as the person escorting her home. Thomas said she kept documentation of the abortion given to her by the clinic.
The Courier-Journal reporter published a story quoting her letter two weeks before the 2015 Republican gubernatorial primary. Thomas told the reporter the abortion documents were in a security deposit box in Kentucky that she couldn't immediately access. Wendy Curley, her college roommate, told the reporter Thomas would come home with bruises that she chalked up to clumsiness, and corroborated Comer taking Thomas to an abortion clinic and bringing her back to the dorms after.
In response to the Courier-Journal's report, Comer said he and Thomas only dated for four months and denied the other allegations. But the disclosure "prompt[ed] Mr. Comer to resort to hardball tactics," per the Times, which included him suggesting that one of his opponents had paid Thomas to come forward, and leaking some of the blogger's emails to suggest the blogger was secretly working with one of his opponents. Comer went on to lose the primary to Matt Bevin (who later became governor), but was elected to Congress the following year.
In last week's Times profile, Comer again denied Thomas' allegations, admitted that he leaked the blogger's emails in an attempt to discredit Thomas' story, and implied that he'd gotten them from a stolen email server. This man is now in possession of Hunter Biden's potentially illegally obtained laptop server.
Here's the passage from the Times:
The rumor whispered around Kentucky political circles at the time was that Mr. Comer had swiped the emails from the computer server for the husband [of the running mate of another candidate]'s former law firm and leaked them to the newspaper. In an interview with The Times, Mr. Comer confirmed, for the first time, that he had been behind the leak and strongly hinted he had gotten them from the server.

"I've had two servers in my lifetime," Mr. Comer said when asked about the emails. "Hunter Biden's is one, and you can—I'm not going to say who the other one was, but you can use your imagination."

"It ended up in my lap," Mr. Comer added of the information. "I'll put it like that."
The Times said it obtained Thomas' four-page letter but did not print it. Louisville's WHAS11 News first published the letter in full in May 2015 with her permission, and Jezebel is sharing it here. In it, Thomas refers to Comer as "Jamie," which people in Kentucky still call him.

House Republicans are investigating Hunter Biden's laptop as part of their desperate effort to paint the President's family as corrupt with tenuous links to Chinese businessmen. Comer himself spoke on a panel at the 2023 Conservative Political Action Conference titled "The Biden Crime Family." It's all certainly convenient timing, when former President Donald Trump is facing multiple criminal and civil investigations.
Keep these allegations in mind when you see Comer and his committee trying to tie the Biden family to crimes with evidence from a dubious email server.