At this point, we're used to seeing various Real Housewives in financial peril, but the 39-count indictment of federal fraud and tax charges that Teresa and Joe Giudice are facing is some next-level courtroom drama shit. According to legal experts, they will both serve time in a federal prison.
Have you read the full indictment against them? It's bad. Really bad. And it might be difficult for Teresa to play the part of the unwitting housewife because all of the alleged fraud was done in her name. According to the feds, between the years 2001 - 2008—when Teresa was a stay-at-home mom, earning no income—the Giudices obtained eight different loans and mortgages by submitting falsified W-2 forms and pay stubs to convince the lenders that she was steadily employed. The kicker is that the Giudices were not consistent in their (alleged) lies, so when reviewed all together, the conflicting information on the different loan applications is pretty damning. Here's a brief rundown:
In a 2001 loan application to HomeComings, the Giudices stated that Teresa was an Executive Assistant at Modern Era Investment Corp., where she was employed for four years, earning $3750 a month. HomeComings issued her a mortgage of $121,500.
In a 2004 loan application to Eastern American, they stated that Teresa was a self-employed owner of G&G Stucco earning $14,750 a month for the past seven years. Eastern American issued her a mortgage of $20,200.
In a March 2005 loan application to Alterna, they stated that Teresa was a self-employed owner of G&G Stucco earning $12,100 a month for the past six years. Alterna issued her a mortgage for $141,550.
In a November 2005 loan application to Park Avenue, they submitted fraudulent tax returns. Park Avenue issued them a construction loan for $800,000.
In a 2006 loan application to Wachovia, they submitted fraudulent tax returns and received a home equity line of credit, from which he withdrew $251,360.
In a 2007 loan application to Wachovia, they submitted fraudulent tax returns and W-2 forms and received a home equity line of credit from which he withdrew $170,252.
In a February 2008 loan application to Sterling, they submitted fraudulent W-2 forms. Sterling issued them a construction loan for $1.7 million.
In a July 2008 loan application to CBBC, they submitted fraudulent tax and W-2 forms and falsely stated that they had a private bank account containing $500,000. CBBC issued them a loan for $1.72 million.
So between 2006 - 2008, they had received close to $4 million dollars in loans. And then they filed Chapter 7 bankruptcy in October 2009.
However, they allegedly concealed assets from the bankruptcy court so that their lenders couldn't cash in on the debt. Over the two-year process of their bankruptcy, they failed to disclose the several LLCs (limited liability companies) they had formed in early 2009. They also failed to disclose Teresa's true income from The Real Housewives of New Jersey and paid personal and magazine appearances, as well as income from a rental property. They also failed to disclose their anticipated increase in income, coming from deals she'd struck—before filing for bankruptcy—for her second season of the Bravo show and her first cookbook that were both paid out after the bankruptcy filing.
G/O Media may get a commission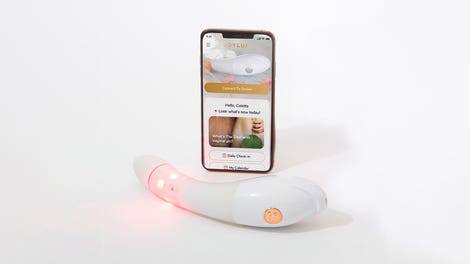 $50 Off
Joylux vFit Gold Device
(It didn't help matters that Teresa went on a $60,000 spending spree after filing for bankruptcy.)
To top it off, Joe didn't pay income tax for five years in a row.
So what does this mean, in terms of actual jail time?
The couple have not yet entered their pleas—that will happen on August 14—but Teresa is expected to plead not guilty, according to her lawyer. That would mean she would go to trial. That could spell trouble, according to John J. Carney a former federal prosecutor specializing in economic crime.
There are countless factors that could impact their actual sentences, but the risk of serving time is real, especially if they go to trial and lose.
If convicted, they each face 50 years in prison.
A criminal defense attorney that doesn't represent either Teresa or Joe spoke anonymously about the case to the website Reality Tea:
[T]he fact that a judge demanded they pay equal amounts bail does not look good!

…The Feds only indict when they have a rock solid case, the recent statistic is that 90% of federal indictments end in convictions. And unlike state courts, the federal court uses a sentencing guideline system. In working with a federal probation officer, the officer will determine what 'criminal history level' the person is at and what the 'offense level' is, from that and from the sentencing guidelines, a sentence is proposed by the probation officer to the Judge…

Despite Teresa's likely attempting to get probation and a fine, this attorney believes it is inevitable that they will both serve some jail time in federal prison.
When it comes to the sentencing guideline system in federal cases, Joe might be fucked. He was convicted of a DUI in 2010, and is currently awaiting trial for stealing his brother's identity to fraudulently obtain a license from the DMV. He already owned up to committing fraud in 2007 when he forged the names of his business partner and notary public on mortgage documents.
Joe's documented history of forgery might work in Teresa's favor, though, if he says he forged her name on all of the falsified documents. But of course, that's only if he's willing to take the rap. And if the government actually believes that Teresa had her head in the sand during their seven-year mortgage spree.
Interestingly, Bravo might be dragged into this whole mess, according to New Jersey-based attorney Darren Del Sardo because the network is not a news agency and therefore doesn't have First Amendment privileges.
Employees filming for Bravo can certainly be called as witnesses to establish that the Giudices were perhaps making large purchases in cash during the time of the bankruptcy. The network could also be called as a witness to support an increase of anticipated income paid by Bravo to Teresa that was not disclosed in her bankruptcy filing.
As it stands now, Teresa has every intention on sticking around for the next season of Real Housewives, which reportedly will start filming in September. But Bravo may not want the headache. While the network has not released an official statement regarding the indictment, a source there says that they are no longer interested in a spin-off involving Teresa, saying, "Bravo only spins off happy situations — marriages, baby news. Not prison."
A Lawyer Weighs In On Teresa Giudice Indictment; Explains Separate Attorneys And Likelihood That Teresa Will Do Time! [Reality Tea]
Teresa Giudice, Joe Guidice Indicted: How Much Prison Time Could They Serve? [US]
Teresa Giudice, husband Joe Giudice now face reality show cancellation amid tax fraud charges [NY Daily News]
Teresa Giudice case could get messy for Bravo, 'Housewives' franchise [Fox News]