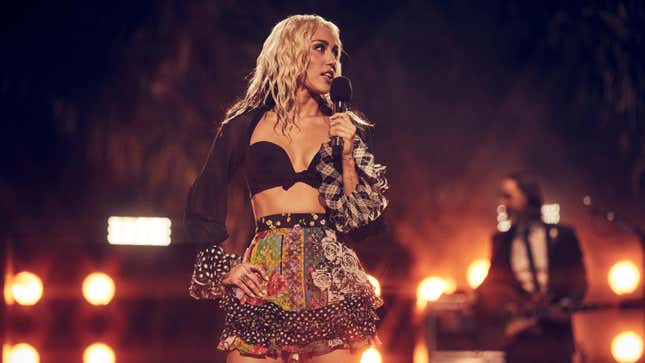 Dare I say, Miley Cyrus is once again…coming in like a wrecking ball? But this time, she appears to be draped in vintage Versace with metamorphosis on the mind. Sign me up for text updates!
Of course, the Grammys Brought Up 'The Slap'
During her annual New Year's Eve special on NBC, Cyrus sang with some of the music industry's best including Dolly Parton, Sia, and Fletcher—and also Paris Hilton. After committing to the edgy artist bit in the years leading up to the launch of her last album, Plastic Hearts, she now appears to be transitioning away from her Joan Jett era to a more classic, understated Hollywood glamour, making way for something new—possibly, maybe, hopefully…a long-awaited breakup album?
On NYE, she announced that she'd be releasing her first solo single in two years, "Flowers." The song, which has been teased in two separate YouTube videos (including one of Cyrus parading through lawn sprinklers in a bathing suit), boasts the lyrics, "I can love me better than you can." And crucially, the track is set to drop on January 13—none other than ex-husband Liam Hemsworth's birthday.
Following in the angsty tire tracks of Lana Del Rey, whose only album promotion consists of a billboard in her ex's hometown, all signs point to the possibility of Miley going full-blown wailing siren on Liam's ass. The two started dating in 2009 while filming The Last Song together—a Nicholas Sparks meet-cute in itself, though things were a bit rocky thereafter. They broke up several times, got engaged in 2012, broke up again, then got married in 2018 only to announce their split less than a year later. They officially divorced in 2020 and, while both claimed the split was amicable, Miley later told a packed Lollapalooza Brazil crowd that their marriage was a "fucking disaster," according to Billboard.
Making your album drop a subtweet—a tactic Taylor Swift may have also used in dropping Midnights on Kim Kardashian's birthday—seems to hint at Cyrus' revenge-tinged "NEW YEAR, NEW MILEY" vibe and a single that will hopefully be dripping with disdain for her ex. Of course, she could just want to transform into a fluffy snack of a pop star, though I'd find that hard to believe. Despite Cyrus' near nonstop antics from UFO chases to tours of her blow-up doll and dildo-adorned home, the singer has proven herself to be a talented musician time and time again, and has a knack for letting her emotions lead. If her past albums are any indication of what we might get from this new era, I'd say we are more than likely to have some raw Miley matter on our hands, and an impending roast of Mr. Hemsworth.