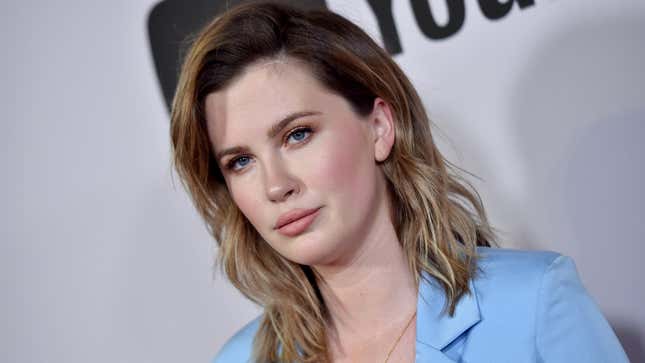 Much like Kylie Jenner has decided to name her children after words she hears on the Weather Channel, and Kris Jenner chose all names that start with K for her daughters (sorry, Rob), Ireland Baldwin has decided to stick with a very specific theme in naming her forthcoming daughter with musician RAC.
Is Emmy Rossum Old Enough To Play Tom Holland's Mom?
"We're naming her Holland," Baldwin, 27, said on the Girlboss Radio podcast this week. "I'm Ireland, so another country name because we wanted to keep that consistent."
"And then I love the actress Holland Taylor," she continued. "I've always loved that name since I was young, I just thought that was such a classy, beautiful name, so we're going with Holland."
Baldwin, the daughter of Alec Baldwin—who's recently been charged with involuntary manslaughter for the shooting death of cinematographer Halyna Hutchins on set—has been pretty forthcoming lately about her own family and the way she was raised. Her pregnancy has been a particular struggle, she wrote on Instagram, because "it's hard not being really close to family to begin with because they live far or are idiots that I want nothing to do with."
Aside from dealing with having shot a woman to death on set, Alec Baldwin has also been battling rumors that his wife, Hilaria, is faking her Spanish accent and heritage (to which he says: "Go fuck yourself.").
In the new Girlboss Radio interview this week, Baldwin made clear, once again, that she intends to raise her daughter differently than she was raised—and perhaps differently than her dad is raising the 7 children and counting he has with Hilaria (my words, not hers).
"What I'm most excited about is really more centered around a lot of things I really wanted in terms of stability as a child myself that I didn't have," Baldwin said. "What's kind of exciting is I get to raise this little human and do things completely differently than what I was taught was the norm."
Godspeed!