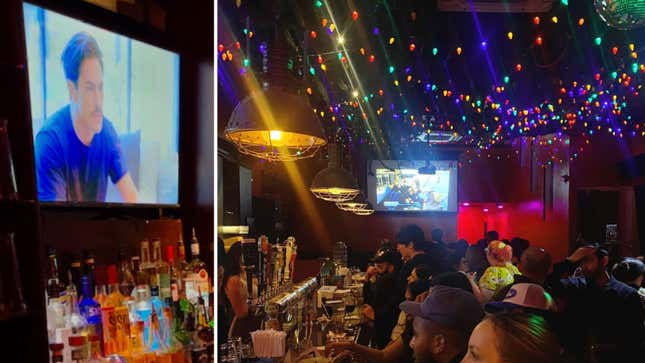 Hot on the heels of a certain highly publicized, certainly suspicious break-up in the Bravoverse, bars, restaurants, and homes across the nation held watch parties Wednesday night for the season finale of Vanderpump Rules. Naturally, I had to attend one, and living in New York City, I was spoiled for choice. However, a gathering at a bar on the Lower East Side, thrown by Alyssa Polinsky—otherwise known as The Bravo Witch + Astrologer—seemed, well, written in the stars.
Zola Is a Spectacle, But Taylour Paige Says It Captures Something Real About Race, Gender, and Sex Work
While most other watch parties likely offered variations on the iconic goat cheese balls, Pumptinis, or Scheana's enchiladas, Polinsky's proffered frozen concoctions, an…interesting crowd, and most unique of all, astrological analysis of the entire ensemble cast.
Now, raise your glasses high. These highlights are for you tonight...or whenever:
---
7:50 pm: Two women who appear to be in their early twenties walk past me en route to the bar wearing t-shirts that read: "Never trust a Tom" and "Team Ariana." We make eye contact, so I flash them my toothiest Midwestern grin. But because this is New York City and not middle America, they answer with a scowl.

8:00 pm: I've reached my destination, The Skinny Bar and Lounge. The walls are red, the ceilings are dotted with disco balls and multi-colored Christmas lights, and the overall vibe is reminiscent of a teen club of my youth—one that held foam parties, Usher remixes, and a lot of kids whose breath wreaked of Popov and dissolvable Listerine strips.

8:07 pm: I order an Aperol spritz and survey the crowd. As to be expected, the bar is teeming with women. Some have dressed for the occasion (sequins), but the majority—myself included—seem to have arrived straight from work. An even closer look reveals a surprising number of men.
8:15 pm: "This is the Super Bowl for women," Polinsky says. "Like, this is something we need as a society." The host has graciously distributed sachets of smudge sticks, crystals, and an astrology cheat sheet that shows the sun, moon, and rising signs of the entire Vanderpump Rules cast sans Peter because well, no one cares. I'm not surprised to learn that Tom Schwartz—the man who couldn't find a spine if it were served to him on a plate at SUR—is both a Libra sun and moon.
8:21 pm: I tell Polinsky I'm shocked that so many seemingly straight men are in the space. The optimist in me wonders aloud if they're an underrepresented species in the Bravoverse. "I don't know...I think they're just smart enough to go to a bar with a lot of women."
8:28 pm: On the way back to the bar, I accidentally bump into a woman wearing a Rick and Morty t-shirt who then proceeds to grip me by my love handles and follow me as if we're starting a conga line à la Kathy Hilton.
8:33 pm: "Are you an ENFT?" the woman who introduces herself as Hannah* asks. Pardon? My handwriting, she notes is indicative of a personality type. Or, was it my intelligence? "Smart people have good handwriting," she says, quickly pulling up a Reddit thread and shoving it beneath my nose as if it were a sacred text. Eventually, she moves on.
8:35 pm: I strike up a conversation with two women in their early twenties—Elizabeth* a long-term fan of Vanderpump Rules, and Sarah*, who until tonight, hadn't seen a single episode. "It's relatable to a lot of people," Elizabeth tells me of the show's draw. Really? I watch because it kind of feels like a fantasy. Blessedly, my life isn't so complicated. Sarah nods her head in agreement and notes the elevated fame Madix has managed to achieve post-split: "I mean, when I got cheated on, all I got was heartbreak."
8:50 pm: I ask Sarah whether she thinks she'll become a fan of the franchise after the finale. "No," she answers succinctly. "It's a one-night stand." She could have done much worse!

8:55 pm: The sound at the bar is abruptly cut in lieu of a microphone in the corner. "Ladies and gentlemen," a man announces. "Wait," he stops short. "What's it called again?" he prompts a nearby patron. "Oh, the season finale of Vanderpump Rules will begin in five minutes!"
9:00 pm: The time has come, and it's punctuated by actual screams—my own, mostly—and then an eerie nothingness. I can't recall a time a bar has ever become this quiet.
9:07 pm: The showdown between Sandoval and Madix that's been teased is in full swing. He asserts the affair had nothing to do with his ego or the fact that they hadn't had sex in a while. (The latter is too often a topic of conversation this season.) "Oh give me a fucking break," someone spits just over my right shoulder. Literally, there's saliva on my cheek. I peek around and find that the voice belongs to a man in his 30s who appears to have attended this watch party by himself. He'll remain within earshot for the rest of the episode. His commentary is my favorite.
9:10 pm: "KILL HIM!" a woman nearby bellows after Sandoval asserts to Madix that Leviss actually treats him with respect. I concur!

9:15 pm: The bar has now taken the shape of a movie theater playing a horror film. Everywhere I look there are screams, shudders, sloshed drinks, and hands shoved over eyes. And then Madix utters what I will personally ensure becomes an immortal line in Bravo history: "I regret ever loving you."
9:22 pm: Danielle Olivera, a member of the Summer House cast, is in the building and a tall gentleman keeps ordering drinks at her behest.

9:28 pm: "She could've followed me," Sandoval bemoans of Madix not discovering his cheating earlier. More shrieking ensues because yes, it was her fault for not catching his poorly manicured hands all over Leviss as she mourned the deaths of her beloved grandmother and dog.
9:30 pm: Sandoval becomes emotional. Again. "He's totally faking it," the man with the superior commentary over my right shoulder tells me.
9:33 pm: One of the single—seemingly straight—men I noticed earlier can't tear himself from the sight of the adulterers basking in the glow of their own gall—and Leviss' galaxy lights. His beer sits untouched in front of him, his eyes alert and unblinking. Good for him.
9:50 pm: Things are winding down. Hannah is in a state of embrace with a dude that's either her boyfriend or would like to be. Elizabeth and Sarah are cashing out. The raffle winners will soon be announced. The prize? I can't be certain but I'd wager it's a reading from Polinsky. I regret not entering.
10:00 pm: I've now laughed, I've cried, and I've flipped the flatscreen off.
10:15 pm: Only a few people have stuck around for Watch What Happens Live. Apparently, even Madix's first tell-all post-#Scandoval isn't enough to keep asses in the seats. Frankly, I don't know what it says that a scandal can more easily fill a bar than a celebration of a scorned woman's newfound successes. Madix has a hot new boyfriend and heaps of high-profile invitations—but while healing may be aspirational, apparently, it's not nearly as enthralling as heartbreak.
---
Personally, I don't exactly revel in the very public unraveling of two strangers' relationship as if it's a sporting event—not even when it's a collective experience. But the absolute bloodbath that will surely be the three-part reunion? Well, I'm already at the bar.