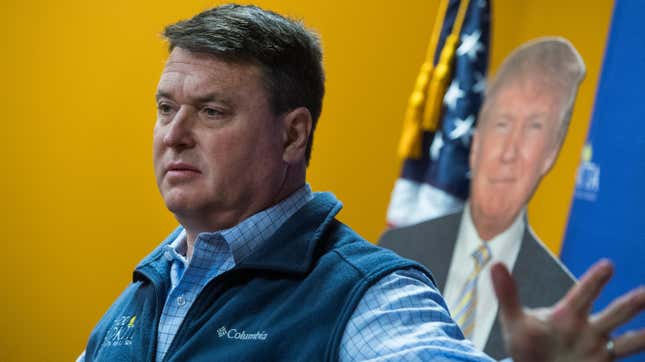 Days after the Supreme Court overturned Roe v. Wade last summer, a 10-year-old rape victim from Ohio was forced to travel to Indiana for abortion care—but a person facing similar circumstances would soon be turned away in the state. Indiana's state Supreme Court rejected petitioners' requests for a rehearing on its sweeping abortion ban on Monday, meaning the ban, which lacks a rape exception, is set to take effect any day now once a June 30 ruling permitting the ban is certified, the AP reports.

Uterus Weekly: 15-Week Abortion Bans
Indiana's abortion ban offers nebulous exceptions only for medical emergencies and cases in which the pregnant person's life is endangered. It's among the majority of states that have enacted abortion bans that lack rape exceptions.
Of course, rape exceptions have proven unhelpful to victims seeking abortion care: Last week, Time reported the story of a 13-year-old girl in Mississippi going into the seventh grade as a parent after being impregnated by rape, despite the Mississippi abortion ban's rape exception. Her mother wasn't even aware the state ban has a rape exception. Elsewhere, Tennessee's legislature considered a bill to add a rape exception to its ban—but threaten those who "lie" about being raped with three years in prison.
That Indiana's abortion ban neglects to offer even symbolic accommodations to rape survivors speaks to how our dwindling post-Roe options are being further eroded by the day, one year after the Supreme Court's decision. "We have seen the horrifying impact of bans like this across the country, and the narrow exceptions included in this extreme ban will undoubtedly put Hoosiers' lives at risk," the ACLU of Indiana's executive director, Jane Henegar, said Monday, calling the ruling "a dark day in Indiana's history."
Indiana's attorney general, Todd Rokita (R), celebrated the state's abortion ban: "We defeated the pro-death advocates who try to interject their views in a state that clearly voted for life," he said in a statement.
Rokita is perhaps best known for targeting and retaliating against Dr. Caitlin Bernard, the Indiana doctor who provided abortion care to the child rape victim from Ohio last year, by lying that Bernard failed to report the rape to the state. Rokita then subjected the doctor to a highly political state investigation and a day-long hearing in May that led to her being fined $3,000 and reprimanded.
At the time that Bernard gave the child from Ohio an abortion last July, she told the Columbus Dispatch she's seen "an insane amount of requests" from out-of-state abortion patients, particularly from Kentucky and Ohio, which both banned abortion once Roe fell. (Ohio's ban has since been blocked in court.) Now, Indiana residents seeking abortion care—including those who have been impregnated by rape—will also have to join the mass exodus of people forced to travel across state lines for the time-sensitive, highly urgent health service.