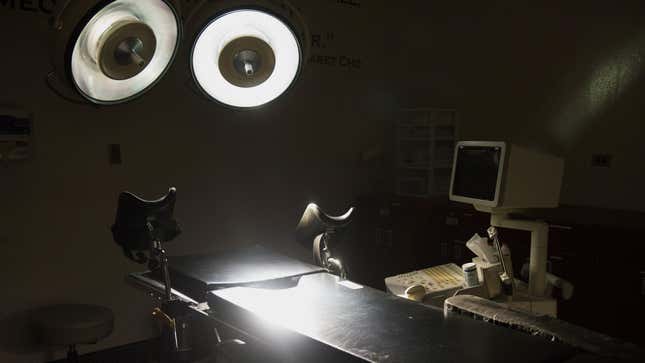 Indiana hospitals aren't being clear whether they'll offer abortion services to rape victims, after legislators voted (in August 2022) to add a 10-week rape exception to the state's ban according to a Wednesday report by the Indiana Capital Chronicle. The outlet contacted Indiana's eight major hospital systems, and only one (Indiana University Health) implied it would perform post-rape abortions, but declined to offer specific policy details. Three religious hospital systems told the Chronicle outright that they wouldn't provide "elective" abortion care to rape victims, two declined to comment, and two didn't respond to the outlet.

Indiana University Health said it "[has] processes to get patients to the right place for care and support through our established network with emergency rooms, EMS, referring physicians, police departments, and others," but didn't comment on how rape victims can actually access appointments for care under the ban or the costs.
A spokesperson for the Lutheran Hospital of Indiana told the Chronicle, referring to abortion care for rape victims, "Your questions are better directed to a provider who performs elective abortions. Our hospitals do not." The Protestant Deaconess Health System told the outlet that its policy "has not changed" and "abortions are not performed outside the context of imminent risk of harm to or death of the mother"—apparently, being forced to carry your rapist's baby doesn't constitute "imminent harm."
Last summer, a doctor in Indiana provided care to a 10-year-old rape victim from Ohio who was forced to travel across state lines because Ohio's then-active ban lacked a rape exception. It's unclear whether this would still be possible today.
Indiana hospitals' refusal to offer abortions or be transparent about their processes for rape victims seeking care reflects a broader problem with rape exceptions, which are widely understood by experts to be mostly symbolic and can leave victims behind. Many states may require victims to report their rapes to police, who are prone to disbelieve and mistreat victims. Earlier this year, Tennessee considered a bill to add a rape exception to its ban but threatened those who "lie" about being raped with three years in prison. And, as in Indiana's health system, few states actually detail how victims can seek care through the exception.
Jessica Marchbank, state programs director at Indiana's All-Options, told Jezebel her organization has "helped over 3,000 pregnant people in Indiana overcome financial and logistical barriers to access abortion care," and "our experience in helping people access care at hospitals—both now and before the ban—has been that hospital care often does not feel particularly accessible to all people." Marchbank continued in an emailed statement, "It can be challenging and confusing, for both the abortion seekers and for those of us helping them navigate their options."
"The exceptions presented in Indiana's ban are worded in a confusing, oblique manner, to create additional confusion and uncertainty," Marchbank said. Further, "hospital systems are notoriously risk averse, and many hospitals in Indiana are Catholic," and have always denied patients life-saving abortion care.
Earlier this month, in Mississippi, a 13-year-old girl gave birth after being impregnated by rape, despite the state abortion ban's rape exception and a police report filed by the child's family. Her mother wasn't even aware the state ban included a rape exception, but as a result of the ban, there are no abortion providers left in the state, anyway. The state's top health officials ignored requests by Time to clarify how rape victims can actually access care through the so-called exception.

Speaking to the Chronicle, Beth White, president and CEO of the Indiana Coalition to End Sexual Assault and Human Trafficking, noted that while traveling out-of-state for care is an option, "Domestic violence is real. If someone needs an abortion due to forced sex in a relationship, they have even fewer options. [You can't say], 'I'm going to Michigan for a few days, and don't ask me why or what I am spending money on.'" Further, "victims of rape and incest are rarely in a problem-solving mode" and "dealing with trauma," and can't easily navigate complex processes to get time-sensitive care. Being turned away from Catholic hospitals and forced to discern coy answers from other hospitals is the last thing victims navigating rape-induced pregnancy need.