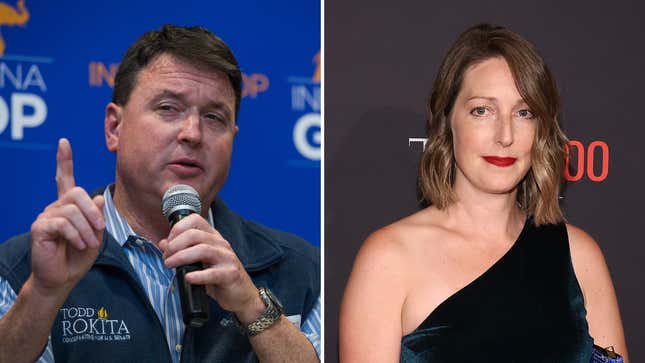 Indiana Attorney General Todd Rokita filed suit on Friday in federal court against the hospital system that employs Dr. Caitlin Bernard, the abortion provider who treated an unidentified, then-10-year-old rape victim from Ohio in the days after Roe fell. Rokita contends that Indiana University Health (IUH) and IU Healthcare Associates violated federal HIPPA law and state-level privacy law by standing by Bernard, who confirmed to the Indianapolis Star that she had treated a 10-year-old pregnant rape victim. 

Uterus Weekly: 15-Week Abortion Bans
Bernard's story got nationwide attention in the summer of 2022 in the days after Dobbs overturned constitutional protections for abortion because it was (a) shocking to the general public that a 10-year-old was raped, and (b) because she was forced to travel to another state for abortion care so quickly after the Dobbs decision (Ohio's six-week ban went into effect immediately). Right-wing politicians and media immediately questioned Bernard's facts, culminating in a Wall Street Journal op-ed titled "An Abortion Story Too Good to Confirm."
At a rally Bernard helped organize on June 29, 2022, the doctor was speaking with a fellow physician about the case when a reporter from The Indianapolis Star overheard her comments. Bernard confirmed to the reporter after the conversation that a 10-year-old patient had been raped; that the girl traveled from Ohio to Indiana for an abortion after a child abuse doctor asked if Bernard could treat the child; and the child was being treated by Bernard the week of June 27, 2022. A story went live on July 1, 2022, online and was on the front page of the newspaper on July 2, 2022. Rokita's lawsuit alleges Bernard and the hospital willfully ignored patient privacy by confirming those details to the reporter. The lawsuit accuses the hospital of either not having adequate privacy policies in place or having applied the policies "inconsistently" in its investigation into Bernard's actions, "threaten[ing] the privacy of its Indiana patients." (The lawsuit incorrectly states when the story was on the front page.)
The hospital system stands by Bernard and its policies. "We continue to be disappointed the Indiana Attorney General's office persists in putting the state's limited resources toward this matter," IUH said in a statement. "We will respond directly to the AG's office on the filing."
The lawsuit contends that because Bernard disclosed a date "more specific than the year," it is a breach of patient privacy. The lawsuit also says Bernard broke patient confidentiality during her November 2022 complaint against Rokita, where she accused him of overstepping his authority and repeatedly harassing licensed medical doctors who provide abortions, because "there was no court order permitting IUH to disclose the patient's records" that were partially submitted into evidence. (That action was later voluntarily dismissed by Bernard and her fellow plaintiff.)
The lawsuit requests a jury trial, so we'll have to wait to see what kind of resolution the courts might provide.

Rokita's office is also upset that journalists did their jobs, essentially. The lawsuit contends that because Bernard initially confirmed the details, Indianapolis Star journalists were able to request the specific state data on abortions performed that week, in order to confirm what she told them. If the Indiana Attorney General's Office is upset with the continued media coverage, it should do some soul searching: Rokita has focused on Bernard and the girl's case for more than a year, keeping this alleged privacy violation in national news outlets.
The lengths to which an anti-abortion politician with the backing of a powerful state office will go are astounding (especially considering Indiana now has an abortion ban in place). In addition to this lawsuit, Rokita falsely accused Bernard in July 2022 of not properly reporting the abortion services rendered to the state. Since the Indianapolis Star story, Rokita asked the state medical licensing board to suspend Bernard's license. The board instead reprimanded her in May and levied a fine. Even a nonpartisan statewide award for outstanding Hoosier women couldn't go toward Bernard because of "her ongoing case" with the licensing board.
Bernard maintains that she did not violate patient privacy but spoke up in the public interest. "I think it's incredibly important for people to understand the real-world impacts of the laws of this country, about abortion or otherwise," she said at the May hearing in front of the licensing board. "It's important for people to know what patients will have to go through because of legislation that's being passed."
If that weren't enough Indiana-Rokita-Bernard news for one day, the Indiana Supreme Court Disciplinary Commission filed a complaint against Rokita for misconduct Monday, stemming from how he spoke about Bernard in 2022. (Bernard's lawyer, Kathleen DeLaney, told the Indianapolis Star, "We will watch how the Disciplinary Commission process proceeds and let the complaint speak for itself.")
Rokita, obviously, wasn't pleased. "Hoosiers, in the largest number on record, elected me Attorney General because they knew they were getting a passionate fighter who—like them—is beating back the culture of death, grievance and transanity being pushed by radicals in workplaces, schools, media and government," he said in a long statement on Monday. Okay, then. Looks like Indiana will remain an abortion story hotbed for a while.