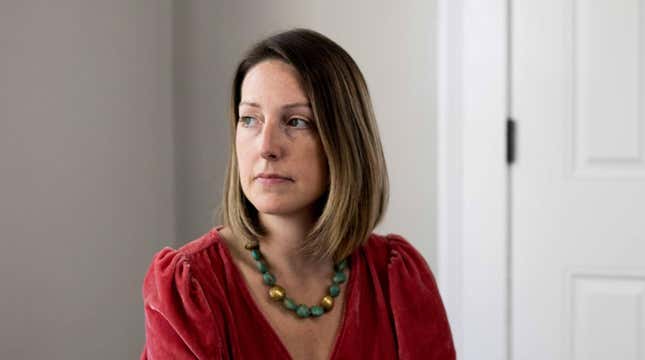 Dr. Caitlin Bernard—an abortion provider who became nationally recognized when she disclosed that she provided abortion care for a 10-year-old rape victim from another state—was rejected from receiving a prestigious award by the state of Indiana. Initially, the judges who selected Bernard were given no information about the rejection of the assistant professor from the University of Indiana.
When the IndyStar reached out, the Indiana Civil Rights Commission eventually said it was because Bernard received a $3,000 fine and letter of reprimand in May when the state licensing board decided she violated privacy laws by speaking about her treatment of a pregnant child rape victim.
The newspaper was unable to determine who exactly insisted on nixing Bernard's name. Stephanie Slone, deputy director of internal and external programming at the Indiana Civil Rights Commission, gave a statement to the newspaper: "After reviewing the backgrounds and supporting documentation of the nominations provided by the council of judges, it was determined that Dr. Bernard's nomination was not appropriate due to her ongoing case with the Medical Licensing Board."
The Torchbearer Awards were created in 2004 to "honor the many achievements of Hoosier women." IndyStar reported that Bernard was among 60 nominations given to the panel of judges. Bernard was among a half dozen finalists; the newspaper reported that her nomination was unanimous.
The judges were told women recommended for the award only had to pass a criminal background check, and Bernard (as a licensed medical professional) doesn't have a criminal record. What she does have is a national profile as an abortion provider in a red state, having publicly disclosed that she treated a 10-year-old rape victim who was pregnant just days after the girl's home state of Ohio enacted a six-week abortion ban. Bernard's comments were a part of a larger story about abortion access in the Midwest after the fall of Roe v. Wade, and she did not disclose any other information about the child. Immediately, rightwing national media and local conservative politicians doubted Bernard's story. Gerson Fuentes, the rapist, was quickly arrested on suspicion of the crime, and he later pleaded guilty.
The fact that Bernard told the truth about her abortion care practice didn't seem to matter; her name was removed from that list generated by the judges for the Indiana Commission for Women to vote on. As IndyStar reported:
On June 23, the judges were informed through an email from women's commission director Jordan Teske-Harrison that their list of recommendations, including Bernard, were being "sent for approval." On July 7, she sent another email asking the council of judges to vote on a backup to replace Bernard. Next to Bernard's name, in yellow highlighting, were the words "not approved."
The lack of transparency around her dismissal is rubbing people the wrong way. "It feels like the governor has said, women cannot be trusted to choose their own heroes," Deb Chubb, executive director of the Indiana Women's Action Movement and a Torchbearer judge, told IndyStar. "I think it's just another kick in the gut to women in Indiana."