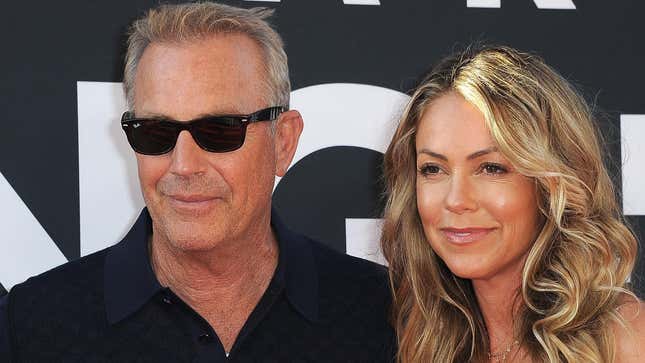 As the summer of splitting up rages on (because yes, it's still summer), Kevin Costner and Christine Baumgartner's behemoth of a nasty divorce battle continues to put all others to shame. They are the winners of the losers, I guess is what I'm saying.
The couple, who split up in early May after 18 years of marriage, were back in court on Thursday to duke it out over child support for their three teenage children, of whom they plan to share 50/50 custody. Baumgartner and her legal team presented some truly funny arguments as to why she deserves $175,000 per month from the Yellowstone actor, including that the children have luxury in their DNA and that it is very important they live right on the beach, because "they are very connected to the ocean."
According to People, Costner's crew is arguing that $60,000 per month would suffice in maintaining their children's genetically-required fancy coastal lifestyle, but considering that Baumgartner is currently renting a spot for $40,000 a month, that leaves very little extra for being exorbitantly wealthy. When asserting her need to be as close to the sea as their shared mansion in Santa Barbara was, Baumgartner noted that her kids are used to being 50 steps away from "toes in the ocean."
I have to say that after collecting my eyes that have rolled out of their sockets, I am astonished if not somewhat impressed by Baumgartner's complete disregard of being seen as relatable in any way. Though I suppose relatability is thrown out the window when your (ex) husband is bringing in nearly $20 million a year, a number Baumgartner's team determined through "forensics."
But at a time when celebrities release joint Instagram statements asking for privacy during this difficult time, promising that they're splitting on good terms, and when even Sam Asghari offers up a resigned "shit happens" as an official divorce statement, it's startling to witness an individual be as litigious and outlandish as she is. My children must live by the sea! I've gone to the doctor and the results are in...my offspring have wealth in their bones!!!
Of course, I don't know the inside details of why these two split, and perhaps she has every right to righteously demand a seaside estate. What's certainly clear is that she has enough money now and until forever to not really mind how she is coming across to the general public. If all goes as planned, she'll have no problem avoiding us from her coastal cabana.