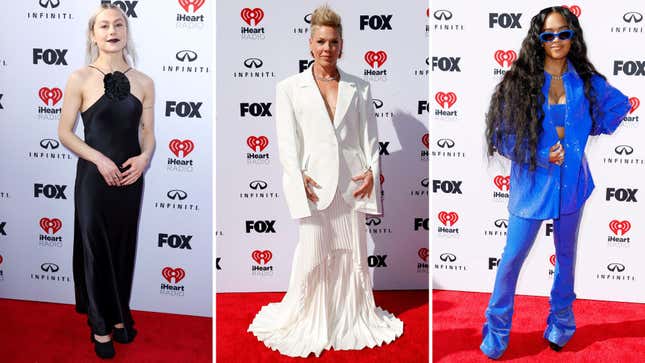 If there's one thing celebs will do, it's get awards. And they were apparently at it again Monday night at the iHeartRadio Music Awards, a show I was only made aware of this morning after seeing a tweet that said Taylor Swift—who'll be receiving the Innovator Award—is confirmed to be attending.

Held in the Dolby Theater in Los Angeles, the show is celebrating its 10th year of giving prizes to musicians who get played on iHeartMedia radio stations across the country. These awards are fan-voted, though, which we love to see.

This is also Lenny Kravitz' first hosting gig ever, which is pretty wild. "After all the years I have behind me — to still be so vibrant and feel so inspired — is truly a gift," Kravitz told Variety about the gig.

P!nk is receiving the iHeartRadio Icon Award and is scheduled to perform at the ceremony, as are Kravitz, Kelly Clarkson, Keith Urban, Pat Benatar & Neil Giraldo, and Latto. Joey from The Circle—a reality star I love from a reality show that I also really loved, though I have yet to meet a single human who feels the same—hung out with the red carpet hosts for a bit wearing an outfit that was...fine. Apparently, this particular event is a magnet for reality TV stars and G-list celebrities, and I'm really happy for them that they get to have their little red carpet moments!
Monday night's looks brought us tons of white, plenty of white, and also lots of, uh, white. Perhaps they're all attending the same wedding or cult sacrifice after the show. Let's take a look!