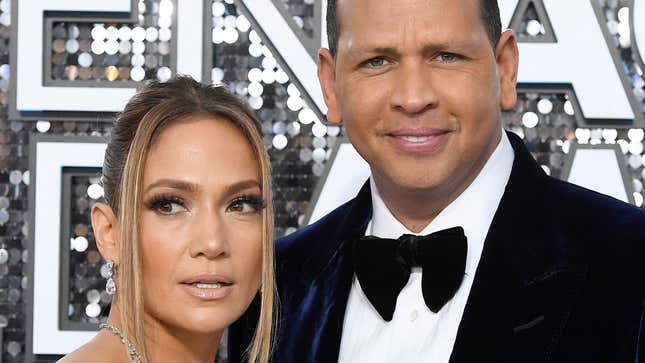 You know those reports on Friday that Jennifer Lopez and Alex Rodriguez had broken up? The ones that were so unexpected and kind of shocking because, in the words of staff writer slash resident zoomer terror Joan Summers, the affianced couple is known for posting, like, "3 billion selfies...of each other at every conceivable opportunity"?

Well, in the words of Love & Hip Hop's Karlie Redd, it was all a lie! At least according to J.Lo and A-Rod.
In a statement to People, the pair claims: "We are working through some things." And according to some unnamed rando close to the two, "They never officially broke up and talked about it but are still together. They hit a rough patch. But were not broken up."
Said insider also claims that A-Rod's rumored infidelity with Southern Charm's Madison LeCroy has absolutely nothing to do with his split from J.Lo—which again! Is not happening! Big "Nothing to see here!!!!" energy from top to bottom.
---
"I was blindsided," Sharon Osbourne said of her cringey, uncalled-for "Don't call me racist!!" freakout at Sheryl Underwood while they and their fellow co-hosts on The Talk were, uh, talking about Piers Morgan's racist coverage of Meghan Markle. "I was honestly in shock. I felt like I was in front of a firing squad. I felt like a lamb held out for slaughter." [NBC News]
Osbourne has since issued an apology over Instagram. In an interview with Steve Harvey, Underwood described how stressful it was for her trying to remain calm and composed in the face of Sharon's unnecessary escalations on air: "We are the only race of people that carry the race wherever we go, and we're responsible for that." [Hollywood Life]

Speaking of Markle, her and Prince Harry's interview with Oprah Winfrey unsurprisingly got incredible ratings, but not as many as Shark Tank. [Deadline]
And now speaking of Oprah, she interviewed Chip and Joanna Gaines apparently! The former admits he "lost part of myself" to fame in said interview. [Deadline]
Chris Harrison will not host the next season of The Bachelorette. He'll be replaced by a rotating cast of "fan-favorite alums" like Tayshia Adams and Kaitlyn Bristowe. [Variety]
The weather was 66 degrees yesterday.......