This is a series called Sheroes & Zeroes, about the people who defined our year in culture in both terrific and terrible ways.
Ana Gasteyer Satirizes the Girl Boss in 'American Auto'
"Both Tom and Ariana have told me to my face that nothing is true," says Kristen Doute, Boyfriend Detective, in season 2, episode 9 of Vanderpump Rules. "But I went through Tom's phone while he was sleeping, and sent myself a screenshot of his outgoing call log..."
If I'm being real with myself, there really was no single pop culture figure who captivated me more in 2014 than Kristen, a thirtysomething waitress at SUR (Sexy Unique Restaurant) and cast member on Bravo's Real Housewives spin-off, Vanderpump Rules.
This is not to my credit, but I didn't come here to make friends.
G/O Media may get a commission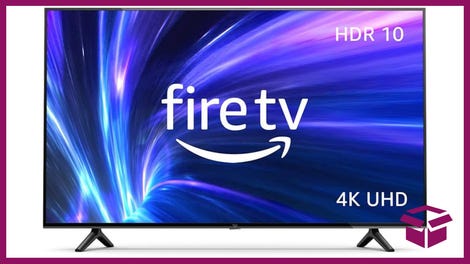 42% Off
Amazon Fire TV 50" 4K Smart TV
When we first meet Kristen way back in Season 1 of Vanderpump Rules, she's a little wisp of reality-show nothing; one-third of the Stassi-Katie-Kristen triad ("We're best friends, and our boyfriends are also best friends." Hahahaha NOT FOR LONG). They were spray-tanned nymphs of Dionysus, living only to dissect Stassi's love life over endless bottles of Pinot Grigio.
Immediately, however, there are hints of what's to come: Kristen is a Really Bad Employee who gets suspended from SUR roughly once a quarter for getting drunk at work and saying things like "I'm fucking over this" to Lisa Vanderpump, her boss. Like everyone else on this show, Kristen is a giant douchebag.
But in the beginning of Season 2, Kristen finds out that her boyfriend of 5+ years, Tom Sandoval, "screwed a bottle service skank in Vegas." She has, quite literally, not stopped crying since.
For episode after episode, Kristen spirals, obsesses, weeps, tweets, but doesn't break up with her hedgehog-haired cheater of a boyfriend. Not yet. She catches wind that Tom may have had a fling with Ariana Madix, the new bartender at SUR, and devolves even further into a puddle of self-righteous misery and misplaced pseudo-journalistic intentions; she steals his phone to read his texts on the daily, and even checks his call logs. Sarah Koenig, she is not. This leads to the first of two (2) consecutive annual Gay Pride confrontations between Kristen and Ariana:
Then, whoops, we find out that Kristen had sex not once but twice with Jax, her boyfriend's best friend and her best friend's ex-boyfriend. She had lied about this for a while, with a signature dose of fuck-you conviction.
But she did bang fucking Jax, a thick-necked sociopath with the vocabulary of a 4-year-old, and things quickly went downhill for Kristen.
Kristen did something really terrible, and clearly felt awful about it. Then she got smacked in the face, dumped by her friends, evicted by her boyfriend, and humiliated on national television. And yet. AND YET.
It's impossible to feel sorry for her, because of her continual harebrained attempts to drag her peers down with her. "I've been literally exiled, and like, quarantined, for doing what I did, and every single person in that group is doing the exact same thing," Kristen says. Guardian of the Truth that she is, Kristen harnesses the power of social media and eyewitness gossip to pick apart every relationship at SUR—starting with the romance between Tom and Ariana. Who are, to be fair, extremely smug and gross with each other.
Her continued feelings for Tom, despite what he did and what she did and the fact that he shaves his forehead and straightens his hair, can be seen in regular, jaw-dropping displays of practiced theatricality (this despite the fact that she has a new slampiece of her own, a 21-year-old busser/DJ named James who takes selfies with his Beemer and opened for Diplo one time.)
Here is Kristen "picking up her mail" for the umpteenth time at Tom's apartment, rocking a very special outfit and some violent mood swings:
Here's the thing. Although Kristen is selfish, self-destructive, prone to talking in a hushed voice as tears stream down her face, and possibly legitimately unhinged, she is not the worst of this lot. (Nor is she the craziest—I'll give that one to Jax.) Kristen is great TV because she is a bona fide female Peter Pan, displaying a consistent rejection of adult values in her career choices, her romantic decisions, and the childhood refrain of "but it's not fair" that is forever etched on her extremely tan visage.
Deep down, there's a little bit of Kristen in all of us. It's satisfying to watch her self-righteous parade of desperation because we've all, at some point, been haunted by the "psycho" impulse. She just gives in to it, like clockwork. She is endemic of a moment in time in which we are handed the keys to our own worst instincts, where people like Kristen—who possesses so little impulse control that she should honestly be studied in a lab—can virtually stalk their way to a deeply compromised version of all-knowing, all-seeing enlightenment, where happiness is always visible and never ceases to elude.
Image via Bravo