Though you may be familiar with night club owner Lindsay Lohan's recent troubles, namely her dramatic split from questionable billionaire Egor Tarabasov and work with Syrian refugees, you may not have heard her speak since Mean Girls. As such, the following video may come as a shock to you, because Lohan no longer sounds like her old self. She sounds like sad attempts at French, Greek, English, and (oddly) Australian accents were combined with Elmer's glue and not allowed enough time to dry.
The new accent, which she named "#Lilohan" after noticing it was being written about online, is strange and hypnotic. Is all of her recent jet setting playing game with her brain, is she trying to sound more refined and compassionate, or is this just another case of Famous American Moves to Europe Syndrome?
Listen to it below and see what you think.
---
In a Facebook post published Monday, Val Kilmer shared that despite all those rumors Michael Douglas has been sharing with Londoners—the ones about Kilmer being mere moments away from death due to tongue cancer—he has "no cancer whatsoever."

G/O Media may get a commission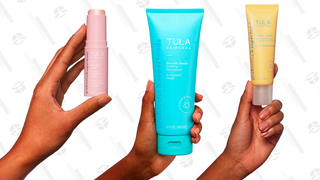 "I love Michael Douglas, but he is misinformed," Kilmer wrote. "The last time I spoke to him was almost two years ago, when I asked him for a referral for a specialist to get a diagnosis for a lump in my throat."

He continued:

"Some fans have mistakenly thought my silence about my personal issues meant that somehow I wasn't being responsible to my health, because of my reliance on prayer and Love. Nothing could be further from the truth. Altho, I am very grateful for all the support from around the world, when people found out I had a physical challenge. I hope this puts to rest any further concerns about my health by publications that have no respect for the truth. Whatever led Michael Douglas to speculate about my health, he's a loving and devoted friend to a privileged group of talent people around thew world, and I'm sure he meant no harm."
So there you have it. Michael Douglas is never right.
---
Imagine a world where this is true.

---