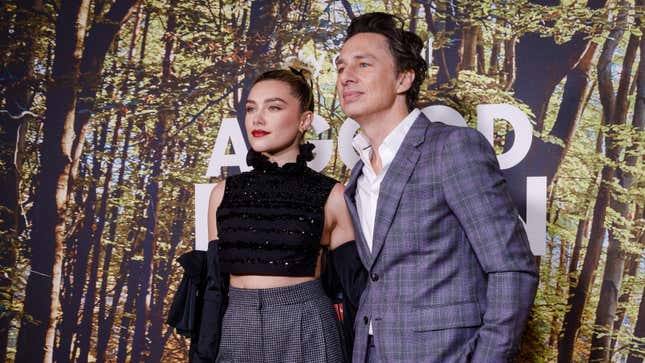 I have pretty much everyone I've ever been romantically involved with blocked on social media, so you can imagine my awe when Florence Pugh disclosed on the red carpet for the premiere of her new movie, A Good Person, that filming it with Zach Braff, her now-ex-boyfriend and the film's director, was actually a delight! They split some time last year, but now look like truly chummy old friends as they promote it.

Jennifer Hudson Achieves EGOT Status, is True American Idol
When she was asked if there would be any difficulty or awkwardness regarding the film, Pugh said, "That's never going to be a problem. We were actually together at the time when we made the movie, and aside from that, we had mad respect for each other."
And I believe her! Post-split, they've wished each other happy birthdays, appear very amicable, and, just earlier this week, Braff was photographed getting dinner with Pugh's parents and grandmother. He's also lavished incessant praise on her performance in the movie, claiming to be "in awe" of her. (Although, honestly, the family dinner thing is a bridge too far for me. )
In any case, I truly respect how Pugh's handling this. I'd rather never speak to any of my exes than so much as reach out and collect the hundreds of dollars one of them owes me. Yet, here we have Miss Flo gleefully posing for photos on a red carpet next to a man she used to live with. Granted, there are no indicators that there was anything untoward or messy in the couple's nearly three-year relationship—at least, internally. Pugh has spoken openly about how much hatred the couple faced over their 20-year age difference, lamenting nasty Instagram comments and general criticism from the public.
In Harper's Bazaar in September, Pugh confirmed the end of the relationship, and alluded to the toll of public scrutiny. "We've been trying to do this separation without the world knowing, because it's been a relationship that everybody has an opinion on," she told the magazine, without specifying when they'd split. "We just felt something like this would really do us the benefit of not having millions of people telling us how happy they are that we're not together." As of last month, Pugh appears to have moved on with a man of relative mystery who has the delightful nickname "Mr. Gooch." 

Together or not, things are clearly drama-free between Pugh and Braff. And if making a movie with her now-ex-boyfriend went as smoothly as it did, all of this really just makes me wonder—yet again—what the hell went on on the set of Don't Worry Darling???