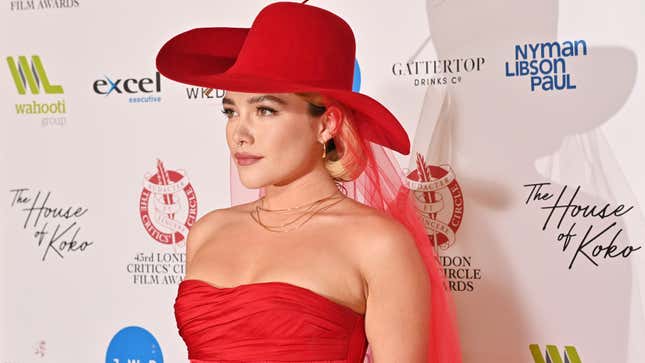 There are many ways to hard launch your lover on Valentine's Day. For instance, Emily Ratajkowski and Eric Andre posted a nude of themselves. But if that's a little too brazen for you and your boo, I suggest the Florence Pugh approach, which doesn't summon to mind the hygienic implications of a bare ass on a velvet couch.
Per new paparazzi photos taken on Valentine's Day, it looks as though Miss Flo has debuted a new beau. A series of shots see the sweethearts strolling, holding hands, hugging, and my favorite activity, enjoying a cigarette or two outside of a pub. Cue the aww!
So, who is this tall, blonde drink of water? He's been IDed as Charlie Gooch, a "normie" and former classmate of Pugh's in Oxford. Honestly? I'm not surprised. Partnering up with a non-actor is right out of the prestige actress playbook—just ask Cate Blanchett, Meryl Streep, and Michelle Yeoh! Who better to pair with all those awards than a delightfully discreet dude?
Apparently, this isn't the first time these two have been spotted together. In December, they were papped partying together until 5 a.m. Classic normie activities.
Pugh has yet to publicly comment on her new man, but I wouldn't anticipate that anytime soon. She doesn't much entertain idle gossip—especially as it pertains to Don't Worry Darling—and she wasn't exactly chatty about her ex-boyfriend, Zach Braff, save for defending their age gap or confirming their breakup. Then again, perhaps he was simply too much of a scrub to brag too much about.
Happy for her!
---