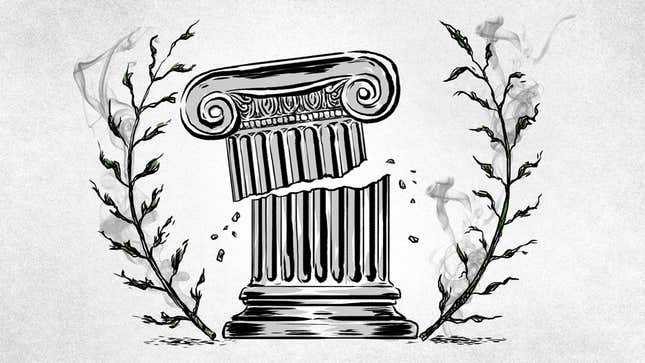 The video was obviously horrible: Fraternity brothers of Sigma Alpha Epsilon at the University of Oklahoma, jubilantly and drunkenly singing—to the tune of "If You're Happy and You Know It"—"There will never be a nigger in SAE." The song went on. "You can hang him from a tree, but he can never sign with me."
Taylor Lautner Doesn't Even Remember Saying 'Bella! Where the Hell Have You Been Loca?'
So national media and the university responded swiftly: That chapter of SAE was immediately shut down, the students identified in the video were expelled, and college President David Boren released a statement calling them "disgraceful" and telling them, "You should not have the privilege of calling yourselves 'Sooners.'"
If the offenders weren't "real Sooners," as Boren put it, they were real SAE members, with many brothers in their ranks. The song, further investigation discovered, had come to the Oklahoma chapter by way of a national SAE "leadership school."
SAE is a traditionally Southern fraternity, founded at the University of Alabama in Tuscaloosa. It was not a coincidence that the incident at OU happened mere days before March 9, SAE's "Founder's Day," the day in which the frat celebrates their over 150 years of existence—so many years that they're the only fraternity to have been founded in the South pre-Civil War. It was also not a coincidence that the national chapter had, exactly one year prior, gotten rid of pledging and implemented what they referred to as the "True Gentleman Experience," which was their attempt to clean up a fraternity that had recently been dubbed the most dangerous in the country.
Much of the outrage about the song was a response to the flagrant bigotry of its words: the racial slur, the merry invocation of lynching. But its underlying message, that SAE would never pledge a black brother, was substantively every bit as racist. And it fits all too well within the mainstream tradition of Southern Greek life.
In September 2013, University of Alabama students Abbey Crain and Matt Ford published an article in the school's student paper, the Crimson White. Under the dramatic title "The Final Barrier: 50 years later, segregation still exists," Crain and Ford described how multiple sororities at UA (Alpha Gamma Delta, Tri Delta, Chi Omega and Pi Beta Phi) had been actively prevented by their local chapter alums from accepting at least two strong candidates into their folds that year because they were black.
After I wrote about the Crimson White story, I got an email from woman who called herself "Anonymous Sorority Girl":
I wanted to say that I really appreciated your story about sororities at the University of Alabama not rushing black women. I currently attend another very large southern University and this problem exists here as well.

I have heard multiple stories (not my sorority in particular) that have turned down black women because they are afraid of losing funding from alumna or socials with fraternities who won't interact with sororities who have black women due to the fact that they also could lose funding from their alumni.
What, if anything, has changed between the Alabama story and the OU scandal? Racism is endemic across Southern colleges, consolidated at their fraternities and sororities. What is shifting, however, is the speed at which the usual enablers of these private clubs feel compelled to react to these moments of bad behavior. The national headquarters that local fraternity and sorority chapters report to, and the colleges they are housed at, have recognized how quickly these stories are spreading. They've seen how fast an offensive song drunkenly sung on a bus can dilute and tarnish their brands. They're trying to stop it. They're just not sure how to fix the real problem without upsetting everything they've always known.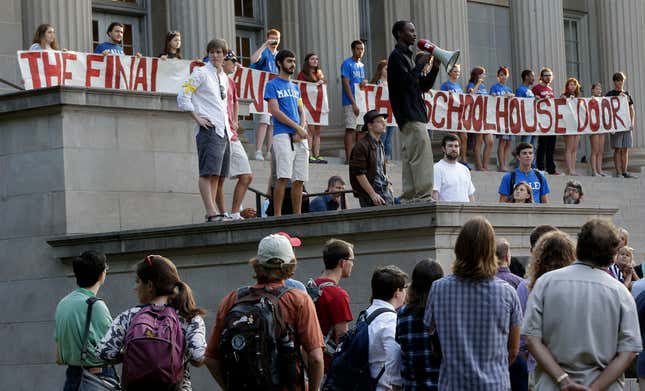 Students protesting at the University of Alabama in 2013 (Dave Martin/AP)
---
After the Alabama story broke, I started asking current and former college students to talk about Greek system racism they'd seen at their Southern schools. I imagined gathering stories that showed a clear pattern of offenses and publishing a list of schools or organizations where things had happened over and over again.
It quickly became messier. It wasn't simply a matter of naming particular chapters with bad histories, or specific national organizations that had always turned a blind eye. Racism seemed to have touched every Southern school explicitly, permitted to propagate by the fully grown adults in charge. The college structure allows Greek organizations to institutionalize racism through a system that feeds off of homogeneity and hierarchy—and it has done this for decades, passing off the blame.
"Sadly, the real answer to why this problem persists is a little hard for people to grasp, specifically those who aren't from the South," said Greg*, a Sigma Nu who graduated from Louisiana State University. He explained that every entity involved in the Greek system—from its students to college administrations to the national fraternities themselves—expect the other to handle it: "It continues to exist because people involved in the system, whether incoming freshman or active members (on a wide scale) are not clamoring for it to change."
What I heard from the students affirmed that the legacy of slavery still affects racial attitudes all over the South—living in students who refer to the black men they accept into their fraternities as "good" blacks, as one man who emailed me explained; or in men who admit that their fraternity doesn't accept black members, as one woman recalled of one of Mizzou's frats (which, she wrote, lost its charter after a black man was beaten up for trying to enter a party). It's visible in the white women who have to be told not to use "nigger" (a seemingly frequent word of choice regardless of who is being addressed) around the black staff who clean their sorority houses, or to call them "the help." It's apparent to the black woman who finds out the only reason she's been given a bid to a sorority is because she's "best black one they were gonna get," or the black man who is told by a white sorority sister that the entire college campus "doesn't want them here, so they should all just go somewhere else."
These stories aren't always individually shocking, but they add up. "There hadn't been a black brother in a traditionally white fraternity in a couple of years," a Delta Chi at UNC Wilmington claimed, describing his school a few years ago. "Sigma Nu recruited a couple of black guys, maybe three, and SAE was giving them shit about it. At one point, SAE sent pledges in blackface to a Sigma Nu party.
"The South is a fucked up place," he added, before continuing harshly: "It's like the Civil Rights era took a shit, nobody bothered to clean it up, and then someone laid sod over it. It's beautiful to look at, but it's unbearable beyond that."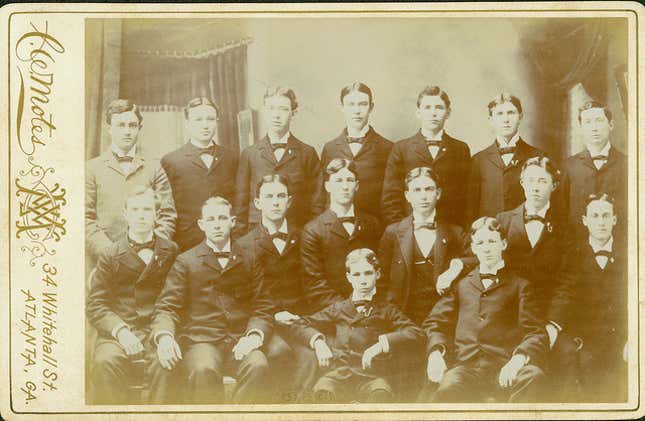 Sigma Alpha Epsilon at Emory University (Emory University Archives/Flickr)
In a recently published paper, "The Political Legacy of American Slavery," Avidit Acharya, Matthew Blackwell, and Maya Sen describe the long-term effects of slavery on attitudes of those living in the American South today:
Whites who currently live in counties that had high concentrations of slaves in 1860 are on average more conservative and express colder feelings towards African Americans than whites who live elsewhere in the South. That is, the larger the number of slaves in his or her county of residence in 1860, the greater the probability that a white Southern today will identify as Republican, express opposition to affirmative action, and express colder feelings towards African Americans.
Acharya, Blackwell, and Sen found that, as researchers have noted many times before, every generation of Southerners has inherited their parents' racial beliefs. But the authors also argue that the abolition of slavery pushed white Southerners to create "informal institutions and cultural norms" that were racially driven because the "state-level institutions promoting slavery" previously protecting "their economic and political positions in society" were gone. They stated, "Locally high concentrations of African Americans today in turn threaten whites' dominance today, which results in whites contemporaneously adopting more conservative racial attitudes."
In other words, research underpins what anecdotes show clearly: Any institution of higher learning that stands below the Mason Dixon line—at least, any institution started more than a few years ago—is fighting an old, old war.
---
Amy*, who was a member of Pi Beta Phi at the University of Alabama, told me that she hadn't seen any black women rejected by the sorority in her time there. None of them had ever tried to join. One biracial student she knew had tried to rush the traditionally white National Panhellenic Sororities, and had gotten nowhere.
Amy said she joined Pi Phi because it had been her mother's sorority, at another Southern college. A shy and sheltered honors student, she said she only made it through rush as a legacy. When it came time for recruitment the following year, the Pi Phis were sorted into A, B, and C groups, based on how pretty and socially together they were. Amy found herself in group C, looking over recruitment forms in a basement.
Girls were rejected, Amy said, for being different in any way. To stop undesirable candidates, she further claimed, seniors would intervene and change ballots cast by younger members. "The young girls would vote, and the older girls would come in and change them," she said. "Once you're a senior, you have hierarchy of power."
This insistence on similarity is where the racism in Greek organizations begins, in rooms full of people who look alike, seeking recruits who remind them of themselves. When people don't match—because they're of a different race, or heavier, or something else—"it's like a flashlight in the dark. There's no way not to notice it," said Greg.
---
When people don't match—because they're of a different race, or heavier, or something else—"it's like a flashlight in the dark. There's no way not to notice it," said Greg.
---
The alumni also have a say, and will block undesired women from joining the sororities. One woman who emailed me from the Alpha Delta Pi chapter at a large Midwest University claimed that, unbeknownst to candidates, alums will give women a bad or negative recommendation, "a roundabout 'ladylike' way of blackballing a woman from joining a sorority. A woman doesn't even need to write why she doesn't want someone to join on the form, they just have to write 'call me, and I'll explain.' The alum can then tell the chapter officer a myriad of reasons, true or untrue."
Sometimes bids are blocked more directly, if mostly through euphemism. One Alpha Xi Delta who attended Old Dominion University in Virginia in 2005 described the way a "quality" girl becomes synonymous with "what things have always looked like," which, of course, tends to mean "white." She claimed:
Fall recruitment brought a huge crop of new prospective members, one of which was black. She was everything you'd want in a new member: sweet, pretty, impressive, and totally involved. Round after round, she was invited back, until the last day of recruitment when everyone made their final picks on who would receive a formal invitation to join. That was when all hell broke lose.

I guess it dawned on people that this girl was dangerously close to getting a bid (can't kick the black girl out immediately 'cause then you might look like a bunch of racists, right?), because suddenly there was an uproar over the possibility of her joining. No one had a concrete reason why she would be a bad addition; she just didn't "feel" right. Someone claimed she didn't seem social enough, while someone else said they just couldn't envision anyone taking her as a Little Sister (although my roommate at the time spoke up saying she would gladly be her Big). It became a tense fight between a dozen of us who wanted her in and a dozen that did not, while everyone else—mostly newer sisters—sat silent. Finally we ended the discussion and put it to a vote.

I was one of the people in charge of tallying the scores, and vote after vote, next to this girl's name was written "Not AXiD material." [...] After watching a group of my "sisters for life" hugging each other upon hearing that she would not be an AXiD, I started to wonder whether I would have been happier there, too. I didn't stay in long after that.
One of the most important goals of recruitment is keeping membership at optimal levels. If a chapter's numbers drop for whatever reason, including when recruits perceive the sorority to be at a lower status than it was previously, they can face the wrath of their national organizations—their chapter can even eventually be closed. Sororities considered "subpar" are the ones that are unstable, which means that the members have less money and are less "cohesive." Homogeneity signals stability; the desire for "quality" women is linked to the notion of "women who look and act like we do."
The women who are "different" know this. Numerous people who I talked to asked, "Why would any black girl want to join a white sorority?"—the (uncomfortably separate-but-equal) implication being that they have their own, historically black sororities. But black sororities don't necessarily appeal to every black woman. Many black sororities have a stronger legacy of charity work than white sororities, which isn't always appealing to someone who likes the social aspect of Greek life more than the giving back part.
It's also said anecdotally that women in black sororities are hazed more than women in white sororities, a problem that's been an issue in historically black fraternities as well. In 2010, the New York Times reported that members at two separate chapters of the historically black sorority Sigma Gamma Rho had been hazed by being beaten with wooden paddles to the point of injury. In an interview with Lawrence C. Ross Jr., author of The Divine Nine: The History of African American Fraternities and Sororities, Ross told the Times, "Most predominantly white fraternities and sororities haze around alcohol, but African-American fraternities and sororities typically haze around something physical, violent."
---
Numerous people who I talked to asked, "Why would any black girl want to join a white sorority?"
---
One woman who contacted me wrote that a black girl she knew who ended up pledging the very popular Alpha Omicron Pi at Arkansas State University in 2002 didn't have any problems. "However, the black sororities on campus harassed her constantly and told her if she ever went through with rushing a white girl sorority not to even try getting into any one of theirs," she added. A Delta Zeta from the University of Tampa who attended in 1999 wrote that, while she couldn't "speak to [the] experience" of the one black girl in her sorority, "I know [the women in the black sororities] harassed her most of the time she was in school because they felt like she betrayed them for joining a Panhellenic sorority." Another student at an unnamed HBCU (historically black college or university) said that one of the few black women in her sorority decided to join a white sorority because, "she grew up in a mostly-white town, went to a mostly-white high school—she was used to being the only black girl in a group of white girls and it didn't bother her, so it wasn't a huge deal."

In order to successfully pledge a traditionally white sorority or fraternity, an essential factor for any non-white person is to not mind being in the minority, and to not mind potentially ostracizing a group which, if you joined, you wouldn't be in the minority.
---
The issues are the same at fraternities, but often more overt. As seen with the SAE OU incident, frats tend to get the most attention for their offensive party themes, members deciding to dress in blackface, free use of the word "nigger," or their choice to hang Confederate flags on their houses. But behind that shocking behavior is a recruitment process in which the door doesn't open for black men.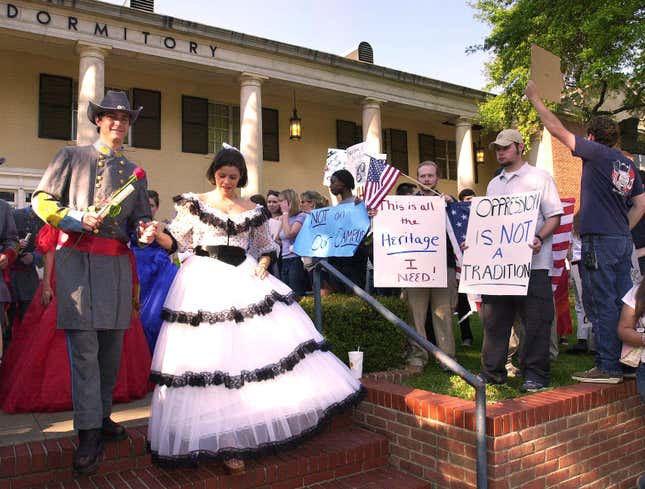 Kappa Alpha Order members at Centenary College in 2002. (The Shreveport Times, Charlie Gesell/AP)
Besides SAE, the worst reputation for racism belongs to the Kappa Alpha Order. KA considers the leader of the Confederate army, Robert E. Lee, its "Spiritual Founder" and features his "definition of a gentleman" on its website. At Auburn University, KA reportedly holds its personal celebration of Robert E. Lee on Martin Luther King Day every year, which one student referred to as "particularly disturbing." (The states of Alabama, Arkansas and Mississippi do this as well—as King's birthday was January 15 and Lee's was January 19—though not without controversy). This is a fraternity that, until recently, encouraged its chapters to hold an "Old South" or "Old Dixie" formal every year, where brothers have been known to dress up as Confederate Civil War soldiers, accompanied by dates who wear antebellum-style dresses. (While the Kappas continue to flaunt their questionable roots, in recent weeks, SAE has tried to, for lack of a better term, whitewash theirs away.)
To outsiders, chapters of KA and SAE look surprisingly comfortable with displaying rampant racist tendencies. They appear equally comfortable with actively discouraging black men from joining their organizations.
Greg, the LSU grad, says that in the mid-2000s, lore has it that KA's chapter at LSU had a black man rush whose name was, coincidentally, Robert E. Lee. The brothers at KA were obsessed with this modern incarnation of their idea of a Southern gentleman. According to Greg, there was "a mutiny in the frat" over this new Lee. Half of the men thought they had to pledge him, because it was just so ironic that Lee was a black dude named after their "Spiritual Founder" and head of the Confederate army. The other half said they couldn't have a black guy join the frat. They put it to a vote, and Lee was not let in. (Greg says he'd be surprised if the chapter has had a black member since, and though their website appears rather whitewashed, we weren't able to confirm or refute his claim.)
The reasoning behind blocking the new Robert E. Lee, Greg said, was more complex than simply Kappa Alpha hating black people. By his account, many of the KA members were worried about hazing. "A lot of frats then wouldn't pledge black guys because they would have gotten in trouble for 'hazing the black guy,'" Greg said.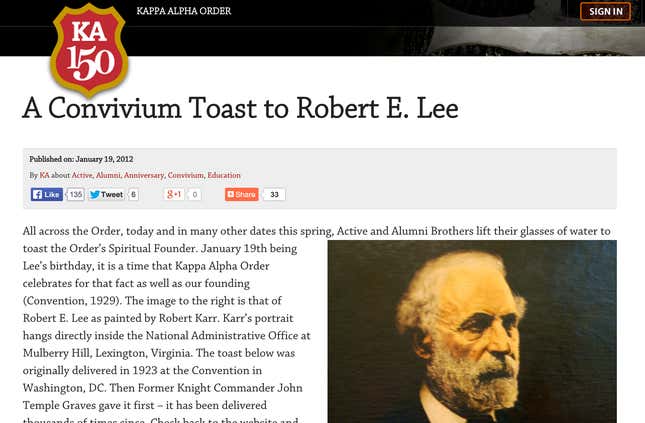 Hazing is always worse when you look different—if you're overweight, Asian, black, gay, whatever, he explains. If they'd had a black member of the frat, he would most certainly have been hazed using the racial slurs the frat was very comfortable throwing out, and that news would certainly have gotten back to University officials, likely resulting in the suspension or expulsion of the fraternity from the college.
"Where I grew up, we just always thought there were the white fraternities and the black fraternities. Why would a black person want to be in a white fraternity?" Greg said. These men were doing what they had been taught: Protecting their brothers and protecting the status quo.
---
In recruiting, sororities and fraternities operate in separate racist bubbles. But once they've chosen their members, they support each others' attitudes and behaviors. Amy, the Pi Phi member from the University of Alabama, says her sorority threatened to kick out a girl who wanted to bring a black gay man to a party. In fact, she said, black men were not welcome at Pi Phi parties at all, "with very few exceptions"—one being if they were one of the few black men who had managed to pledge a white fraternity. Amy's sorority sisters believed a black party guest would make their sorority less desirable to other fraternities.
Fraternities have enormous control over a sorority's social status. If fraternity brothers think the women at a particular sorority aren't hot enough, or aren't socializing with the right people, they stop inviting those sorority sisters to their parties. This drives the sorority to the bottom of the social pyramid.
As one commenter on GreekRank.com claimed when reviewing LSU's KA chapter in October 2013:
Some quality guys but the problem is that they are too set in their old ways, this is not the civil war anymore, and segregation is over. These guys actually canceled an exchange with Kappa Delta (one of the best sororities on campus) this year because Kappa Delta let a black girl in. That is horrible and not classy at all. They are still good but are too set in their old ways to be a top tier fraternity.
Another anonymous commenter had a different take on the situation at KA: "If you ain't racist you ain't top tier," he wrote.
---
Schools and national chapters work hard to emphasize the rarity of racist incidents, but they don't spring up out of nowhere, and they're not the result of individual people just acting at random. The SAEs at Oklahoma weren't just singing a song about how there were no black people in their fraternity; the chapter appears to have had no black members. The overt offensiveness and the discriminatory recruiting are part of the same mindset: that tradition wins above all. Everyone involved works very hard to make as few changes as possible to what they're used to in order keep things as close to the way they've always been.
At OU, while the reactions of both the school administration and the national chapter of SAE were on hyperspeed compared to how schools have responded in the past, the blame-passing remained the same. Neither the administration nor SAE nationals was willing to acknowledge their organization's role in historically (or currently) allowing these kind of behaviors to grow and flourish. As SAE National President Brad Cohen wrote after the video came out:
SAE brothers, I know the past 24 hours have been extremely emotional, embarrassing and frustrating for us all, but let's take a moment and reflect. A few bigoted idiots, through a 9 second video showed their true colors and beliefs and did enormous harm to the other 15,000 undergraduates, our 200,000 alumni, your staff and Supreme Council all who were equally disgusted by their vile and racist behavior. This behavior was in no way reflective of who we are as SAEs and what we stand for.

To those that were hurt and offended by these actions, especially the African American community and our Many African American Brothers, I apologize on behalf of our now closed chapter and its members who will be expelled.
After that, the fraternity gave in a little bit more: It announced that it was "establishing a groundbreaking four-pronged initiative to combat instances of racial discrimination and insensitivity among its members." What does this plan look like? Appointing a Director of Diversity & Inclusion and a national advisory committee, mandating education for SAE members, creating a hotline for individuals to call and report instances of racism, and lastly, starting an internal judiciary committee who will reportedly decide on the fate of members accused of singing racist songs on buses.
SAE Nationals also said they were looking into reports that brothers at chapters like those in Louisiana and Texas have performed the chant heard at OU, which is a PR tactic we've seen many times before in a variety of "fraternities in trouble" situations:
In addition, the fraternity has initiated a comprehensive review of all of its 237 chapters and colonies to determine if any currently engage in racially offensive or derogatory behaviors like those captured on video and shared from SAE's former chapter at the University of Oklahoma earlier this month. The Fraternity will issue a report on its findings at the conclusion of the review.
"Not being aware of the song does not exclude us from ownership of the situation," executive director Blaine Ayers said at a press conference. "So I want to apologize to everyone for pain that has been caused by this incident." Shortly after, OU said its investigation indicated the song had been learned at a national SAE fraternity leadership cruise a few years prior and brought back to campus.
This reaction from the national headquarters of SAE mirrors the reactions of the national headquarters of every other sorority or fraternity where these incidents have occurred (and been noted). (The hotlines, education programs and so on are also also very similar to SAE's anti-hazing plan, which it implemented to change its other long-standing, deep-rooted issue.) What it hasn't included, at to this point, is any acknowledgement of what has occurred during SAE's actual history as an organization.
---
The overt offensiveness and the discriminatory recruiting are part of the same mindset: that tradition wins above all.
---
When the news of the racist pledging system at UA first came out, many tried to assign blame to the national headquarters of the given sororities. Nationals all vehemently denied being involved. As soon as my first story about UA went up, I got an email from a woman at Pi Beta Phi nationals who was concerned that I'd implied that it was the greater Pi Beta Phi organization that had threatened to pull funding from the UA chapter if they pledged a black woman, not just the local alums of that particular chapter. She asked me to clarify the language immediately, with a kind of urgency that spoke to the fear national Greek organizations have about getting negative press. Individual chapters with flaws can be closed so as to not weaken the fabric of the overall organization, but it must be done swiftly.

That kind of denial happens at individual schools as well. Many members of Greek organizations are quick to defend their own chapter, while distancing themselves from other chapters. "There was a girl in my pledge class who was from Alabama and transferred to UA after freshman year to be closer to home," one Tri Delta claimed. "She came back for the spring semester because the Tri Delta chapter there was awful and she was miserable. She told us horror stories about how they treated her, but they mostly wouldn't talk to her. And this was a sweet, stereotypically Southern girl from their home state. So I can't even imagine how badly they treat women who are not exactly like them."
---
While national headquarters of fraternities hold the responsibility of penalizing their local chapters, the whole Greek system wouldn't exist without the colleges their chapters live at. But college administrators deem fraternities and sororities to be private entities, separate from the universities.
Though most students in Greek organizations are technically legal adults, anyone who has attended college or knows a college student gets that they're really not treated that way. While this is the first time many of these students have lived away from home, removed from their own family and familiar community groups, they're still spoon-fed food in their dorms and given comfy group living situations; any truly desirable fraternity has a house they call a home.
Some of those students bring with them racist tendencies, passed down from generation to generation. Those can be the same students who find comfort in the hierarchical nature of the Greek system and who are often predestined to join a certain Greek organization because their parents were members.
University officials, for their part, need those students to have a great time in college—or at least enough of a great time to eventually donate to their alma mater. They may not outright encourage racism in Greek organizations, but they historically haven't done much stop it—or to force change.
But when they choose to, they can have a large impact. As one Vanderbilt alum wrote:

My favorite was when the most "traditionally Southern" (wink wink) fraternity [Kappa Alpha] got kicked off campus, the school administration renovated their frat house, made it gorgeous, and gave it to one of the traditionally black fraternities on campus [Ed. Note. It was actually given to three of them to share]. So, the asshole bros in the "traditionally Southern" fraternity acted racist as fuck, but the administration was like, "HAHAHA NO get off our campus."

That said, several sororities at my Southern university were pretty diverse, compared with the segregation I see in articles like this. I was in a traditionally white sorority, and we had a ton of non-white members, I'd say in numbers representative of the school's overall racial/ethnic mix. Our president my senior year was black and two officers were of Asian descent, and not once did our alumni make a peep about it. One of my best friends was in the same sorority that I was but at a different Southern university, and she is black. I think a lot of it depends on the pan-hel culture, which is often dictated by the administration. My university has for years been trying to shake its traditionally Southern mantle, so perhaps that's why the Greek system is a little different there.
She went on to say, "My point… is that administration does have a significant degree of power in addressing racism on campus, including in Greek life, and administration sets the tone of what is and is not acceptable."
It was once considered a big deal to close a fraternity, or to kick out a member, for bad behavior of any sort. That's despite the fact that shutting down a fraternity is often pointless; organizations often come back a few years later, when what their former members may have done is long forgotten.
In a 2001 article in the Chronicle of Higher Education, Thomas Bartlett outlined the trend of Southern frat members putting on blackface for parties. Many incidents resulted in the suspension or closing of fraternity chapters. Yet over a decade later, all but one of the organizations are active at their given college. The one exception is Sigma Chi at George Mason University, which has been permanently removed from campus following concerns about drinking, hazing and sexual assault. Sigma Chi then sued the school, and won.
Historically, administrations haven't been able to afford to isolate the same portion of their student body that they've allowed to be so powerful and so successful for so long. It's in a college administration's best financial interest to keep students happy and give them what they want, and sometimes, that means letting a once-racist fraternity or sorority return. Some of those students may be the ones who who come back for every homecoming. Some of those students will have money and will give that money back to the place that they had such special memories.
---
The University of Alabama exemplifies the way that Southern colleges in particular long ago set themselves up so that Greek life is an critical part of the college community. At UA, that connection is deeply rooted in the student political system, which is dominated by the Machine, a secret yet well known Greek organization. The Machine anonymously chooses, or appoints, student members—often those who are studying political science, and always those who are in fraternities or sororities. Those students commanding the Greek system as a voting block make sure certain candidates get elected to student government, therefore ensuring Greek domination over school funds and agenda.

The power of The Machine has trickled up into all levels of Alabama politics, the purest example of an Old Boy's Club that was eventually forced to include white women, as Phillip Weiss explored in a 1992 Esquire article on the group.
According to Amy, when she was at Alabama, the person in charge of the National Panhellenic Council, the organization that governs most of Greek life at UA, told her that "these issues go in waves" and that NPC and the University tries to stop them.
In March, students elected SGA's first black president since 1976, which Amy notes is "the first time in years that a non-Machine candidate has won the position," signifying, to her that there might be pushback from the sororities who are uninterested in voting traditionally and are looking for more power. ("There were rumors when I was a student that the last time that happened, it was because the sororities were demanding more power from the Machine," she says.)
It's an interesting turn of events; a year ago, Alabama's student government voted to integrate their fraternities and sororities, a pretty basic bill that required a great deal of work to get passed even though it basically required nothing be changed.
The University tries to regulate its students, but "try" is a loose word. "There are COUNTLESS examples of The Machine alone breaking rules and laws for generations, and the university has pretty much completely ignored it," Amy told me, a pattern that has been outlined by others. "So why should they start caring about racial and gender equality now? They won't care until the pressure for change outweighs the support they receive from these people."
In a stilted video released more than a year ago, University president Judy Bonner addressed Alabama's attempts to eradicate racism in the Greek system. "We are going to create and sustain an environment that enables our students to be successful in the academic and social aspects of their college life," Bonner said. "This will fulfill our primary mission to prepare and equip them to be successful throughout their lives and careers."

It was only the second video like this that Bonner had ever released; the first featured the president discussing whether the accusations of racism published in the Crimson White were "real or perceived." This past fall, the school followed up with a video from Hannah McBrayer, the head of Panhellenic, who said that "inclusion has always been important" to Greek life at UA and that the sororities had become "much more intentional about our education."
"[We're] educating members, reaching out to alumni, current members, even who we're recruiting. I would say we're just being a lot more proactive this year in making sure that the pool is diverse in making sure that we are including everybody," McBrayer said, explaining that each sorority would have a national representative overseeing rush to guarantee the "integrity of the membership selection process."
During rush, AL.com reported that the university was "limiting media access to rush organizers and providing little information on changes made" and that "no representatives from the Office of Greek Affairs, Panhellenic Executive Council or any sorority would be available for interviews during rush, a departure from previous protocol."
In response to an email requesting comment about the status of integration at UA currently, Cathy Andreen, the school's spokesperson, sent the following statement:
All 16 Panhellenic sororities participating in recruitment at The University of Alabama in fall 2014 offered bids to African-American women and every young woman identifying herself at African-American received a bid. Through the mutual selection process, the women who were offered bids selected the sororities that they wished to join. In addition, many Interfraternity Council fraternities have pledged African-American men. While numbers are not the only measure of success, they do indicate that we are making progress. We will continue to move forward with resolve, energy and enthusiasm as we focus on creating and sustaining a welcoming and inclusive campus for all students.
The numbers broke down to 21 black women and 169 "other minorities" out of 2,054 who joined sororities. (For some context, 12 percent of the over 36,000 total students—graduate students included—at UA are African-American.)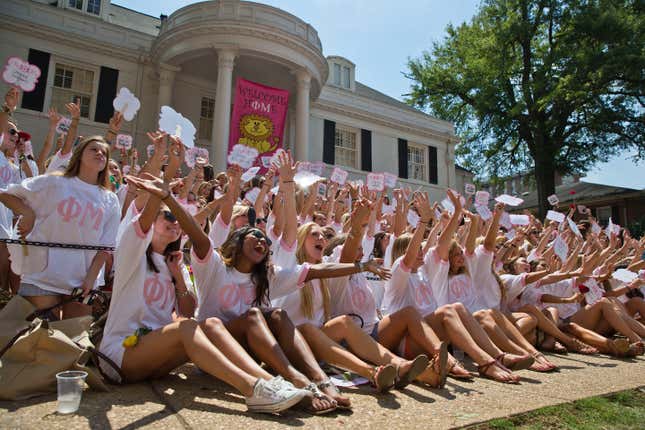 The University of Alabama's Phi Mu after rush in the fall of 2014. (Image via Brynn Anderson/AP)
Despite the decades of reported racism at UA, Bonner's hesitation to make any bold statements about the history of problem UA faces at first and since made sense, institutionally.
This lack of reaction is substantiated by former students, like alum Chastity Abrom, who was a member of the historically black sorority Zeta Phi Beta and graduated in 1999. "There are millions of dollars poured into the Greek system by pledgees, members, and alumni… it is a HUGE deal at UA," she wrote. Much of that money goes straight into the Greek system, but if those former Greeks are wealthy enough to donate to their frat or sorority, they're wealthy enough to give back to the university community at large as well.
The Alabama university system has an endowment of over a billion dollars; in 2009, UA completed a capital campaign that raised over $600 million. While some of that money was from faculty, staff, and current students, a large portion was the "130 gifts of $1 million or more" from "alumni and friends." OU's endowment is also over a billion dollars, and in 2013 (a very good year), it was reported that "the number of private gifts rose to 53,065, an increase of 2,578" from the year prior.
And, as Amy explains, the Greek alumni who are often the biggest donors to the University "are also in positions of social, political, and economic power that transcend donations"—positions like government. After the last election, the North-American Interfraternity Conference reported that 39 percent of the United States Senate and 24.6 percent of the House was Greek. Many of those individuals are part of FratPAC, a political action committee "which seeks to provide financial aid to the campaigns of federal office candidates (House, Senate, and President) who support the objectives of fraternity life." The number one FratPAC funder for 2013-2014 was the Kappa Alpha Order; they raised $29,600. (Chi Omega was seventh, with $12,300.)
Currently, KA counts Southern leaders like Congressman Robert Aderholt (R-AL) who went to University of North Alabama, Congressman Charles Boustany (R- LA) who attended University of Louisiana, and Congressman Steve Womack (R-AR) of Arkansas Tech University among its alums. To negatively come down on Greek organizations threatens not just the purse strings of a college, but its standing as an institution that can propel its students into government positions when they graduate, to say nothing of the numerous others who will go on to work in finance or business.
---
So what's the solution? Colleges who do penalize fraternities or sororities for racist behavior can find themselves locked in first amendment litigation, a situation the administration at GMU found themselves in with Sigma Chi a few years before they were finally forced out of the college for the aforementioned issues that were (somewhat) unrelated to their racial intolerance problems. In March, former members of SAE at OU said they were considering suing the college; local news network KFOR reported, "We are told the decision to hire [a lawyer] came after an emergency meeting held by SAE members and alumni."
To some, the only real way to stop the racism that's an integral part of Southern Greek life and therefore a part of the institutions they sit within is to dismantle Greek life entirely and permanently, which northeastern liberal arts institutions like Middlebury College and Alfred University have done. If you believe that the students that come in with prejudices (or without them) have their beliefs systematized and worsened by the Greek system, that's the only clear strategy.
That's why, at least in the case of Alabama, it's the recent alums of the sororities that reportedly enforced racist attitudes about pledges, while the new women pushed back. The newer sisters hadn't yet been indoctrinated into the way things were supposed to be. The longer they were a part of it, the more likely it'd be that their attitudes would shift towards the groupthink.
As one Emory student wrote:
In my freshman year of college, I was fairly naive. I believed that the only people who could possibly be interested in joining the Greek system, i.e., paying for "friends" to judge you and police your behavior, would be the lamest of the lame, and that surely the majority of people would never fall for it. That fall my roommate and I were the only girls in our dorm not to rush.

I still can't believe that the Greek system ever existed. Furthermore, I can't believe it STILL exists, laden as it is with racism, sexism, and class-ism. I just keep expecting the Youths to, like, wake up and realize they don't need it and they never did.

Yes yes, I know that some folks on here probably had 100% awesome experiences with the Greek system and formed lifelong friendships, blah blah blah. Good for you. I mean it. I just think that generally frats and sororities are a net negative.
Amy agrees. "Somehow all this truth about the evils—and I know I'm being dramatic, but I really think the word 'evil' is accurate here—of Greek life at Alabama is buried underneath sappy stories of brotherhood, sisterhood, and tradition, and it is painted as the jealous, hyperbolic lies of the poor independents." (Independents are those who choose not to be part of the Greek community, known as as GDIs, or God Damn Independents.)
"I do think that the administrators mostly ignore problems caused by Greek organizations—I don't see how you could come to any other conclusion, since problems have been reported for years and they have done next to nothing to stop them," Amy added. "I think they do this for two reasons: first, they don't really know for sure how to fix the problems because many of them are complex, and two, they fear a backlash."
"The Universities and Greek organizations have done cosmetically what they need to to deny legal culpability," Greg said, "and the dog and pony show will continue until a large number of kids at one time stand up and say, 'This isn't right.'
"Right now," he said, "I truly believe it's less of a conspiracy and more of a lot of people only thinking about themselves and not being interested in rocking the boat."
Greek life is too widespread to go anywhere, in the South or elsewhere. It's given too much to the people who have the most power, and colleges will keep attempting to find a way to fix sororities and fraternities without banning them entirely. The number of schools that shut down individuals or individual groups will rise, the speed at which they do so will increase. We've seen that already.
Racism among Southern Greek organizations—or in Greek organizations across America, or American organizations in general—comes down to people; people who want power, people who want their lives to stay the same, people who let a group mentality corrupt their lives. To get anything to change, you'd have to get thousands of college kids to band together and demand it—college kids who, by nature of their designation, are only inclined to care about their community in a whole-hearted way for a brief period of time. "It's all tribal, it's all pageantry. It's people trying to freeze-dry cultural aspects of their life," Greg told me. It's working.
* names have been changed
---
Contact the author at dries@jezebel.com.
Illustration by Jim Cooke.