This week The Sun reported that Taylor Swift is dating a British rando named Joe Alwyn. Apparently it's "the real deal." Sure!
Jim Alwyn is actually a 26-year-old rising actor who has only been in three movies so far. He also still lives with his parents which is... interesting. According to The Sun the couple has been dating for months; the paper's report also included an incredible detail about how Swift would wear "disguises like scarves and hats" to conceal her identity while dating Alwyn.
My question is, how the hell did Swift meet this guy? We know how she met Tom Hiddleston (at the Met Ball) and we know that her pal Ellie Goulding introduced Swift to Calvin Harris. But how did some English random end up in Swift's life?
First I start with the basics: WHO is Taylor actually close with that lives in England (anywhere in England, ANYWHERE) and might know James Alwyn, whose only real defining characteristic right now is being English.
I narrowed this list down to:
Ed Sheeran
Ellie Goulding
Cara Delevingne
I ruled out Ed Sheeran because he doesn't seem, as one might say, "posh" enough to know Jessie Alwyn, who went to a lot of intimidating-sounding private schools. I also just didn't want to subject myself to looking up literally anything about Ed Sheeran. #selfcare.
G/O Media may get a commission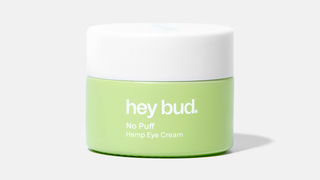 15% off
Hey Bud - No Puff Hemp Eye Cream
Moving on to Ellie! I didn't have a lot of faith in this option, considering Goulding is still sort of friends with Harris. I searched her for connections to Jon Alwyn in a timeframe limited to September 2016 (when Swift broke up with Hiddleston) and last week (before the news of their relationship broke). And let me tell you, I got nada. I don't think they know each other. I can't find much on him and Cara either. A budding actress herself, she also hasn't worked with him on any movies.
But it got me thinking about Alwyn's latest film project, The Favourite, which is directed by nutty The Lobster creator Yorgos Lanthimos. Is there anyone in that movie that might also crossover into Taylor Swift world?
AHA! There are two connections. The first is Nicholas Hoult, who might be a Swiftie but doesn't really know her or, at least, they have never taken highly staged Instagram photos together baking.
The golden connection seems to be Emma Stone. The two apparently aren't great friends anymore but Stone is now an Academy Award-winning actress, after all. Maybe Swift could just smell the Oscar on Stone and invited her back into the squad? For the record, I sort of want to rule out Gigi Hadid, who was in one Vogue photoshoot with Jimmy Alwyn, though apparently she and Swift are very close.
The last time Swift was reported to have been in London was to shoot the "I Don't Want To Live Forever" video with Zayn Malik. Principal photography for The Favourite apparently began in March of this year in the UK, mostly at the Hatfield House in Hertfordshire, England, and just wrapped filming. But apparently the two have been dating "for several months." But Stone was house-hunting there as early as December 2016. According to the Evening Standard, Stone introduced them, although Jeorgio Alwyn didn't join the movie until March. Maybe "several months" really means... two months?
My bet is with Emma. If not her, then Gigi. If not her, then Raya. If not that, then maybe Swift built him in a lab, Weird Science-style?
Update, 5:37: A reader points out that Taylor apparently caught a screening of Alwyn's movie Billy Lynn's Long Halftime Walk back in November (with Haim, of course!)