Leslie Jones has become the target of hackers, who went on her website to share racist memes, her driver's license and passport information, and private naked photographs. It's a bewildering and terrible outcome to a saga that all started with... well, wait. Where did it start again?
January 2015: Leslie Jones is cast in Ghostbusters
Jones has been on Saturday Night Live since 2014, so it's not like she hasn't been in the comedy spotlight. The hateful vitriol directed at the Ghostbusters reboot, and its female leads in particular, was unprecedented. Neither Kate McKinnon nor Kristen Wiig are on Twitter, and Jones is far more active and conversational than cast mate Melissa McCarthy. She is also the only black woman in the cast, making her a prime target for harassment and abuse. She was inundated with criticism from every side, including for the fact that she'd been cast as an MTA worker rather than a scientist.
June 2016: Jones can't get a dress
Jones was unable to find anyone to dress her for the Ghostbusters premiere, an opportunity that's usually highly coveted by designers who want their work photographed on the red carpet. She spoke about it openly on Twitter, attracting detractors who said it has nothing to do with her color... just her size. Eventually, Christian Siriano stepped up and made Jones a knockout dress:
G/O Media may get a commission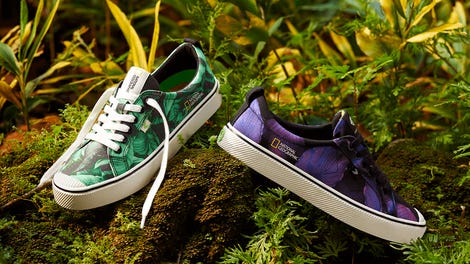 New New New
Cariuma + National Geographic
July 2016: Jones is inundated with racist hate speech, photoshopped images, and harassment on Twitter
Jones left the platform, briefly, in sadness and disgust. She received a lot of support from other celebrities, including Twitter CEO Jack Dorsey, and one particular user who shall go unnamed was banned. Twitter released a statement that read, in part, "People should be able to express diverse opinions and beliefs on Twitter. But no one deserves to be subjected to targeted abuse online, and our rules prohibit inciting or engaging in the targeted abuse or harassment of others."
July 2016: Jones continues to talk openly about her harassment and Twitter's reaction
"Hate speech and freedom of speech? Two different things."
August 2016: Jones returns to Twitter; her excited coverage of Rio gets her sent to the Games
While there, she starts a hashtag in support of Gabby Douglas:
Douglas has also received a lot of unnecessary critical attention online, and Jones appeared to be paying forward the support she received, even dropping a mention of "Jack." Her hashtag for Douglas really took off and seemed to make a difference to the young gymnast:
August 2016: Leslie Jones's website gets hacked
On August 24, Jones's website was hacked with personal info and nude photos posted. The site was taken down around noon, but Jones hasn't made any comments on social media since. Her last posts are all goofy Snapchat filters and and a call for ideas about what to do for her birthday in September.
The FBI is reportedly investigating the situation. And the situation exists, let's remember, because anonymous trolls couldn't handle a black woman's public success.