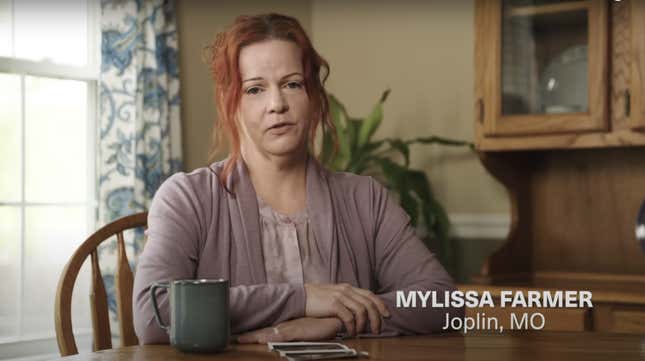 In October, Mylissa Farmer came forward with her story of being forced to travel to Illinois in August, after being denied a life-saving abortion by two hospitals in her home state of Missouri and in Kansas due to its near-total abortion ban, which only has an ambiguous exception for threats to the life of the pregnant person. Farmer's water broke at 17 weeks, and because the pregnancy had already been high-risk, doctors told her she faced increased risk of sepsis, loss of her uterus, and even death. Due to delays from being denied care from hospitals, by the time she reached a hospital in Illinois with the help of an abortion fund, Farmer was already in labor.
UterUs Weekly: February 11, 2022
On Monday, the Associated Press reported that the Health and Human Services Department's Centers for Medicare & Medicaid Services (CMS) opened an investigation into the two hospitals that turned Farmer away—the University of Kansas Hospital and the Freeman Health System—and determined that they had violated the Emergency Medical Treatment and Labor Act (EMTALA), a federal law that requires health care workers to provide life-saving medical care to stabilize a patient's emergency medical condition. Last summer, shortly after the fall of Roe v. Wade, the Biden administration issued a reminder to hospitals that EMTALA requires them to offer life-saving abortion care and that the law supersedes state abortion bans.
CMS hasn't announced fines or penalties the hospitals will face. AP reports that the hospitals received "notices warning that they were in violation of the law and asking them to correct the problems that led to Farmer being turned away." Federal investigators will visit the hospitals before closing the ongoing case.
Freeman Health Services couldn't be reached at its media hotline and didn't immediately respond to request for comment via its online contact form. A spokesperson for the University of Kansas Hospital told me in a statement that the care the hospital provided to Farmer was "in accordance with hospital policy" and "met the standard of care based upon the facts known at the time, and complied with all applicable law."
Michelle Banker, an attorney for Farmer who works at the National Women's Law Center, helped her file her EMTALA complaint to CMS last fall. Banker notes that Farmer's complaints led to the first investigations launched by the agency since the fall of Roe.
"This is such an important first step for getting justice for Mylissa, although nothing can take away the trauma she experienced—from losing a wanted pregnancy, to her life being put in jeopardy because of these hospitals' actions," Banker told Jezebel. The ruling from CMS, she says, offers necessary clarification as "we keep seeing this same situation happening again and again, across the country, of patients who are miscarrying or facing life-threatening complications being forced to wait until they're on the brink of death before hospitals will let doctors intervene."
"Hospitals, nationwide, really must take heed and know there are consequences for violating EMTALA," she added.
In a statement to AP, HHS Secretary Xavier Becerra said it was "fortunate" Farmer survived, and that "she never should have gone through the terrifying ordeal she experienced in the first place." Becerra pledged to continue "to investigate and enforce the law to the fullest extent of our legal authority."
Farmer's story is part of an alarming pattern of hospitals turning away patients experiencing pregnancy complications after weighing their legal risks, as doctors face the threat of prison-time for providing abortion care—even in emergency cases, due to lack of clear guidance from states on what an "emergency" entails. Across the country, the consequences of this uncertainty and the threat of criminalization have been steep: Last week, an Oklahoma woman with a cancerous pregnancy said she was told by one hospital to wait in the parking lot until she was on the brink of death for an emergency abortion. Five Texas women currently suing the state say that being denied emergency abortion care almost killed them. Ohio women with cancer who became pregnant were forced to travel out-of-state for abortion care before they could begin life-saving cancer treatments. And hospitals in Idaho have shuttered their entire labor and delivery departments over a dwindling medical labor force citing fear of prison-time for helping pregnant people.
Now, Banker says, hospitals should know "HHS and CMS will take action for those who fail to provide care," and that "when a patient comes to them with a condition like Mylissa's, they do not need to—and must not—wait until the patient is on the brink of death to provide care."