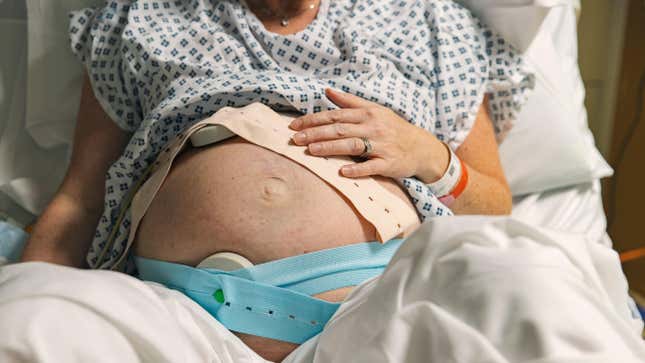 In December, Idaho resident Carmen Broesder documented her 19-day miscarriage on TikTok, expressing fear that she would die before anyone helped her. Despite the significant pain and blood loss she experienced, Broesder was denied the dilation and curettage (D&C) abortion procedure that would have safely ended her miscarriage and averted further health complications. She said she sought the procedure from OB/GYNs in her state twice but was turned away due to Idaho's abortion ban and the ambiguity of its language offering an exception to save the life of the pregnant person. "A doctor told me 'don't come back until your pain or bleeding is worse,' like I'm dying," Broesder told Jezebel. She went to another hospital where she says a doctor "looked at me with pity but said 'there's confusion, trepidation regarding the abortion law,'" and he couldn't act yet.

Republicans Pull Out All the Stupid Stops While Debating Abortion
Broesder eventually received misoprostol (medication used for miscarriage and abortion) and a procedure to remove the remaining tissue stuck to her cervix. But Broesder's experience—being denied emergency pregnancy-related care by health providers due to the state's abortion ban—has become increasingly common post-Roe v. Wade. So much so that on Friday, Bonner General Health (BGH) in Idaho announced it's dissolving the hospital's entire labor and delivery department and all "obstetrical services." The department "will no longer be consistent and reliable in May," a BGH spokesperson told Jezebel in a statement on Tuesday.
In the original press release, the Sandpoint-based hospital detailed a number of reasons it's discontinuing these health services including staffing shortages, but an especially concerning reason it lists is "Idaho's legal and political climate"—which contributes to said staffing shortages.
"Highly respected, talented physicians are leaving. Recruiting replacements will be extraordinarily difficult," the release states. It also cites concerns with the legal threats physicians face as a result of the abortion ban: "The Idaho Legislature continues to pass bills that criminalize physicians for medical care nationally recognized as the standard of care. Consequences for Idaho physicians providing the standard of care may include civil litigation and criminal prosecution, leading to jail time or fines."
Idaho's abortion ban, which prohibits abortion after six weeks, took effect shortly after Roe fell in June. A judge ruled in favor of the ban in August but blocked its original language that criminalizes doctors who provide abortion even to save someone's life. Despite this ruling, the onus remains on doctors who do provide emergency abortion care to prove that someone's life was in danger, which doctors, legal experts, and BGH's board of directors still regard as a significant criminal threat.
"The legal/political climate in Idaho poses a barrier specific to recruitment and retention," a spokesperson for BGH said in a statement to Jezebel. But the spokesperson emphasized that "the decision to close Labor and Delivery services was based on the ability to ensure patient safety," threatened by lack of staffing. Per the statement, in this current period, the hospital "is working with OB patients on a one-on-one basis to... transition their obstetrical care," and "working closely" with other hospitals in the state "to ensure a smooth transition."
The nearest hospital offering labor and delivery services is now 45 minutes away, meaning it would be closer for some Idaho residents who would have sought care from BGH to travel to Washington.
Kimra Luna, the co-founder of Idaho Abortion Rights Collective (IARC), told Jezebel she fears the shuttering of BGH's obstetrical services will leave pregnant patients confused and without options. "They won't know where to go for help, or go to the wrong hospitals in an emergency," Luna said. "Especially for small towns, losing access to hospital care is awful, but to lose labor and delivery care, when there may be emergency situations as pregnancy is not a linear path, is very frightening."
According to Luna, while Broesder's story is among the most publicly visible, IARC has heard from and supported callers with similar experiences, often requiring them to travel out-of-state for abortion care, including for emergency conditions. They're turned away, Luna says, by doctors who are afraid to face prison time for helping them. This fear stemming from anti-abortion legislation has now effectively shuttered an Idaho hospital's entire labor and delivery department, and Luna fears the impact of these laws won't stop there.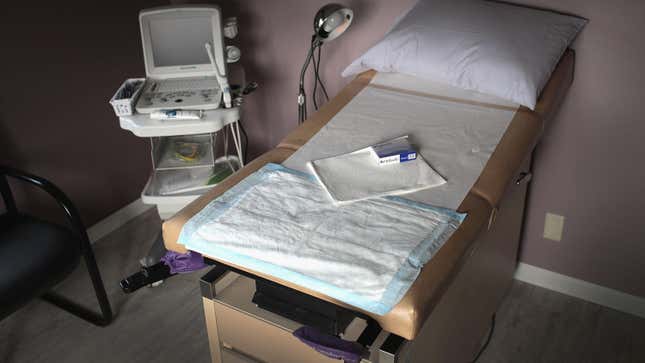 "The laws here are telling them if you treat the person and maybe they're not on their deathbed yet, that there's a real risk, so you'll have them calling lawyers to make sure they can treat a person, which is a waste of time as someone's bleeding out," Luna said. "We're just inundated with messages from nurses, hospital staff who are absolutely terrified by the ban."

Broesder recalled being angry when a doctor cited Idaho's abortion ban for his hesitation to provide emergency abortion care. "But I understood—in that moment, I'm obviously mad at the law," she said.
Across the country, states with abortion bans are inflicting similar terror and physical endangerment on pregnant people through the threats they aim at healthcare providers. The horror stories are rampant: hours-long ambulance rides out-of-state for emergency abortions, a Louisiana woman forced to carry a fetus missing most of its skull, a handful of Texas women claiming the state's abortion bans nearly killed them—including one woman who was initially denied an emergency abortion, contracted sepsis, and is now left with one permanently closed fallopian tube. Anti-abortion lawmakers design their bans to only explicitly criminalize providers (though pregnant people have always faced criminalization for pregnancy outcomes, including abortion). Their laws carry a violent impact for pregnant people nonetheless.
All unwanted or unsafe pregnancies present a time-sensitive medical emergency—trying to distinguish them from each other has proven unhelpful. Whether someone's pregnancy is wanted or unwanted, (relatively) safe or unsafe, as a consequence of abortion bans, the health system is increasingly disregarding pregnant patients' lives. "There are lawmakers in Idaho who basically believe we deserve the death penalty," Broesder said. "My story made the news, but there's so many more." The ban's impact on the health system, she says, "is killing us."