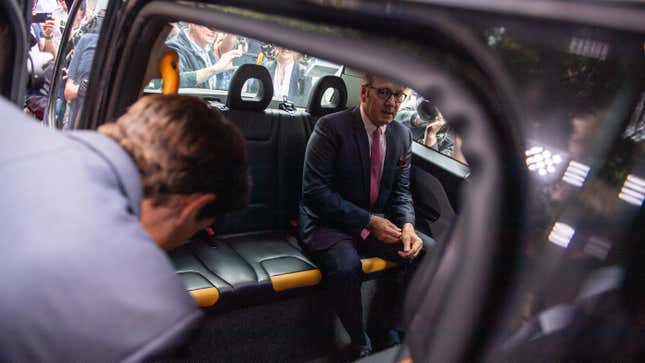 A British jury might've just cleared Kevin Spacey of sexual assault charges, but Hollywood might not be quite so kind to the embattled actor going forward.
The Johnny Depp and Amber Heard Defamation Trial Has Begun
While it might be hard to believe that a two-time Academy Award winner—and, at one time, the industry's prized pick for weirdo roles—wouldn't be on the receiving end of a warm welcome in Tinseltown (the chosen venue for exactly the kind of conduct Spacey's been repeatedly accused of), according to unnamed industry sources, he'd have better luck elsewhere. Europe, to be more specific!
"It's not a matter of can Kevin work again, but who will work with him?" one producer remarked to Page Six.
"Look at all these men accused of sex crimes, from Woody Allen to Roman Polanski, they're all working in Europe," another "well-placed Hollywood source" told the tabloid. Frankly, they're not wrong. The Venice Film Festival revealed it's roster for the forthcoming event, and, both Allen and Polanski (two accused rapists) made the list.
Johnny Depp, too, has found renewed success abroad following his defamation case against ex-wife, Amber Heard. French luxury fashion house Dior awarded Depp the most lucrative men's fragrance deal in history; across England, he was met with standing ovations at back-to-back performances, one of which was at the famed Royal Albert Hall alongside Jeff Beck; his portraits of dead celebrities have sold for millions out of a gallery in London; and Depp's film literally opened the Cannes Film Festival this May.
"I think Kevin will come back the Johnny Depp way in Europe–I still don't think people would employ him in Hollywood," the source said, adding: "All these men get a clean bill of health in Europe, but it's harder to come back to Hollywood." Harder, maybe, but not impossible given the number of accused sexual predators who've managed to sustain careers stateside.
According to Spacey—who was just honored with a lifetime achievement award in Italy—his European resurgence is already underway. "I know there are a lot of people right now who are ready to hire me the moment I am cleared of these charges in London," he told a German magazine earlier month. "The second that happens, they're ready to move forward."
Yeah, that's bleak. But for now, we do have to giggle at the notion of Hollywood's big and bad denying Spacey a seat at their table—emphasis on "for now," of course. As one producer source noted to Page Six, the American film industry is always capable of changing its mind when it comes to pardoning bad men: "Mel Gibson was allowed back to Hollywood after his anti-semitic rants, so you never know."
Cool!
---