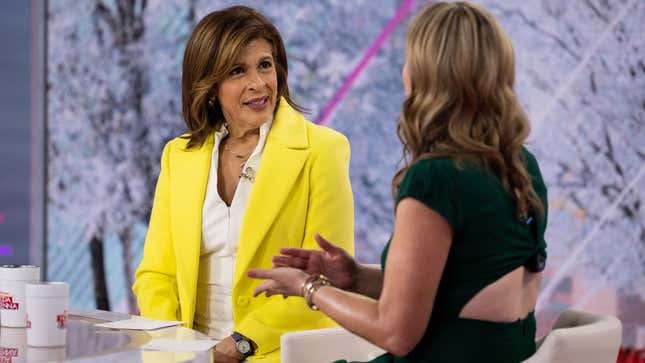 We now know the answer to one of the great pop cultural mysteries of 2023: Where's Hoda? The answer: On your television-slash-internet (or wherever you watch your daytime talky news shows) once again. Hoda Kotb, whose last live Today show appearance occurred February 17, returned to her work home Monday morning. Her absence, she explained on camera to co-host Savannah Guthrie, was a result of her youngest daughter Hope's hospitalization, which included a stay in the ICU.
America's Favorite Pasttime: Dunking On Dr. Oz
"I'm so grateful she's home—she's home, I was waiting for that day to come," said Kotb of her 3-year-old daughter, whose stay in the hospital lasted longer than a week. "We are watching her closely. I am just so happy."
Kotb said she was grateful for the doctors at Weill Cornell hospital, for her family, and for "friends like you, who were there every single day," she told Guthrie.
"I love you," Kotb told Guthrie.
"I love you too," Guthrie told Kotb.
Rumors piled up in lieu of an explanation of Kotb's absence. Just last week, Jezebel riffed on potential causes: A breakup, a feud, a newly adopted child...? There was also some kind of buzz of unrest between Kotb and Guthrie. All have been put to bed, all has been explained. Said explanation is not exactly "fun" as the mystery that led up to it—"as fun as a sick child" is not a common expression for a reason—but at least we now know, and at least Kotb's kid is OK. And we all lived to see another Today.
---