Six students have been expelled and six more suspended after administrators at a Bay area Catholic high school discovered the boys had been taking upskirt photos and videos of their teachers. The photos were part of a long-running "competition" between boys at the all-male Junipero Serra High School in San Mateo, wherein one student would deliberately distract a female teacher (by asking for help with an assignment, for instance) while "another was putting a phone up her dress."
Biology teacher Kimberly Bohnert has filed a lawsuit against the school, alleging "a hostile environment, failure to prevent harassment and infliction of emotional distress." The six students who have been expelled were referred to the juvenile probation department and may face prosecution.
Via NBC:
"How could they do this?" she said. "I'm their teacher."

Bohnert learned about the photos last May when she said a student who had seen them told an administrator. She says she was called into the office and informed about the so-called rumor. But within a few minutes, Bohnert learned the mortifying truth by asking students herself.

"They go, 'Yeah, Ms. B, we've seen an upskirt photo of you. In fact, we've seen a lot of them, and they've been going around for awhile,'" she said.

Bohnert said she immediately went to police and began her own investigation, helping to uncover not just videos, but sexually violent messages and images on a social media website.

"I felt scared there's a kid walking around that really thinks that — am I some target?" Bohnert said.
Fucking disgusting.
To all the people who are still confused by or doubtful of the fact that teaching boys to treat women like property results in boys treating women like property, kindly take note. This is what happens when boys grow up in a culture that constantly reinforces—in nearly every movie, every TV show, every commercial—that women are "prizes" awarded to the hero, commodities to be seized and traded and ranked, and subhuman decoration with no right to control their own bodies.
G/O Media may get a commission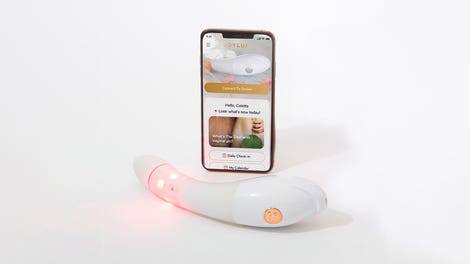 $50 Off
Joylux vFit Gold Device
This is what we mean when we talk about teaching men not to rape. This is what "just jokes" turn into. This is how casual sexism begets real-life abuse. This is why this and this and this and this are not completely harmless. Because, cumulatively, they contribute to situations like this. And this. And fucking this.
And you wind up with biology classes full of teenage boys who feel no compunction whatsoever in dismissing their female teachers' authority, sticking cameras up their skirts, and literally turning their bodies into a game. Tell me the one about the hysterical feminist again. Tell me your "rape culture isn't real" routine again. Good one, bro. Tell it again.
Image via MontereyHerald.