Yesterday, former Northeastern student Katherine Rizzo announced that she has filed Title IX and Clery Act complaints against the university. Her account of institutional indifference is an infuriating variation on a far-too-ubiquitous theme: after a sluggish and re-victimizing hearing process, no justice was served. Although Rizzo's assailant was found "responsible" for rape by the Northeastern University Office of Student Conduct (OSCCR), he appealed the decision on a "procedural error." Before the second hearing could take place, he withdrew and transferred to another college. He was never punished; Rizzo dropped out of school.
Rizzo was sexually assaulted by a friend whom she knew from Greek life events; after she left a party with him, she repeatedly told him that she didn't want to have sex with him, but he ignored her protests. As she told Katie J.M. Baker at Buzzfeed, she went to Northeastern's Health and Counseling Services the next day, where she was informed by an administrator that "they were unable to provide follow-up care beyond one session" and that she "should contact a local rape crisis center."
Rizzo also reported the assault to the OSCCR. She heard nothing for months and eventually had to take matters into her own hands by emailing the the Office to inquire when her hearing would take place. The date was set for April 4 — over four months after she reported her assault — and one day before it took place, the OSCCR provided her with a packet of written testimony from her sorority sisters as well as a member of her assailant's frat. Per Buzzfeed, their testimonies scrutinized her sexual behavior:
One former sorority sister, whom Rizzo had known for only two months, wrote that Rizzo's "sexuality towards men" did not change after her attack and that she "continued to pursue men in the same way she did before the incident had occurred." In general, Rizzo did not "act any different in general and appeared to do things the same as she was before." She also said that Rizzo had been in a bad mood the evening of her attack because her assailant's frat brother told her he no longer wanted to see her, which Rizzo contests.
G/O Media may get a commission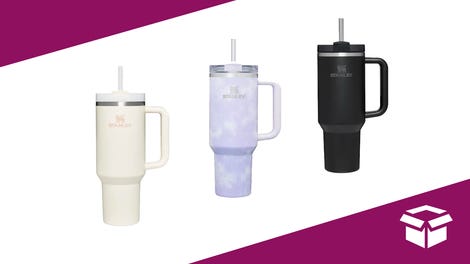 Up to 45% off
Stanley Cup Sale
Obviously, none of this "testimony" is relevant to the case at all: someone's dating behavior before and after her sexual assault has absolutely nothing to do with the reliability of her account.
The actual hearing — which was adjudicated by undergraduates who had received no formal training — was no better. In a phone interview, Rizzo told me that her assailant was allowed to ask her questions directly. "He brought up my sexual history and basically accused me of lying and things like that," she said. He also called on the verbal testimony of several witnesses, most of whom were affiliated with his frat. "I feel like Northeastern didn't vet these witnesses at all," Rizzo told me. Some of them made contradictory statements. One of them testified that "because of the way [Rizzo] was dancing, there was no way she wouldn't have consented to sex."
Despite the flawed hearing process, Rizzo's assailant was found "responsible" for sexual assault. He then filed for an appeal, which he was granted, and the administration tried to discourage Rizzo from going through the hearing process again: "They told me, 'Are you sure you want to go through another hearing? He's probably not going to use the same approach, he's probably not going to have the same witnesses, because he realizes that was dumb.' ... They basically told me that there was a chance he wouldn't be found responsible and tried to discourage me from doing a second hearing." Rizzo opted to do it anyway. In response, her assailant transferred from Northeastern. Because the hearing was scheduled after the end of the semester, he managed to finish all of his classes.
It wasn't until this year that Rizzo — encouraged by the increased national focus on campus assault and the support of other survivors — sought more information about her the grounds on which her assailant appealed. At first, she told me, her advisor made it seem that the Appeal Board's decision "had something to do with the questions asked at the hearing, that they were deemed inappropriate." But that wasn't really the case: she later found out that it was decided that the "level of consent" that the hearing board used to determine that she had been assaulted was contested as being "too high."
According to an email obtained by Buzzfeed, OSCCR director Mary Wogmann told Rizzo that "the Appeals Board decided the original Hearing Board raised the burden of proof for the charged student by requiring him to affirmatively demonstrate proof that he received verbal consent... the Board used a higher standard for consent than what is required by the CSC [Code of Student Conduct]." In other words, Rizzo's assailant admitted that Rizzo had never verbally consented to have sex with him. The Appeals Board then decided that wasn't enough to prove him "responsible" for assaulting her — even though, as Baker points out at Buzzfeed, the Northeastern CSC definition of consent is "a voluntary agreement to engage in sexual activity proposed by another" that requires "mutually understandable and communicated words and/or actions demonstrating agreement to participate in proposed sexual activity."
"I said no," said Rizzo. "I don't know if it was easier for them to say I didn't say yes — because he did admit that I didn't say yes... I mean, it doesn't matter what I did, because I said no. I had a ten-minute conversation with this person telling him, like, I'm sorry but I don't feel comfortable. It's just insane."
And this is the shocking depth of colleges' ineptitude: college administrations aren't even capable of effectively defining what qualifies as forcible intercourse because they're so intent on bending over backwards to avoid controversy. They'd rather let someone get away with assault than admit that they allowed rape to happen. "It was like they were giving him every opportunity to get away with it," Rizzo said. "I don't understand why a school would do that. I don't understand why a school would want someone like that at their school."
In the aftermath of her assault and the subsequent botched investigation, WeCare, the Northeastern support organization meant to "aid students during times of difficulty or crisis," didn't offer her any sort of help or accommodations — even though she had been diagnosed with PTSD. "No one talked to me and was like, "This is how we're going to help you get back to school." I never got any of that." Feeling defeated, she eventually withdrew. "I didn't want to go back there. I didn't trust the school. It was awful." Later, she added, "I felt like [the administration] would rather see me leave and not be a problem than help me."
Although Rizzo is no longer within the 180 day statue of limitations for filing a Title IX complaint, she hopes that her complaint will shed light on several issues, including colleges' inability to appropriately define "consent," the fact that persons found responsible for assault are allowed to transfer schools, and the problems inherent in this 180-day time constraint. In a press release, she stated, "When I was able to talk about my experience and acknowledge how wrong this process was, I was years past this statute... The statute of limitations for Title IX complaints under the Office for Civil Rights is too short. "
Rizzo's case — and the myriad others like it — make one thing abundantly clear: pretending rape doesn't happen on campus has a huge human cost. Institutional negligence has been found to exacerbate the symptoms of depression and PTSD after sexual assault; obviously, survivors are unlikely to feel safe and well-adjusted in an environment that has utterly failed them. Furthermore, 9 out of 10 rapes are committed by serial offenders, and 6 in 10 college rapists will go on to rape again. By letting someone get away with rape, college administrations aren't only causing harm and suffering to the victim — they're also endangering everyone else on campus.
"I found out [my rapist] went to another school the next semester," said Rizzo."He didn't even have a semester off. I've been out of school for two years now." She heard from a friend that he graduated, having successfully and with minimal effort evaded the consequences of his crime. Because of metastasized institutional negligence, sexual assault survivors are rarely so lucky.
Image via Northeastern.edu.