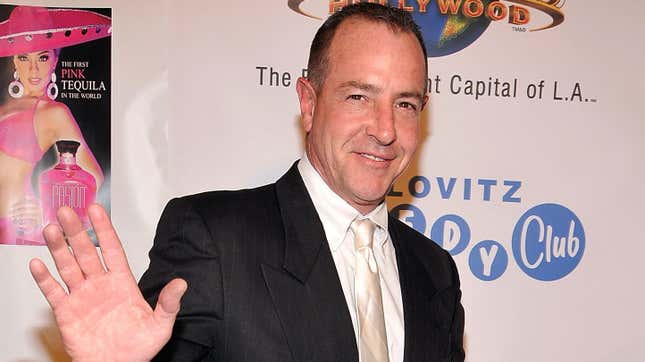 Patient brokering? A thing, apparently! Because that's what Michael Lohan got arrested for allegedly doing on Friday, the papers tell me.

Betsy Wolfe Reveals the 'Most Embarrassing Thing That's Ever Happened' to Her on Stage
According to the New York Post, the father of Lindsay, Aliana, Cody, and perhaps another is believed to have received illegal payments of as much as $50,000 for referring addicts to the Pride Recovery Center in Delray Beach, Florida in 2017 and 2018.
"Patient brokering corrupts our health care system because decisions are motivated by greed instead of a patient's needs," Palm Beach County State Attorney Dave Aronberg told the Post, adding that Lohan is the 117th person arrested in an ongoing probe into the matter.
Learn something new every day.
---
Ghislaine Maxwell, the longtime confidant of convicted sex offender Jeffrey Epstein, pleaded not guilty to sex trafficking charges in an arraignment on Friday—her first in-person appearance in court since her arrest last year. [NBC News]
Joy Behar apologized for misgendering Caitlyn Jenner a few times on yesterday's episode of The View. [Deadline]
Jenner told Behar "Don't sweat it." [The Guardian]
And I told Jenner "Don't run for governor you horrible, horrible woman." [Eat Shit Weekly]
"I respect him a lot, we were a little item," noted Madonna daughter Lourdes Leon said in a recent interview when asked about Timothée Chalamet, with whom she went to high school. "My first boyfriend or anything." [Vulture]
Happy 75th anniversary (and change) to that time Joan Crawford accepted an Oscar in bed. [New York Post]
New Reba McEntire! [Rolling Stone]
Stop the presses!!!!!!!!! Zayn Malik and Gigi Hadid love grilled cheefe. [Hollywood Life]
Ireland Baldwin babysat two kids for less than an hour and came away from it with a bloody nose. [Page Six]
Much to think about: