Last night, I joined the Twihards at a midnight screening of Twilight: Breaking Dawn. Since I first covered the franchise in 2008, I've gone to midnight screenings of each one, and I have to say, as events, they are getting more and more subdued. Maybe the fans are growing up. Perhaps vampires and werewolves have lost their bite. (A little — the flick is still on track to be number one at the box office this weekend.) The theater was definitely packed. I took notes throughout the flick. So if you want to know exactly what happens without actually paying for a ticket, read on.

12:06
In the theater. Not a lot of teens… the two ladies next to me are well over 40. And excited.
12:21
The Hunger Games trailer comes on. Screams, applause.
12:22
The screen goes dark and the movie begins with a shot of the moon… There's excited chatter and then a loud "Shhh!" from everyone not chattering.
G/O Media may get a commission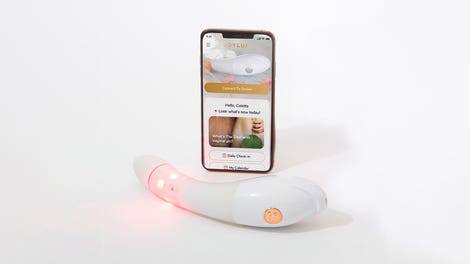 $50 Off
Joylux vFit Gold Device
12:23
Jacob's shirt comes off less than 1 minute in! Screams!
12:31
Edward to Bella: "I'll meet you at the altar." Some one in the row in front of me goes, "aww!" with an uptick at the end like she's seen an adorable puppy.
12:36
Bella's walking up the aisle. The back of her dress is kind of sexy.
12:39
Slow-mo kissing. Goes on for a while. My friend Workhorse audibly rolls his eyes.
12:41
Booboo! This conversation seems to be about whether or not Edward will fuck Bella to death on their wedding night. "You'll kill her!"
12:56
They're on a secluded island Brazil and she's looking at the bed, OMG, honeymoon night!
12:58
She is fucking nervous/excited about getting some vampire penis in her. She's brushing teeth and shaving her legs.
1:00
Sex! Breaking hymen! Breaking the bed!
Wait. That was over way too quick.
The camera cut away to the next morning, like a Hays code film.
1:01
He won't bang her anymore because he's afraid he will hurt her. They play chess, like the cover of the book! She is horny. Begging for it.
1:07
Product placement: Bella looks at an unopened box of Tampax Pearl.
"I think I'm pregnant."
1:18
Edward looks ill re: demon fetus. "Carlyle will get that thing out."
1:23
Even though the fetus is killing her, she wants to keep it and so do some of the Cullens.
"It's just a little baby. Possibly."
1:29
Amazeballs: Wolf conference by some logs. They are snarling at each other. Voiceovers as you watch CGI lupuses emote.
1:32
Booboo !
1:37
"It's crushing you from the inside out. The fetus isn't compatible with your body. It's starving you."
She looks sickly thin.
She's willing to die so the baby can live, though…
1:43
Mmm, bloodshake! Like a milkshake, but blood.
1:46
Bella lies to her dad: "I'm gong to a medical center in Switzerland… it's more of a spa."
1:51
Jacob is doing some betraying of his tribe…
1:53
They're talking baby names. "Renesmee. Too weird?" "Um...."
1:54
She's in labor and basically dying.
She yells "Get him out of there!"
Yes! Exorcise this demon spawn!
OMG.
It's happening so fast!
Edward bites her pregnant belly!
A baby comes out all bloody and covered with bits of blech.
Bella says, "Beautiful." Honey, no.
Then she DIES! Bella is dead. She is skeletal and gray.
1:57
Edward injects Bella with venom.
She is still dead.
CPR doesn't work.
Jacob says you deserve to live with this.
Jacob cries!
1:59
Edward: "You're not dead come on!"
Bites her all over.
Suddenly we're inside Bella's body looking at her veins and organs and shit is going down. Her blood is freaking out.
2:01
Jacob creeps up on Rosalie and Renesmee and when he looks into the baby's adorable baby eyes with those long baby lashes he falls in love! And has a vision of some bright future where she's grown up and wearing a wig. Imprinted.
2:03
Fight breaks out! Vamps vs. werewolfs!
Jacob transitions into a wolf and the over-40 lady 2 seats down from me screams "That's my man!"
Bella is still dead, she looks like crap.
2:06
She starts healing. Smattering of applause.
Her veins flip out again.
Her whole life passes in front of her. Or us. Whatever.
She looks awesome! No longer a gray skeleton but totally pretty!
She opens her eyes and they are RED!
The end!
Lessons learned:
Sex is scary. Fetuses are terrible parasites. A man can fall in love with an infant.
Earlier: Watching Twilight: Eclipse: A Minute-By-Minute Analysis
Howling At New Moon: Midnight Screening Is Total Mayhem
Translating The Twilight: Eclipse Trailer
Twilight At Midnight: Smells Like Teen Spirit