There comes a time in in the Hollywood lifecycle when the grizzled, aging heartthrobs totter away, and the new young whippersnapppers step up. Move over, Taylor Lautner. Hit the road, Justin Bieber. It's Booboo Stewart's turn.
Who is Booboo Stewart?
He's an actor.
He's a singer-songwriter.
He's a dancer.
He's a model.
He's a stunt double.
He's a martial artist.
He's a film producer.
He's part Japanese.
He's part Chinese.
He's part Korean.
He's part Native American.
He's part Russian.
He's part Scottish.
He's 16.
And according to one tween site, it's Booboo, not Boo Boo, BooBoo or PooPoo. Booboo.
You may have seen Booboo playing Seth Clearwater — the newest young werewolf — in The Twilight Saga: Eclipse earlier this year. His character apparently becomes more important in Breaking Dawn, the first part of which (yes, two movies, that is a different ridiculous issue) hits theaters next year. Booboo has his own sneaker, a column over on the TNA Wrestling website, and was once on the cover of something called Inspire.
G/O Media may get a commission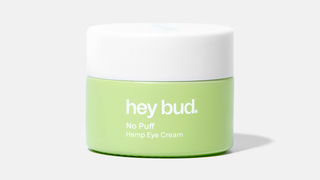 15% off
Hey Bud - No Puff Hemp Eye Cream
Right about now you're thinking, damn, does he look way too young? Or am I getting old?
The answer is: Both!
The paparazzi have begun to follow Booboo, and snap him and his sisters Fivel and Sage on and off the red carpet. You read that right. FIVEL. And Sage.
The teen sites have been on the Booboo beat for a while; here's a story about Booboo getting punched in the face at a mall (sample comment: "i wanna kiss his booboo and make it all better"); in this video Booboo denies dating someone named Chloe Bridges; this in-depth piece is about Boooboo getting a haircut; and here is a post simply titled, "Check out Booboo's Hot Bod!"
Here's Booboo being coerced to take his shirt off on Australian television.



Remember, it's not just the Britneys and the Lindsays and the Mileys who get objectified and placed upon a pedestal. America loves her boytoys. You heard it hear first: Booboo is the heartthrob of 2011.



Booboo Stewart [Wikipedia]
Booboo Stewart Attacked [4tnz]
TeamBooboo.com [Official Fan Site]
Booboo Stewart Inspire Cover Boy [OceanUp]
Earlier: Underage Stars: Is There A Sexual Double Standard? Hell Yeah!