Last month, the Wendy's Co. filed a lawsuit against one of its largest franchises operators, DavCo Restaurants LLC, for failing to meet company directives both to update their point of sale systems and to remodel their restaurants. Here's why that matters.
DavCo isn't a small group: they're Wendy's fourth-largest franchisee, operating 152 locations in Maryland, Washington DC, and Northern Virginia.* Wendy's has every right to sue over this; DavCo wasn't getting its operations up to snuff in a way that Wendy's (its effective parent company) was happy with, now the franchiser is trying to cut ties with the franchisee. Granted, part of the dispute is that Wendy's wanted DavCo to update their POS systems to Aloha, which is kind of like "updating" to a Yugo Hatchback, but that's beside the point.
The nature of their relationship is the crux of the issue here: Wendy's does have every right to sue them, because that's the nature of the franchise relationship. Wendy's, and every other fast food franchiser, maintains a significant level of control over their franchisees. Because that's the case, the National Labor Relations Board is exactly correct to treat them and other fast food companies as a joint employer for employee collective bargaining purposes.
Wendy's can't claim with a straight face that it's legally allowed to regulate its franchisees' behavior down to their level of renovations while at the same time claiming they have absolutely no control whatsoever over staffing and pay practices. The same is true of all fast food companies. This lawsuit is eminently reasonable, but it's a sword that cuts both ways — if a fast food company has this level of control over its subordinate franchisees, it has enough control to be held accountable for wage and staffing violations and to be taken to task for failing to provide fair pay.
* The lightbulb just went on over my head for why I always thought Wendy's was such a shithole growing up, by the way.
G/O Media may get a commission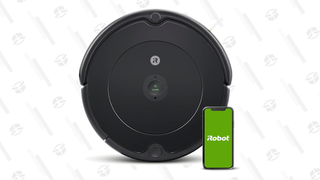 35% Off Black Friday Deal
iRobot Roomba 694 Robot Vacuum
Image via Ken Wolter/Shutterstock.