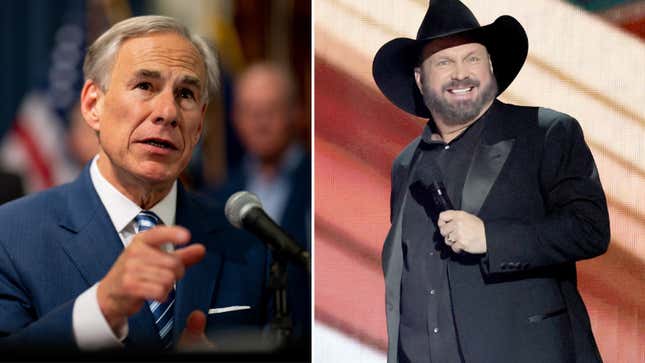 However terrible of a person he seems to be, you'd think Texas Gov. Greg Abbott (R) would at least be decently acquainted with the state he was elected to govern. Alas, you'd be wrong!

Over the weekend, Abbott—seeking to dunk on a beloved country singer who's recently expressed vocal support for LGBTQ communities—unknowingly shared a satirical article from the fake news site Dunning Kruger Times about Brooks being booed on-stage in Texas. To make matters worse, the spoof article names a fictional music festival in a fictional town. Among all the embarrassing aspects of this, how on Earth does the governor of Texas not immediately realize there's no Hambriston in his state?
"Go Woke. Go Broke," Abbott wrote, sharing a link to the satirical piece in a now-deleted tweet. "Garth called his conservative fans assholes. Good job, Texas."
This man is famously bad at Twitter—through one gutting mass shooting after another in Texas, Abbott is constantly haunted by a previous tweet challenging the state to go from no. 2 in the nation for new gun ownership to no. 1. More recently, he spread misinformation about his own anti-drag law on Monday. But being deceived by a parody article that anyone with even a vague sense of Texan geography would see through is another tier of humiliation.
Lest you've spent the last couple of weeks offline (good for you), Brooks has become the latest object of conservative ire and shitposting for serving Bud Light in his Nashville bar and declaring it a safe space for trans people.
"Our thing is this: if you [are let] into this house, love one another," he said of his bar in an interview with Billboard earlier this month. "If you're an asshole, there are plenty of other places on lower Broadway." Note that he didn't call anyone, specifically, an "asshole"—contrary to Abbott's bitching. So, it's quite telling that Abbott perceived this as a dig at himself and his fellow bigots.
Brooks has also been spitting delightful feminist gospel lately, recounting in a recent press conference how he shrugged off tradition when his wife Trisha Yearwood offered to change her last name to his. "I'd be fine changing my name to Yearwood," Brooks said. "Tradition doesn't count here. What counts is when you have two celebrities, don't have one swallow the other."
You can certainly get why a man like Abbott so urgently felt the need to attack Brooks. In any case, Abbott is now hilariously getting what he deserves, in the form of tweet after tweet dragging his media illiteracy and clear lack of familiarity with Texas:
Thank you very much to the Dunning Kruger Times, whose owner Christopher Blair had this to say on Abbott's little gaffe in an email to The Guardian: "Watching one of the most powerful men in his party not just fall for a headline, but one with a fictional festival in his own state, was nothing short of glorious."