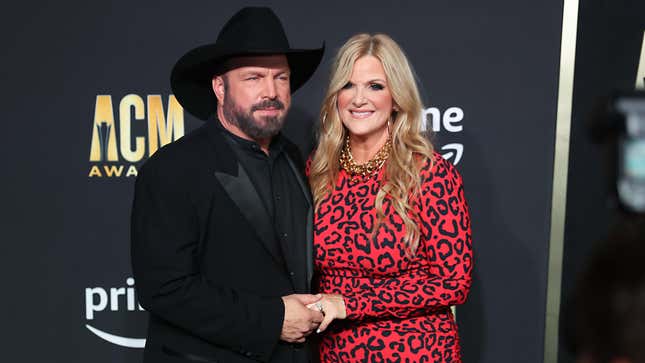 Having grown up in South Louisiana in the 1990s, I've been a massive Garth Brooks fan my whole life. I've screamed the lyrics to "Callin' Baton Rouge" out the window of my car and shed tears to "The Dance" more times than I can recall. It has vexed me to no end that Garth Brooks songs are not available on Spotify (though I respect his decision on that front). And his recent interviews surfacing in the news this week have only given me infinity more reasons to stan the guy.
We wrote Monday about Brooks declaring that his new bar in Nashville, Tennessee, called Friends in Low Places Bar & Honky Tonk, will be safe for and welcoming to trans people and, obviously, serve Bud Light ("Our thing is this: if you [are let] into this house, love one another," he said. "If you're an asshole, there are plenty of other places on lower Broadway."). Brooks also revealed this week that his wife since 2005, fellow country legend Trisha Yearwood, offered to take his last name last year on their 17th anniversary—and he respectfully declined.
"She was sweet enough for our anniversary last year to have the documents where her official last name was Brooks," he said during a press conference announcing a new station on his SEVENS Radio Network, per Taste of Country. "I declined it."
"Jack Yearwood had two daughters: That Yearwood name is Trisha. I'd be fine changing my name to Yearwood," he continued. "Tradition doesn't count here. What counts is when you have two celebrities, don't have one swallow the other."
Brooks added that he hopes to collaborate with Yearwood on a new women-centric station on his network, tentatively titled with the acronym "BABE."
"It's the badass bitches of entertainment," he said. "I'd love to see her heavily involved in that channel."
I think we can perhaps workshop the name of this very important and welcome women-centric station, but I have absolutely zero notes for this sweet national treasure of a man.