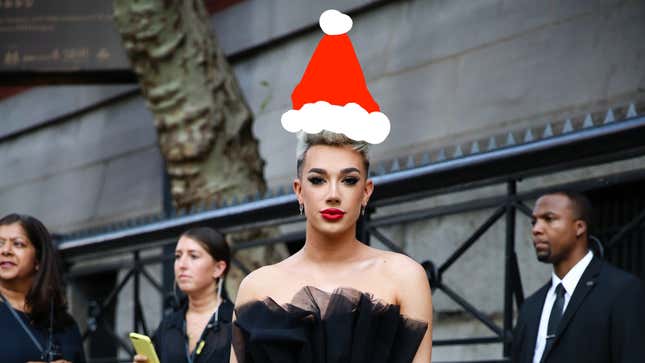 Happy holidays, sister Santas! With the best time of year right around the corner, I thought it would be all too appropriate to design a hyper-specific gift guide for the person in your family obsessed with all things James Charles. The beauty guru/makeup maven/super YouTuber has had quite the year, and it's high time to press "publish" on that apology video and wash ourselves clean. I mean, it's 2020, and 2019 is about to be so over. Let's sister-start over with these goodies.

---
A Waist Trainer
Unfortunately Face Tune doesn't exist in real life (and plastic surgery doesn't quite do the trick,) so to appear absolutely snatched like James Charles at all times, a waist trainer is the must-have gift of the season. Nothing says, "I love you, sis" quite like a modern-day griddle. It's oppressive, much like conversations with extended family members around the Christmas tree who may ask, "Who is James Charles?"
This waist trainer will set you back $39.99, which seems like a fair price for all of the back damage it will surely cause.
---
A Vloggin' Camera
I don't mean to make anyone sister-shook, but it's absolutely imperative that you gift a vlogging camera to someone you love. Surely AI and other various technologies will replace conventional careers, but YouTubers? That shit is forever. Get them started young for just a few hundred bucks. That's much cheaper than a college education, so it's a great deal, when you really think about it.
Buy it now for $199, $299.99 or $399.99. They can get much pricer, but come on, you gotta save some dough for makeup palettes. How else will your hot cousin become a famous BeauTuber?
---
Sugar Bear Hair Vitamins
The best gift is clearly the preferred treats of Instagram thots and influencers everywhere. Of course, they aren't buying them or consuming them—it's a brand deal, bitches—but without these sugary sister snacks, how else are you going to piss off longtime BFF Tati Westbrook?
A three-month supply of this sister scam product will set you back $84.99 at Ulta.
---
Balenciaga Shoes
The ones that look like socks are fine, but the chunky, slightly-platformed dad sneaks have been Charles's preferred kicks for, like, ever. It slims your legs, elongates them, and gives a distinctly Bratz doll-like effect. What could be better?
Looks like most of these designer duds range $800 - $1000, so your best bet would be to order knockoffs on Etsy. Just don't tell your loved one that's where you got 'em.
---
Sister on the Shelf
This is exactly what it sounds like. James Charles, but as an elf on the shelf.
You can't acquire a 10-inch tall Charles, because it does not exist, so I'm setting the cost: it's priceless. 
Happy holidays to us all!