Waist trainers, the modern day equivalent to the girdle, and before that, the corset, appear to be more of the next step in oppressive women's wear than an liberating development. But as a new piece at The Fader outlines, they're empowering if only because of the success of the women who are selling them.
As Rawiya Kameir explains, "The waist trainer hustle is like an expanded, modern-day version of Avon sales or lingerie parties," as they're "most commonly sold by small, independent businesses often owned by women." Whereas the women who sell Mary Kay once relied entirely on literal door-to-door sales work, with products like waist trainers, they're now able to grow their businesses on the web, largely on social media. This phenomenon isn't isolated to waist trainers specifically; as Kara Brown outlined recently, Instagram is full of products—often touted by celebrities—that, in Kameir's words, are "targeted towards women hoping to reach a desired body shape, each with questionable effectiveness."
The effectiveness of waist trainers on the bodies of the individual women using them is most certainly debatable, but the financial benefit for the women selling them is real:
Jamie Porter, who owns Waist Snatchers, a leading waist trainer retailer based in Biloxi, Mississippi, was in her first semester of nursing school when she began selling enough waist trainers to quit, thanks to successful social media promotion. Two years later, she has five employees and sells around 300 units a week, retaining approximately 80 percent of the $75 to $100 retail price of her products as profit. By relying on word-of-mouth and organic online chatter to grow her business, she doesn't contend with much overhead, either.
G/O Media may get a commission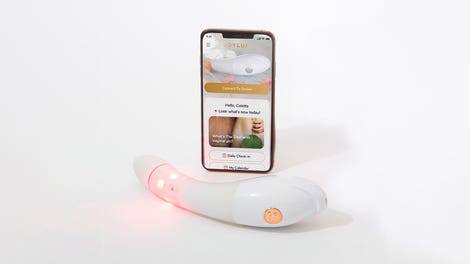 $50 Off
Joylux vFit Gold Device
Or take Nicole Rodiguez, who operates her store Nicci's Diva Boutique at a military base in New Jersey.
For Rodriguez, waist trainers have been a two-pronged blessing. They've made her feel more confident about her body, while also offering her the entry point into entrepreneurship that she had craved for years. After two decades of military service, she wanted a less stressful career that still offered financial security. So, in the fall of 2014, a year after discovering them for personal use, she began selling waist trainers on a website built by her husband, an IT professional. She tracked down a wholesale distributor in Miami and began promoting the waist trainers' beauty and health benefits on an Instagram account that has since amassed more than 13,000 followers.
It is, of course, still worth questioning how "empowering" it is to encourage women to try to reach a bodily ideal not necessarily usually found in nature, even if it is perhaps a body type more attainable than the tall, thin, blonde ideal that used to be considered the American Way.
Some of the biggest sellers, like PreMadonna, an entrepreneur-cum-socialite who is among the most visible faces of the industry, have close to half a million followers. Waist Snatchers, a competitor of hers, has nearly 120,000.

PreMadonna is widely considered to be the woman responsible for transforming waist training from a private practice mostly among Latino and black women—latex trainers originated in Colombia, where they were marketed to postpartum moms—to a new marker of status or group participation. Born and raised in Miami, she was an aspiring model and actress before she stumbled upon waist trainers after having two children. She began selling the products to friends, then expanded her effort to Facebook and Instagram, where she picked up customers by commenting on photos posted by minor celebrities. She was on Instagram selling waist trainers even before Android users were able to download the app. Eventually, she didn't have to market her product herself—endorsements from socialites and regular women who shared before-and-after pictures of their waist reductions did the work for her.

Today, PreMadonna's at the helm of a veritable empire and is a rising public figure, with a role on the fourth season of Love & Hip Hop Atlanta. Multiple women I spoke with for this story cited her as an influence, and she herself takes credit for launching waist training in America. "I was absolutely the first," she told me over the phone from Atlanta. "I 100 percent helped make this body type acceptable."
The women selling waist trainers on Instagram sort of remind me of the women selling products on Shark Tank, or QVC. In no way is it not impressive what they've made for themselves, but whether its empowering in it of itself depends on what you value more: female entrepreneurship or helping promote just an updated version of a body standard for women.

---
Contact the author at dries@jezebel.com.
Images via Khloe Kardashian and Kim Kardashian/Instagram