Like everything on the Bravo network, condoms are both terrible and great. They're terrible because they're inconvenient, expensive, and deliver a diminished genital-on-genital experience. But they're great because they block all sorts of unwanted things from getting into your body — like Chlamydia and babies!
Even though not having diseases, infections, or little angels in your life is a big benefit, those concerns often goes by the wayside when push comes to shove (or penis comes to vagina). Thankfully, wise and wonderful (and very, very rich) Bill and Melinda Gates want to help us all put a rubber on it.
The Gates foundation believes one of the biggest issues with condoms is that they make dicks sad because it separates them from the thing they love most — vagina and butthole skin. Hence, they're offering $100,000 (and possibly up to $1 million) to whoever invents "the next generation condom that significantly preserves or enhances pleasure."
More than 500 applications have come into (onto?) (sorry) the Gates contest, and the judges are already hard (sorry) at work evaluating the goods — even though the goods aren't good enough yet:
"I don't think we've seen the condom that knocks the socks off for everybody," said Ron Frezieres, vice present of research and evaluation at the California Family Health Council, a longtime tester of condoms for industry, government and nonprofit organizations.
"Guys would like it if they, first of all, don't believe they're wearing it," Mr. Frezieres continued. "And second of all, it's got to be a little better than what they're used to. We still have to find that perfect bullet."
G/O Media may get a commission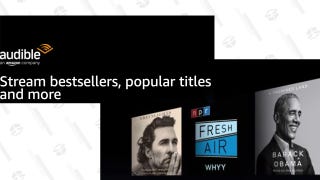 FREE
Audible Premium Plus 3-Month Free Trial
Some of the ideas are gimmicky — packaging condoms in cellophane-wrapped taffy! — but other entries sound promising. Or at least interesting.
There are condoms with lubricants that create a heating sensation, there are some with extra material that acts "sort of like the swirl of a Dairy Queen ice cream" and is intended to relieve tightness and increase movement, condoms that come with plastic applicators resembling life preserver (the tampon of condoms! you can have that tagline for free! JK email me for negotiation), and one that sounds particularly intriguing:
Another design, the eZ-On condom, was aimed at the "donning problem." Made of polyurethane, not latex, it was baggy, "gathered up inside what I call a tutu," Mr. Frezieres said. "It was not directional, so you could pull it down from either side" — or as Mr. Spieler put it, "like slipping your foot into an open sock."
If that condom takes off, can we expect the "awkward girl attempts to place condom on banana in front of entire class hilarity ensues" scenes to disappear from movies? Pretty please?
Hopefully all this innovation will result in condoms that accomodate a variety of people and sex situations. And perhaps most importantly, that those new and improved condoms make their way onto the genitals of fornicators worldwide — from people in the developing world (one of the main reasons for the contest) to American high school students.
This will only work if there's also accessibility, education, affordability, and appealing packaging — oh, and if your sex-ed teacher isn't telling you that the only way into god's heart is through your intact hymen. Because even if a condom makes you feel like you're literally fucking on cloud nine, it won't matter if your school won't (or can't) give you your whore balloons.
Previously: Bill Gates Is Holding a Condom Contest
[NY Times]
Image via Iwona Grodzka/Shutterstock.