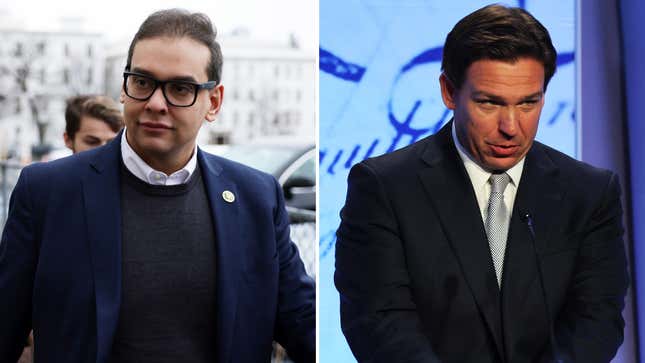 In a classic case of being shocked when the leopard bites your face off, pathological liar Rep. George Santos (R-N.Y.), who's openly gay, has expressed to The Hill that he feels "used" and betrayed by Florida Gov. Ron DeSantis (R) over the governor's new puzzling and vaguely homoerotic anti-LGBTQ ad.

"I used to think he was a great governor," Santos told the outlet. "Now, I'm starting to think differently." He continued, "I'm starting to see [DeSantis] for what he is. His rhetoric is to diminish and remove rights away from people like myself, and I can't support that."
Citing DeSantis' famous "Don't Say Gay" bill, which bars any classroom discussion of content that even vaguely touches on LGBTQ existence, Santos said he approves of the bill "in its nature," but is just now concerned it may have a "pervasive agenda behind it." WHAT GAVE IT AWAY, GEORGE?
All of Santos' politics and explanations for said politics are frankly baffling. Last April, shortly after the Florida legislature passed the "Don't Say Gay" bill, the New York congressman expressed support for it in a Facebook video: "Hey, everyone. George Santos here…. As a gay man, I stand proudly behind not teaching our children sex or sexual orientation." He's also vocally supported former President Donald Trump for years now, even as Trump's administration tried to write trans identity out of existence.
So it's unclear why Santos, now, suddenly feels "used" by DeSantis, who at no point even seems to have acknowledged his existence—and probably won't ever, seeing as how the Congressman faces a slew of federal charges including wire fraud, money laundering, and theft of public money, leading to his arrest in May. (Santos also faces a sexual assault allegation from earlier this year—and all of this, on top of the ever-growing list of extreme lies he told about his background on the campaign trail last year.)
Like most stories about Republican infighting, this is one without a hero—just a gay congressman waking up one day and realizing he's been vocally supporting and enabling a bunch of homophobic men who hate him.