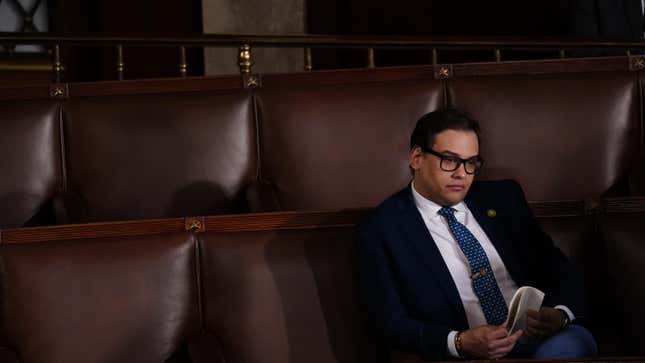 Rep. George Santos (R-N.Y.), the first-term congressman and serial liar, is facing 13 federal charges for financial crimes. Santos surrendered to federal authorities on Wednesday morning; he was arrested and will be arraigned at a federal courthouse in Central Islip, New York, later today.
Taylor Lautner Doesn't Even Remember Saying 'Bella! Where the Hell Have You Been Loca?'
According to a press release from the Department of Justice, federal prosecutors charged Santos with "seven counts of wire fraud, three counts of money laundering, one count of theft of public funds, and two counts of making materially false statements to the House of Representatives."
They allege that Santos embezzled contributions from supporters, fraudulently applied for unemployment benefits in 2020, and lied in his financial disclosure forms submitted to the House of Representatives.
The DOJ says Santos allegedly defrauded political donors by creating a limited liability company that donors believed would purchase TV ads during his 2022 congressional campaign. Two donors gave a total of $50,000 to the LLC. Santos allegedly transferred the money to his personal bank accounts and used it to buy designer clothing, pay down personal debts, and withdraw cash.
As for the unemployment issue, the DOJ said Santos was making a $120,000 salary from a Florida investment firm in 2020 but applied for unemployment benefits anyway. He received more than $24,000 from the government. People receiving unemployment insurance have to certify each week that they're not working and the DOJ said Santos "falsely affirmed each week" from June 2020 to April 2021 that he was unemployed.
All congressional candidates have to file financial disclosure forms by law and in his two runs for Congress, Santos "certified that his House Disclosures were true, complete, and correct." But on his 2020 form, he didn't disclose the aforementioned $120,000 salary. Then on his 2022 form, Santos wildly inflated his income and didn't report the $24,000 in unemployment benefits received.
"Taken together, the allegations in the indictment charge Santos with relying on repeated dishonesty and deception to ascend to the halls of Congress and enrich himself," United States Attorney Breon Peace said in a statement.
Jezebel contacted Santos's office for comment and we can't wait to hear what ridiculous sentiments this man issues in response.
House Speaker Kevin McCarthy (R-Calif.) told reporters Tuesday, before the indictment was unsealed, that he would "look at the charges" but suggested Santos could continue to serve in Congress. "If a person is indicted, they're not on committees. They have the right to vote [on legislation], but they have to go to trial," McCarthy said.
This is a breaking news post and will be updated.