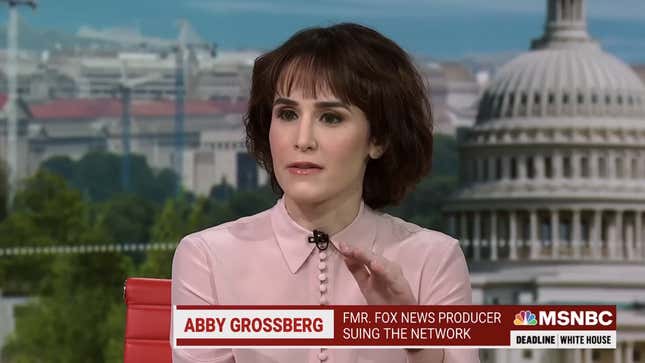 Fox News will pay $12 million to former producer Abby Grossberg—the woman who accused the rightwing network of rampant misogyny and sexism in two lawsuits—as a part of a settlement announced Friday afternoon. "Both cases have now been discontinued with prejudice pursuant to a payment from Fox News to Ms. Grossberg in the amount of Twelve Million Dollars," attorney Parisis G. Filippatos said in a statement.
Grossberg's allegations were pretty damn damning. She accused superiors of calling host Maria Bartiromo a "menopausal" and "crazy bitch" during her time on the show, and said when she moved over to Fox News's crown jewel, Tucker Carlson Tonight, it only got worse. She said producers kept "large pictures of Rep. Nancy Pelosi of California, then the House speaker, wearing a plunging swimsuit" and asked her if Bartiromo had sex with then-House Minority Leader Kevin McCarthy. She also alleges that the Tucker Carlson Tonight staff had a "mock debate" about which candidate they're rather have sex with: incumbent Michigan Gov. Gretchen Whitmer (D) or Republican opponent, Tudor Dixon. Tucker Carlson was fired by the network a month after Grossberg's lawsuits were filed. (The network and its former star are now circling each other like litigious enemies as Carlson has started posting vlogs to Twitter, which Fox News says violates his noncompete.)
Grossberg said she stands by the allegations she made in the lawsuits. "While I stand by my publicly filed claims and allegations, in light of today's settlement of $12 million, pursuant to which I have now withdrawn those claims, I am heartened that Fox News has taken me and my legal claims seriously," she said in a statement on Friday. "I am hopeful, based on our discussions with Fox News today, that this resolution represents a positive step by the Network regarding its treatment of women and minorities in the workplace.
This marks the end of Grossberg's federal lawsuit in New York and a state case in Delaware. "It has been the honor of my career to serve as Abby's attorney over the past year – a more courageous and honest person, skilled and devoted journalist, and fierce advocate for justice I have never met," Filippatos said. "I am certain that we will hear much from Abby in the future once she has taken some much-needed personal time to process the momentous events in her life over the past few years."
Grossberg's lawsuits came at a horrendous time for the network. The network was in the final stages of wrapping up its settlement with Dominion Voting Systems, which accused the network of defamation in a landmark $1.6 billion lawsuit. The text messages from Carlson figured heavily into the discovery of evidence. (Fox News agreed to settle for $787.5 million to Dominion in April.)
Grossberg said she will "not comment further" on the claims and allegations made against Fox News.