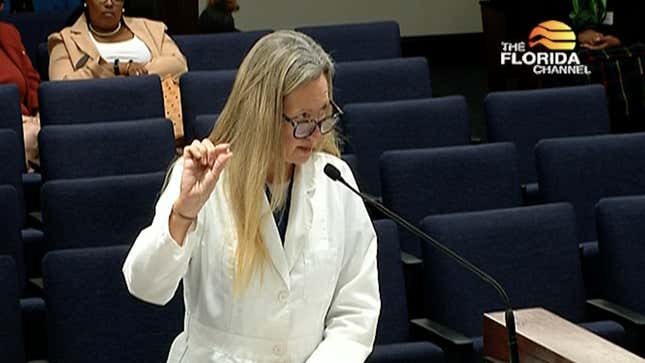 A Florida Senate committee advanced a bill that will ban abortions at six weeks and give $25 million to anti-abortion centers on Tuesday, following five hours of fervent testimony from the public. One anesthesiologist's testimony included holding up a single Tic Tac to illustrate the actual size of the clump of cells the committee would privilege over breathing patients in its "near total abortion ban."
Alison Leiby Believes Abortion Can Be Funny — Really Funny!
"At six weeks, a human fetus is about half the size of this Tic Tac, four millimeters high," Dr. Nancy Staats said while slowly moving the tiny mint around for all state senators to see. "It does not have a face. ... There is no heart, there is no lungs, there is no brain. It doesn't have toes. It looks more like a tadpole."
Despite Staats's brief anatomy lesson, it didn't stop dozens of anti-abortion advocates from giving testimony for the bill, including a 17-year-old who yelled about the Constitution. In addition to banning the procedure for most people, the bill requires rape and incest victims to bring in documentation certifying that they've sufficiently reported the crime perpetuated against them. If their reporting is deemed adequate, they may be allowed an abortion up to 15 weeks. It's unclear where these abortions will be performed, however, as clinics have dwindled in states with similar bans, and most hospitals don't provide them.
"It is mind-boggling for me to listen to people who have not one iota of medical training, stand up here and try to educate you about a heartbeat or this or that or pregnancy," Staats told the committee.
Because of the Republican Party's stranglehold on the Florida statehouse, it's likely this bill will be passed by the state Senate by the end of the week. Gov. Ron DeSantis (R, duh) has indicated he'll sign a six-week abortion ban, too. It's doom o'clock in the Sunshine State.
During committee testimony, Bonnie Patterson, a clinic escort and registered sonographer, asked the room to shake it out to get some energy back in during her testimony slot, already hours into the hearing. Then, the red-headed, self-described Yaya launched into criticizing the draconian proposal. "If you came back at seven weeks [to an ultrasound], you might see a yolk in a gestation sac and that looks like a teeny tiny little balloon, or I guess if you use some creativity: a butter bean," Patterson told the committee.
Florida, with abortion limited to 15 weeks, has been somewhat of a beacon in the Southeast for everyone carrying a butter-bean-sized fetus. If you look at a map of available abortion, the states above Florida —Louisiana, Arkansas, Mississippi, Alabama Georgia, and South Carolina—have either outright bans or are only allowed to provide care up to six weeks. To find the next potential clinic, you'd have to travel to North Carolina or Ohio or Kansas, depending on what path you'd take out of Florida. Losing clinical care in yet another southern state will be devastating for people of reproductive age.
As Staats explained, it's not just abortion seekers who are affected by these bans. "We're going to lose doctors, people. They are already not going," she said, referencing Match Day, the day when medical students are matched into residency programs for their practice area. "Guess where obstetrician-gynecologists are not going? States that have these kind of bans. So your children and your grandchildren are going to suffer from this bill because there won't be enough obstetrician-gynecologists to give them care for pregnancies they want."
Meanwhile, committee chair Rep. Travis Hutson (R) did not seem to understand the difference between "last menstrual period" and "ovulation." The bill measures pregnancy from the date of your last menstrual period, meaning you could be six weeks pregnant but only have conceived four weeks ago. If this was Veep I would call the misunderstanding—which came up multiple times because state senators are not familiar with reproductive anatomy—a recurring bit, but unfortunately, instead it was real life.
The Florida Senate is scheduled to hear the bill on Thursday.