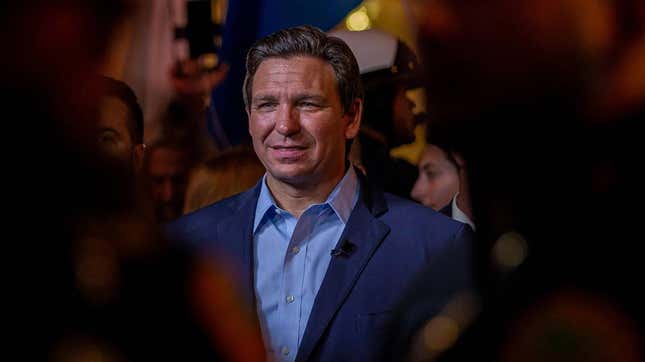 Florida Gov. Ron DeSantis (R) has been open to "adding some type of constitutional protection for life" (that is, against a woman's right to choose) since at least 2012, when he was first running for Congress. "I've basically said, the Constitution leaves the matter of abortion to the states...Now, if you want to talk about adding some type of constitutional protection for life, I've always been open to that," DeSantis said in an interview with The St. Augustine Record editorial board more than a decade ago.

Since then, DeSantis has put his anti-abortion beliefs into practice. He signed a 15-week abortion ban into law in April 2022, just months before Roe v. Wade was overturned by the Supreme Court. DeSantis has defended his anti-abortion stances as being "pro-family." After this year's state of the state address, DeSantis told reporters that he would "welcome pro-life legislation."
Now, DeSantis appears to be set to challenge fellow Florida man Donald Trump for the Republican presidential nomination, and DeSantis seems to be employing every possible strategy to beat him. That brings us to the potential six-week abortion ban that state legislators have proposed (House Bill 7 and Senate Bill 300) and that DeSantis would most definitely sign into law. When asked about the six-week ban last month, DeSantis was straightforward: "I've urged the legislature to work, to produce good stuff, and we will sign."
In his interview with the editorial board (a regular occurrence at newspapers where the opinion section is separate from the news gathering operation and makes endorsement in certain elections), DeSantis blamed liberal Supreme Court justices for making abortion a national issue. "If you look at something like Roe v. Wade, that was a huge reach in terms of judicial activism," DeSantis told the St. Augustine Record. "But it was elevated to the federal government by a liberal court, not by people like me."
Sure, Ron—that's exactly why the state of Mississippi (note: not liberal justices)—led the push to end Roe v. Wade and legal abortion.