Recently it has come to my attention that John Travolta and Shania Twain are starring in a movie together. It's called Trading Paint. Do you know anything about this film? Let's learn, together.
The Plot
According to Variety, Trading Paint is about a "down and out dirt track racing legend who is drawn back into the winners circle after his son joins a competitor's racing team and incites an intense and dangerous competition between father and son." So please let it be known that this is not a new home renovation show or a movie based on a home renovation show in which John Travolta plays a grizzled, widowed contractor looking for love and Shania Twain owns the horse farm on which he's building the barn. Sparks fly! Romance! Amour!
I'm not sure I'd pay money to see this film's actual plot, but I would watch it on television if it came on when I was home sick with the flu. I'd also watch it on an airplane.
The Cast
If you can believe it—I can't!—John Travolta is playing the race car driver. Shania Twain, pictured above with Travolta (who in this shot looks like the father in the Berenstain Bears cosplaying as a human), is playing a woman named Becca, whom I sincerely hope is his wife. As for the rest of the cast, I could very easily consult IMDB to learn about who is starring in this film, but I'd rather get all of my casting information from Mohamed Hadid's Instagram, instead.
G/O Media may get a commission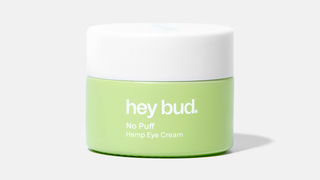 15% off
Hey Bud - No Puff Hemp Eye Cream
Fun fact: the man in the bottom left is not Penn Badgely, but Toby Sebastian. He's British and will be playing Travolta's son. No word on who Mohamed will be playing, but I am beside myself with anticipation to find out.
Is it worth it to be excited or no?
If you believe Andrea Iervolino, the man whose face beams out at us in the top left quadrant of Hadid's pic stitch, you better believe it. From Variety:
It's well know that dirt track racing is one of the most exciting sports in the world, and it's also one of the most dangerous. Our story is rooted in that high-speed danger, but also very much character driven, and this is where having someone of John's caliber and gravitas pays great dividends."
Monika Bacardi, another producer on the film, told ScreenDaily:
"This is a gripping story that touches audience nerves while moving at a fast pace. For something that requires this type of range, you better have an actor who can deliver and we have one of the all-time greats in John Travolta, who we are very excited to work with. There is nothing John cannot do and he proves this time and time again with every project he's involved in. We're excited to put this film into production."
I am really and truly struggling to contend with John Travolta's gravitas in the context of this truly puzzling film, but I am hopeful that he and that wig he's wearing will prove me wrong. We can all find out in June 2018, if we make it that far.