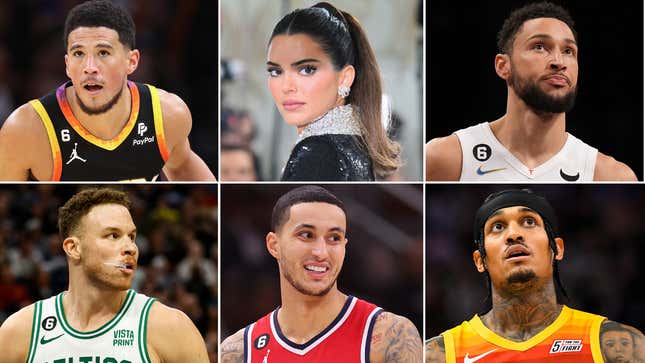 Kendall Jenner has been romantically linked with Bad Bunny for a good several months now, and the relationship is something of an aberration for Jenner—in that, the Puerto Rican singer isn't an All-Star NBA player. Jenner's dating history includes Devin Booker (most recently), Ben Simmons, Blake Griffin, Kyle Kuzma, and Jordan Clarkson, and it's rumored there are others. These gentlemen, or some permutation of Jenner's other maybe-NBA exes, are often referred to as the model's "starting five." And—in their primes—they were all, and some still are, a formidable group.

Blue Ivy, Like All Human Beings, Has Aged and Thrown Me Into A Crisis
Thus, at Wednesday night's ESPYs to honor athletic achievement, sports analyst Pat McAfee included a nod to Jenner and her elite, very tall squad of former lovers while presenting at the award show in his remarks: "Kendall Jenner's starting five would win the NBA championship every single year," he joked. Of course, it's more so a matter of fact than a comedic quip—Booker's lethal shooting, Simmons' defense, and Griffins, in his prime, could probably put away any other team in the playoffs. A good night for Kuzma would also be pure dynamite, and, might I remind you, Clarkson won the skills challenge at this year's All-Star Weekend.

McAfee then pointed to Jamal Murray of the Denver Nuggets, who won their franchise's first championship in June and quipped, "You know it, Jamal. If they're in the bubble [referring to where the NBA play-offs were hosted during the pandemic in 2020], you're getting smoked, dude."
I know what you're probably thinking: It's textbook 2000s misogyny to joke about how many men a woman's dated or slept with. You're not wrong! McAfee's joke probably would have been better suited to the year 2019, which is the last time Jenner so much as alluded to the matter (to set the record semi-straight); she's with Bad Bunny now and has clearly moved on.
But I doubt there are any hard feelings about McAfee's quip. Jenner has been pretty open to NBA Twitter's favorite running joke about her dating history for some time now. While dating Simmons in 2019, she cheekily quote-tweeted a post with photos of her alleged exes captioned "Kendall Jenner's starting five" and wrote, "2 out of 5 accurate, thanks." (It's widely understood that she was referring to Simmons and Griffin.) And as recently as a few weeks ago, her sister, Kim Kardashian, appeared to wear a t-shirt of Jenner's exes with the same tagline in a TikTok as she brushes daughter North's hair. Kardashian is seen wearing the same shirt in a recent trailer for an upcoming episode of The Kardashians.
Jenner truly has my respect for being in on the joke. She's frequently written off as the "boring" sister and social media users often stick her runway appearances and general demeanor with the "go girl give us nothing" meme. But she arguably has the most impressive roster of any female celeb—on top of her numerous former NBA star beaus, she's also been linked to Harry-freaking-Styles and, at one point, Michael B. Jordan. Against quite literally all odds, that tall, skinny, conventionally beautiful white woman can pull.
Of course, not all famous women are as unfazed by the public spectacle and comedic routines their romantic lives inspire. In 2021, Taylor Swift dragged the Netflix show Ginny and Georgia to hell for a line in which one character says to another, "You go through men faster than Taylor Swift." Fair enough—we all have different boundaries. But for me, personally, if I'd dated three-time All-Star Devin Booker and sad-eyed beauty Ben Simmons, I'd want everyone to talk about it all the time, too.