Beauty and the Beast was wildly popular, and our own Madeleine Davies reported how surprised she was at how much she enjoyed it. Though I personally think the Beast looks like a dead-eyed tree, these videos of Beast actor Dan Stevens in a giant, padded, grey rig are much more endearing. It's astounding that Emma Watson made it through a single scene without breaking.

Acting is demented.
The Beast's face is what put me off this movie, to a far greater degree than the Stockholm Syndrome love story that's aged so poorly. But if there's a version of the film with just Stevens lurching around looking like a rollie pollie bug larva, it'd be perfect. Look at Emma Watson selling it:
G/O Media may get a commission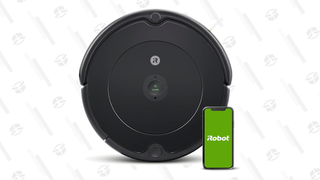 35% Off Black Friday Deal
iRobot Roomba 694 Robot Vacuum
Watson did have plenty of practice with similar effects on the set of Harry Potter. Maybe, at this point, seeing a man not dressed like a fiber Golem or rabid mist is what she finds weird. Anyway, my respect for her has skyrocketed. Give this girl an Oscar.